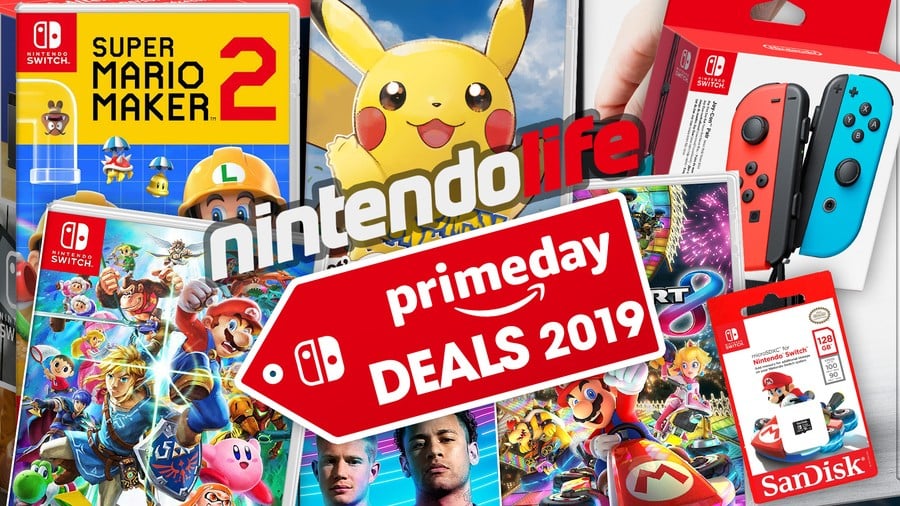 It's that magical time of the year again, Amazon Prime Day! While sometimes it might seem like the bargains are few are far between, there are some great deals to be had on Nintendo Switch console bundles, games and accessories if you look hard enough.
We've found some tempting Nintendo Switch console deals for UK readers which have a heavy discount over the normal price and come bundled with a top tier game such as The Legend of Zelda: Breath of the Wild or Super Mario Maker 2. Each bundle also includes £30 of eShop credit, so when you add all this up, there are some great deals to pick up. The US equivalent deal offers $35 of eShop credit and a discounted price.
What are the dates for Prime Day 2019?
Despite its name, Prime Day actually lasts for 48 hours. Deals are active on 15th and 16th July 2019.
What is included in the Prime Day 2019 sale?
When it comes to Nintendo, a bit of everything. There are plenty of deals on consoles, games, micro SD cards, controllers, and lots more besides.
Prime Day 2019 - All current offers
Below is a comprehensive list of all the current deals active in Prime Day. We'll keep this guide up to date if and when things change.
Nintendo Switch Console Bundles - Prime Day 2019
US deals:
UK deals:

Nintendo Switch Games - Prime Day 2019
US deals:
UK deals:
Switch Accessories
US deals:
Micro SD Cards - Prime Day 2019
US deals:
UK deals:
Let us know if you're picking up a Nintendo Switch console or some other goodie for yourself or a loved one in the Prime Day sales this year with a comment below.