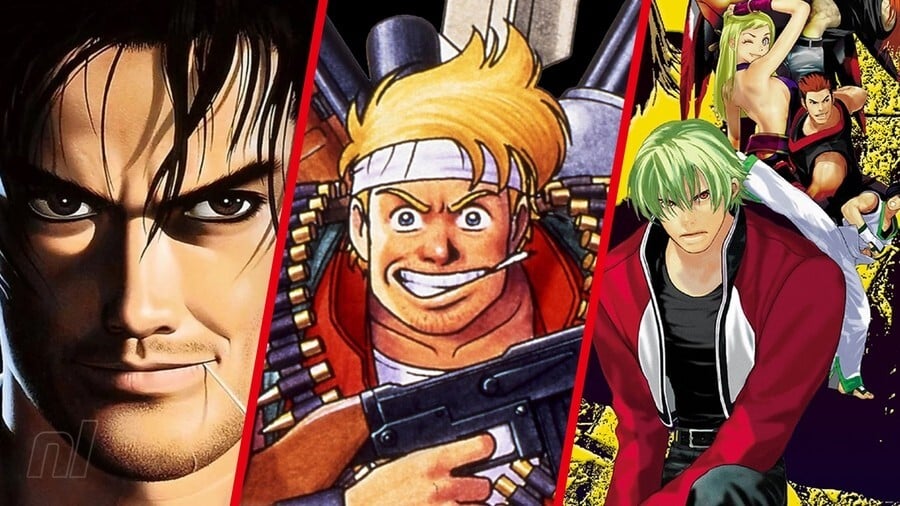 Much like Hamster's Arcade Archives series, the company's line of Neo Geo titles - which goes by the bespoke title 'ACA NEOGEO' to separate it from the rest - has been a regular fixture of the weekly Nintendo Switch eShop download lists. With over a hundred releases under the ACA banner, Hamster has done sterling work getting these games on Switch and into the hands of fans who may never have experienced them before.
SNK's Neo Geo was a beautiful system that fused arcade and home console hardware, but at a cost. The significant financial outlay require for Neo Geo ownership meant it was out of reach of the average gamer back in the day. Fortunately, the games below will cost you a fraction of what they originally sold for and come with a multitude of presentation options to tailor the experience to your liking on Switch.
Below we've listed every ACA Neo Geo release available on Switch eShop to date and it will be updated as new titles are released. The games are displayed in alphabetical order, although you can go to our games database and sort by Release Date or User Rating.
Please note that the Arcade Archive releases are NOT included here - check out our separate guide for Arcade Archive games on Switch for more info on Hamster's non-Neo Geo Switch gems. And if this huge list is overwhelming, you'll find our picks of the best ACA Neo Geo games on Switch at the bottom. No prizes for guessing it contains a lot of fighters!
ACA Neo Geo Switch eShop releases - Complete list

Looking at that list and don't know where to start? Then check out our picks of the best ACA NEOGEO games - in no particular order - to get you off on the right foot.
The best Switch ACA Neo Geo games...

---
Ah, how we love that SNK artwork; all those grins and round chins! Thank you for scrolling to the very bottom. With so many games to choose from we're just scratching the surface with the games above. Let us know which of Hamster's ACA Neo Geo games you've most enjoyed--and which ones you'd avoid--with a cheeky comment below.
This article is one of our Switch Essentials guides which cover a wide variety of genres, including the Best Switch FPS Games, the Best Switch RPGs, the Best Switch Games For Kids, the Best Switch Couch Co-Op Games and the Best Switch Fitness and Exercise Games. We can also help out hunting down the Best Switch Horror Games, the Best Switch Racing Games, the Best Switch Action-RPGs, the Best Nintendo Switch Roguelikes, Roguelites and Run-Based Games, the Best Free Switch Games, and even Games to Play After You've Finished Zelda: Breath of the Wild.
Whatever your favourite genre, we've got you covered: Strategy Games, Metroidvanias, Puzzle Games, Party Games, Online Multiplayer Games, Local Wireless Multiplayer Games, Shmups, Visual Novels, Fighting Games, Hidden Gems, 2D Platformers, 3D Platformers, Run and Gun Games, Sports Games, Beat 'Em Ups, Chill Games, Family Games, Retro-Inspired Games, Short Games, Card Games and Deck-builders, Flight Sim and Space Combat, Point and Click Adventure Games, and the Best Switch Exclusives, as well as Every Arcade Archives Game, Every ACA Neo Geo Game, Every SEGA AGES Game On Switch, and the Best Switch Collections And Compilations.
If you're looking for the best Switch games regardless of genre, our reader-voted selection of the Best Nintendo Switch Games should help you out, and you can also find the Best Nintendo Switch Games of 2017, 2018, 2019, and 2020. And finally, if you're interested in other Nintendo consoles and retro games, check out the Best Game Boy Games, Best Nintendo DS Games, Best Nintendo 3DS Games, Best SNES Games, Best N64 Games, Best GameCube Games, and Best Wii Games, as well as Every Nintendo Switch Online NES Game and Every Nintendo Switch Online SNES Game.