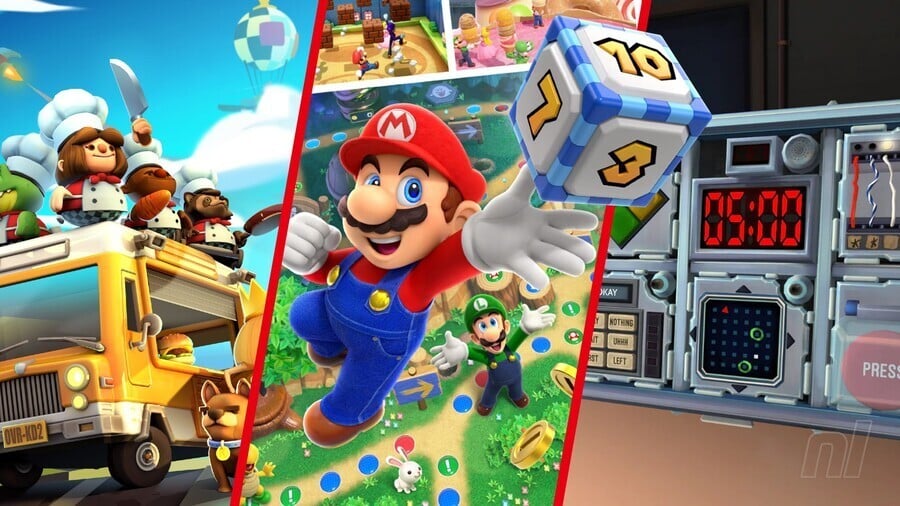 So, you're having a party - possibly on a rooftop - dancing to the music and all that jazz, but suddenly there's a lull. Fear not because we've got just the thing to get the party started again! Nintendo Switch has a whole host of crowd-pleasing co-op and competitive party games, whether you're hosting a birthday party for a bunch of kids, throwing a casual soirée for a few select dinner guests or you've got all the furniture in the garage. Regardless of the function, you're sure to find games here for all occasions.
Below you'll find our picks - in no particular order - for the best party games on Switch. While the console's lineup of brilliant co-op games may fit the bill for smaller get-togethers, some games require a little more thought, consideration and co-ordination than the average party-goer might be ready for (or capable of). For this selection we've chosen games that work best with lots of people, including spectators, and ones that let anybody join in with the minimum of fuss.
So, fill those bowls of nibbles to the brim, charge your Joy-Con and pack your party bags, people, because tonight's gonna be a large one...
---
The Venga bus is comin' and everybody's jumpin'... ahem. That's it for our picks of the best party games on Switch. Have you had a blast at your hip, sexy rooftop party with something that isn't featured here? Let us know below and we just might add it to the list. Until then, party on Wayne, Garth and all you lovely people.
This article is one of our Switch Essentials guides which cover a wide variety of genres, including the Best Switch FPS Games, the Best Switch RPGs, the Best Switch Games For Kids, the Best Switch Couch Co-Op Games and the Best Switch Fitness and Exercise Games. We can also help out hunting down the Best Switch Horror Games, the Best Switch Racing Games, the Best Switch Action-RPGs, the Best Nintendo Switch Roguelikes, Roguelites and Run-Based Games , the Best Free Switch Games, and even Games to Play After You've Finished Zelda: Breath of the Wild.
Whatever your favourite genre, we've got you covered: Strategy Games, Metroidvanias, Puzzle Games, Party Games, Online Multiplayer Games, Local Wireless Multiplayer Games, Shmups, Visual Novels, Fighting Games, Hidden Gems, 2D Platformers, 3D Platformers, Run and Gun Games, Sports Games, Beat 'Em Ups, Chill Games, Family Games, Retro-Inspired Games, Short Games, Card Games and Deck-builders, Flight Sim and Space Combat, Point and Click Adventure Games, and the Best Switch Exclusives, as well as Every Arcade Archives Game, Every ACA Neo Geo Game, Every SEGA AGES Game On Switch., and the Best Switch Collections And Compilations.
If you're looking for the best Switch games regardless of genre, our reader-voted selection of the Best Nintendo Switch Games should help you out, and you can also find the Best Nintendo Switch Games of 2017, 2018, 2019, and 2020. And finally, if you're interested in other Nintendo consoles and retro games, check out the Best Game Boy Games, Best Nintendo DS Games, Best Nintendo 3DS Games, Best SNES Games, Best N64 Games, Best GameCube Games, and Best Wii Games, as well as Every Nintendo Switch Online NES Game and Every Nintendo Switch Online SNES Game.