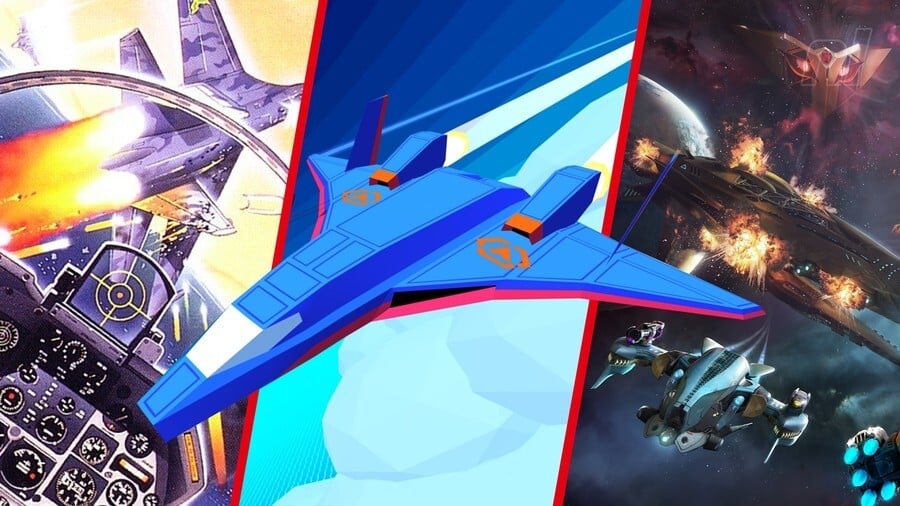 It's taken a while, but as with most other genres since Switch launched back in 2017, Nintendo's console has steadily built a good library of flight combat games. Whether you're shooting bogeys and blasting your way though the clouds or the cosmos, there's a host of quality dogfighting games available.
All the games here lean heavily towards the arcade-y end of the scale — you won't find any hardcore flight simulations here — but below we've rounded up, in no particular order, the very best 3D (or simulated 3D) flight sim and flight combat Switch games we've come across.
For some unknown reason, Bandai Namco's excellent Ace Combat series is still MIA on Nintendo's console, and we've yet to see a fully-fledged, brand new Star Fox on the system either, although Ubisoft's underrated Starlink: Battle for Atlas offers a cracking Star Fox fix on Switch — see below for more details.
If you're into 2D aircraft-based shooting, you may want to peruse our selection of the best Switch shmups. Here, though — while we wait for Ace Combat or the Star Fox crew to land (or, if we're really dreaming, Rogue Squadron to somehow shoot its way out of the vaults with an HD remake) — grab your goggles, leg it to the airfield and strap yourself in for the best flight combat games on Nintendo Switch.
Don't worry, we'll be back home in time for tea and medals. Tally bally-ho!
---
Let us know your favourites from above in the comments below and feel free to nominate any other deserving candidates. We'll be updating this great new flight combat games arrive on Switch.
This article is one of our Switch Essentials guides which cover a wide variety of genres, including the Best Switch FPS Games, the Best Switch RPGs, the Best Switch Games For Kids, the Best Switch Couch Co-Op Games and the Best Switch Fitness and Exercise Games. We can also help out hunting down the Best Switch Horror Games, the Best Switch Racing Games, the Best Switch Action-RPGs, the Best Nintendo Switch Roguelikes, Roguelites and Run-Based Games , the Best Free Switch Games, and even Games to Play After You've Finished Zelda: Breath of the Wild.
Whatever your favourite genre, we've got you covered: Strategy Games, Metroidvanias, Puzzle Games, Party Games, Online Multiplayer Games, Local Wireless Multiplayer Games, Shmups, Visual Novels, Fighting Games, Hidden Gems, 2D Platformers, 3D Platformers, Run and Gun Games, Sports Games, Beat 'Em Ups, Chill Games, Family Games, Retro-Inspired Games, Short Games, Card Games and Deck-builders, Flight Sim and Space Combat, Point and Click Adventure Games, and the Best Switch Exclusives, as well as Every Arcade Archives Game, Every ACA Neo Geo Game, Every SEGA AGES Game On Switch., and the Best Switch Collections And Compilations.
If you're looking for the best Switch games regardless of genre, our reader-voted selection of the Best Nintendo Switch Games should help you out, and you can also find the Best Nintendo Switch Games of 2017, 2018, 2019, and 2020. And finally, if you're interested in other Nintendo consoles and retro games, check out the Best Game Boy Games, Best Nintendo DS Games, Best Nintendo 3DS Games, Best SNES Games, Best N64 Games, Best GameCube Games, and Best Wii Games, as well as Every Nintendo Switch Online NES Game and Every Nintendo Switch Online SNES Game.