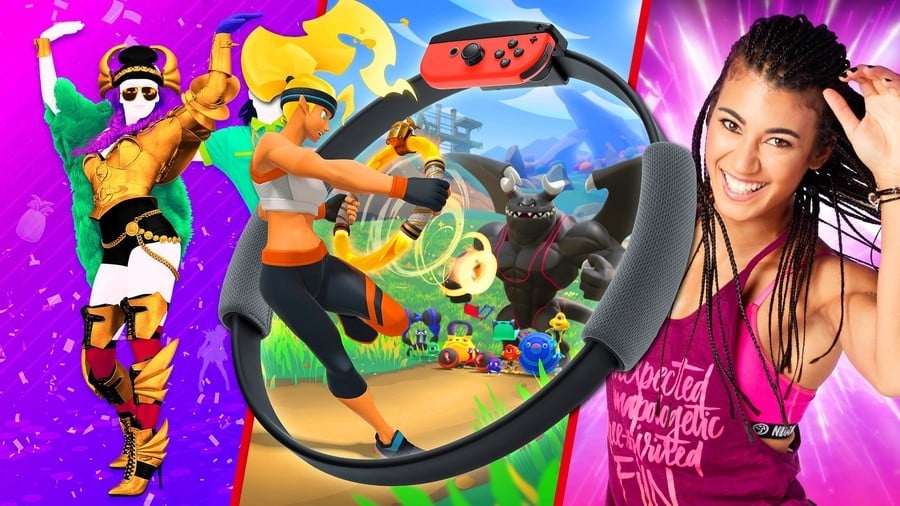 Cooped up at home and need something to keep you active? Looking to get in shape this year but find the lure of gaming too hard to resist? Worry not, because with Switch it's easy to mix your favourite pastime with a little cardiovascular exercise to get your blood pumping. Below we've collected our picks of the best Switch games for fitness and exercise.
Of course, you'll need to combine these games with a balanced diet and the sessions of more taxing exercise if you really want to feel great and benefit from a dynamite bod with a washboard stomach, rock-hard pecs, etc., but Switch has a whole host of games and software aimed at getting you off the couch. The console's portability also means there's no need to skip a session when you're away from home, either. So, no excuses!
Whether dedicated fitness software or games with motion controls that get you moving, the Nintendo Switch games below should get your blood pumping and help you get into shape at any time of the year. So, grab those Joy-Con and get on your feet for the best Switch games for fitness and (non-stationary) fun...
---
That's all for now, although we'll update this selection as and when more 'exer-tainment' titles arrive on Switch. Think we've missed something? Let us know below and tell us how you've got on with the titles above, too.
This article is one of our Switch Essentials guides which cover a wide variety of genres, including the Best Switch FPS Games, the Best Switch RPGs, the Best Switch Games For Kids, the Best Switch Couch Co-Op Games and the Best Switch Fitness and Exercise Games. We can also help out hunting down the Best Switch Horror Games, the Best Switch Racing Games, the Best Switch Action-RPGs, the Best Nintendo Switch Roguelikes, Roguelites and Run-Based Games, the Best Free Switch Games, and even Games to Play After You've Finished Zelda: Breath of the Wild.
Whatever your favourite genre, we've got you covered: Strategy Games, Metroidvanias, Puzzle Games, Party Games, Online Multiplayer Games, Local Wireless Multiplayer Games, Shmups, Visual Novels, Fighting Games, Hidden Gems, 2D Platformers, 3D Platformers, Run and Gun Games, Sports Games, Beat 'Em Ups, Chill Games, Family Games, Retro-Inspired Games, Short Games, Card Games and Deck-builders, Flight Sim and Space Combat, Point and Click Adventure Games, and the Best Switch Exclusives, as well as Every Arcade Archives Game, Every ACA Neo Geo Game, Every SEGA AGES Game On Switch, and the Best Switch Collections And Compilations.
If you're looking for the best Switch games regardless of genre, our reader-voted selection of the Best Nintendo Switch Games should help you out, and you can also find the Best Nintendo Switch Games of 2017, 2018, 2019, 2020, and 2021. And finally, if you're interested in other Nintendo consoles and retro games, check out the Best Game Boy Games, Best Nintendo DS Games, Best Nintendo 3DS Games, Best SNES Games, Best N64 Games, Best GameCube Games, and Best Wii Games, as well as Every Nintendo Switch Online NES Game and Every Nintendo Switch Online SNES Game.