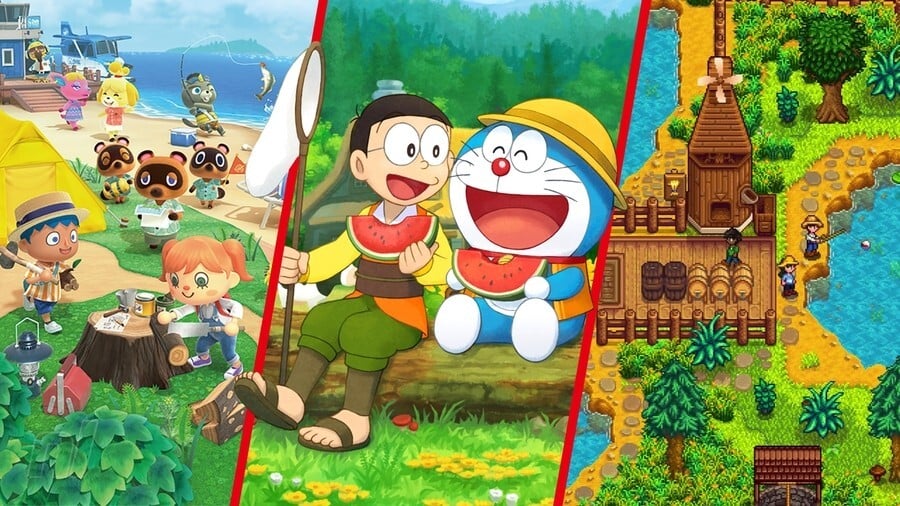 If you're looking for a change of pace and some welcome distraction from your everyday life, few mediums offer such engrossing, ongoing escapism as video games. Even the best books have an ending, but some games can go on almost indefinitely and come to form a calming part of our daily routines.
If you're looking for just such a game, the list below of the best life sims and farming games on Switch should get you on the right track. Whether you've always dreamed of moving to the countryside, retiring to a deserted island, or simply heading to the watering hole for a spot of fishing, the games below will set you up with a new (digital) life and keep you busy with pleasant little tasks to melt away the stress of real life... or at least replace it with the low-stakes stress of sowing turnips, tending to animals and managing your crops. Just remember when you're stressing about squeezing these digital lives into your packed schedule, it's all for fun!
So, grab your spade and a handful of seeds, and let's take a look--in no particular order--at the cream of the crop; the best life and farming sims on Switch.
---
Played any other life and/or farming sims on Switch? Think we've missed something? We'll be keeping this list up-to-date with new candidates as they crop up, but let us know your favourites in the comments.
This article is one of our Switch Essentials guides which cover a wide variety of genres, including the Best Switch FPS Games, the Best Switch RPGs, the Best Switch Games For Kids, the Best Switch Couch Co-Op Games and the Best Switch Fitness and Exercise Games. We can also help out hunting down the Best Switch Horror Games, the Best Switch Racing Games, the Best Switch Action-RPGs, the Best Nintendo Switch Roguelikes, Roguelites and Run-Based Games, the Best Free Switch Games, and even Games to Play After You've Finished Zelda: Breath of the Wild.
Whatever your favourite genre, we've got you covered: Strategy Games, Metroidvanias, Puzzle Games, Party Games, Online Multiplayer Games, Local Wireless Multiplayer Games, Shmups, Visual Novels, Fighting Games, Hidden Gems, 2D Platformers, 3D Platformers, Run and Gun Games, Sports Games, Beat 'Em Ups, Chill Games, Family Games, Retro-Inspired Games, Short Games, Card Games and Deck-builders, Flight Sim and Space Combat, Point and Click Adventure Games, and the Best Switch Exclusives, as well as Every Arcade Archives Game, Every ACA Neo Geo Game, Every SEGA AGES Game On Switch, and the Best Switch Collections And Compilations.
If you're looking for the best Switch games regardless of genre, our reader-voted selection of the Best Nintendo Switch Games should help you out, and you can also find the Best Nintendo Switch Games of 2017, 2018, 2019, and 2020. And finally, if you're interested in other Nintendo consoles and retro games, check out the Best Game Boy Games, Best Nintendo DS Games, Best Nintendo 3DS Games, Best SNES Games, Best N64 Games, Best GameCube Games, and Best Wii Games, as well as Every Nintendo Switch Online NES Game and Every Nintendo Switch Online SNES Game.