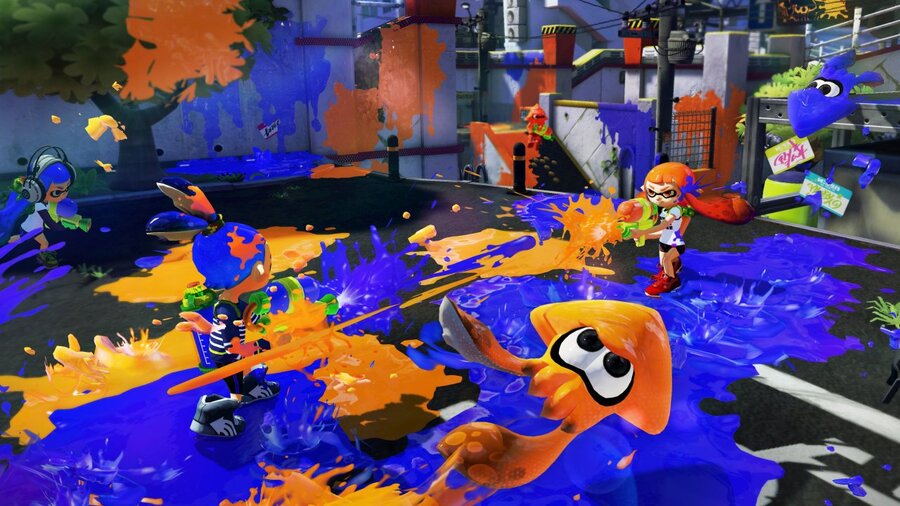 With 2015 now settling into a groove - and following Nintendo's first Direct broadcasts of the year - we now have a better idea of what to expect in the near future, along with further reassurances of big hitters to come later in 2015. As a result there's plenty for Nintendo fans to look forward to, with a variety of experiences to keep us busy.
Lengthy adventures will certainly be a feature across Wii U and 3DS, and a week ago we asked for your perspective on the upcoming Xenoblade and Legend of Zelda releases. While those titles promise hundreds of hours of solo gameplay, this time around we're looking at confirmed multiplayer experiences on the way.
Unsurprisingly the upcoming 3DS slate is lighter than its home console counterpart, at this stage in terms of volume and titles with dedicated multiplayer aspects. Both major upcoming releases to feature multiplayer are both supporting online and local play, however - Code Name S.T.E.A.M from Intelligent Systems will have local and online options for its brand of turn-based strategy. That goes beyond the local-only option in Fire Emblem: Awakening.
The portable experience that's set to deliver the most immersive multiplayer experience, however, is Capcom's Monster Hunter 4 Ultimate, which is being distributed and marketed by Nintendo in the West; its predecessor was local-only on 3DS, but this time online play is also included. As per normal there's a separate set of quests that can be tackled alone or with others, and judging by the popularity of online play in Monster Hunter 3 Ultimate on Wii U, it could be a constant source of entertainment. Tackling the most fearsome monsters with three others is always a thrill, and that made online support in this second 3DS entry an absolute must.
Multiplayer options expand a great deal once we move over to Wii U, which is unsurprising due to the added options the big N has with the home console environment. A lot of marketing effort is likely to focus on just that with Mario Party 10, with the only surprise being that it's taken two and a half years for the franchise to hit the system. Asynchronous play with the GamePad will be fundamental, as will having a lot of Wii Remotes handy; these titles can be fun in groups, of course, with rowdy mini-game mayhem to lift voices; whether we'll see players bringing amiibo along for a game, too, will be interesting to see.
Splatoon is another key multiplayer title, arguably the most important for Wii U in 2015 ahead of its May release. Although it will have a story mode, its reveal, expo demos and most of its focus has been on its eight-player online multiplayer, in which two teams of four battle against each other to ink territory. We've been impressed by the intuitive, frantic action, while there's a sense that its approach to a colourful and fun shooter could make it vital for the system. There'll be levelling and rewards for good performance, with customisation to characters also set to add depth to the online experience; an extra option will be a two-player offline mode, but little has been made of that to date.
This being Nintendo, local platforming multiplayer action will - as always - be a feature. Kirby and the Rainbow Curse - due soon in North America but a while away in Europe - will supplement stylus-based controls for Kirby with conventional platforming for other players to help out; it could be an interesting combination. Yoshi's Woolly World, meanwhile, is a more conventional platformer, adopting some of the ideas begun in Kirby's Epic Yarn and giving them a Yoshi twist. Two-player local co-op - based on our preview time - has the potential to be both useful and chaotic, depending on how well you and a buddy team up.
Finally, and a bit of a wildcard, is Wii U exclusive Devil's Third, which we can classify as the Wii U's token - at the moment - mature third-party game on the system, though Nintendo is publishing and making its release possible. The brain child of Tomonubu Itagaki - who created the Dead or Alive series and rebooted Ninja Gaiden - this is a particularly violent action shooter that blends shooting with intense melee. Valhalla is talking up the unique manoeuvring and combat, while online multiplayer is the core focus of the title - up to 16 modes are planned, ranging from serious battles to light hearted 'sports'.
Those are some of the key multiplayer experiences confirmed to be on the way - not even accounting for creation and sharing titles such as Mario Maker or promising download games such as Affordable Space Adventures - and we want to know which you're looking forward to the most. Let us know what you think in the polls and comments below.
Which of these two 3DS multiplayer experiences are you most excited about? (666 votes)
Monster Hunter 4 Ultimate
38%
I'm not really a fan of multiplayer gaming, so 'meh'
9%
Please login to vote in this poll.
Which of these Wii U multiplayer experiences are you most excited about? (706 votes)
Kirby and the Rainbow Curse
3%
I'm not really a fan of multiplayer gaming, so 'meh'
3%
Please login to vote in this poll.
Which of these multiplayer experiences are you most excited about? (692 votes)
Monster Hunter 4 Ultimate
13%
Kirby and the Rainbow Curse
1%
I'm not really a fan of multiplayer gaming, so 'meh'
2%
Please login to vote in this poll.