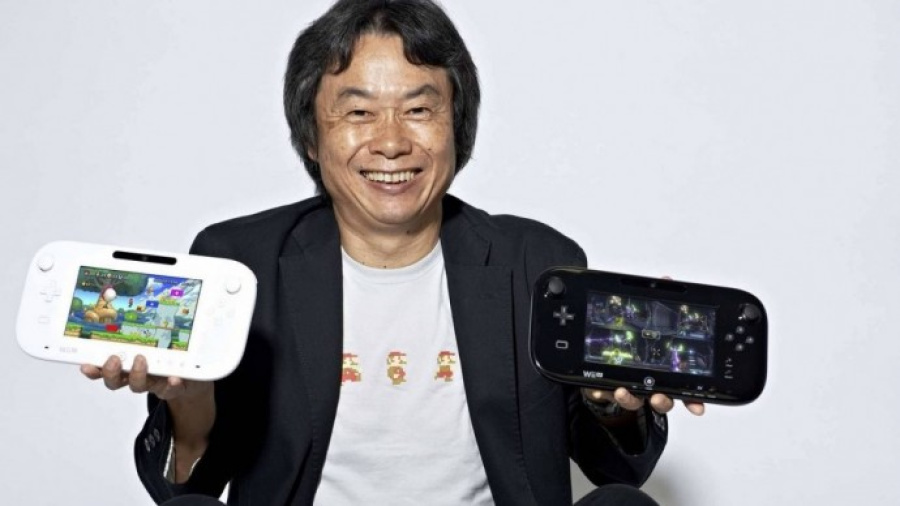 Global investment firm Jefferies & Co's Atul Goyal has recommended that investors pick up Nintendo shares in the expectation of big profits should the Japanese company fail to meet its proposed operating profit of 100 billion Yen.
Goyal's opinion is that Nintendo's failure to meet its targets will force President Satoru Iwata to rethink his strategy and bring the company's massive portfolio of titles to smartphones and tablets — arguably the big area of growth within the games industry right now.
For this financial year, Goyal expects Nintendo to make a profit of 20 billion Yen, and in the following financial year a loss of 5 billion Yen. These grim predictions are based largely on the current state of the Wii U, which is struggling to sell in meaningful quantities:
It is very clear, that Wii had strong momentum from the beginning – both in hardware and software sales. Gamers and observers expressed their affection for Wii console from the very start when it was first shown (at E3) and its novel game-play with Wii-mote. Meanwhile, Wii U sales have been extremely weak. These may be disappointing for the company, but in our view, these are not disappointing for the market. Since the launch of Wii U, gamers / observers have been expressing extreme caution / pessimism about Wii U. We do note that Nintendo sold (sell-in) c. 3.45m units in the first quarter of its launch but then managed only c. 0.39m units (sell-in) in the Jan-Mar quarter, presumably as the retailers were still stuck with plenty of inventory. For the Jan-Mar quarter, Wii U sales in US added up to c. 190, 000 units (i.e. global sell-in was c. 2x of the US sales (sell-through)) […] Using the same yardsticks, if Apr-May trend continues in June as well, that will imply a total of c.100,000 units of Wii U sales (sell through) in US, which could mean global sales (sell-in) of 200,000 – 250,000 units of Wii U in Apr-Jun quarter. Such weak sales trends will make it a struggle to sell even 2mn units this year, even with the help of a big 3Q.
He also says that the 3DS is in "decline", which is a surprising opinion given that the console recently topped the NPD hardware sales chart:
3DS has already started to decline. This is even before Nintendo has started to divert game developer resources towards Wii U. As Nintendo tries to ignite sales for Wii U, it will take away more resources from 3DS, which will further diminish the appeal of 3DS. Already, 3DS hardware and software has started to fade when compared to DS sales.
Taking all of this into account, it's not hard to see why an investment expert like Goyal feels a drastic change is about to happen. He thinks that by missing the target of 100 billon Yen profit, Nintendo's top brass will have enough reason to transform the company into a provider of software for platforms other than its own:
In our view, it is highly unlikely that Nintendo will come even close to its FY3/13 forecast of ¥100b in OP. We believe that this could trigger a meaningful change. In our view, after having been seen as completely opposed to offer its games on mobile-platforms, it is not easy for the management to change its view. However, with its comments about 'commitment' and about 'responsibility', in our view, the management has elegantly set the stage for a change / turnaround. In a low- probability event (we assume 20%) that they can meet this year's OP of ¥100b, the stock will likely rise and the management will get a bit longer rope. But in all probability (we assign 80%) Nintendo will miss its 'commitment' by a wide margin. That will give the management an elegant way out to change direction / strategy. It will be able to say that it has tried its level best. And that it has no other choice left but to offer games on other platforms. That said, we don't think that this acknowledgement will come before the year-end.
When digesting information of this kind, it's vitally important to remember that these guys are paid serious amounts of cash to make these predictions and do so based on the data they have in front of them right now. It's safe to assume that Goyal isn't a fanboy and has no bias towards any particular company — in fact, he may never have played a video game in his entire life. He's making this call based on what the market looks like right now, and even the most blinkered Nintendo fan will admit that things could be a lot better than they currently are.
What Goyal perhaps doesn't appreciate is that Nintendo has deep pockets and can quite happily withstand a few years of losses. Whether or not its shareholders will be content for it to do so remains to be seen, however.
Do you think we'll see Mario on the iPad at some point in the near future? Or do you think Nintendo will weather the storm and come out with another "Wii" style revolution in a few years? Post a comment to tell us what you think.
[via blogs.barrons.com]