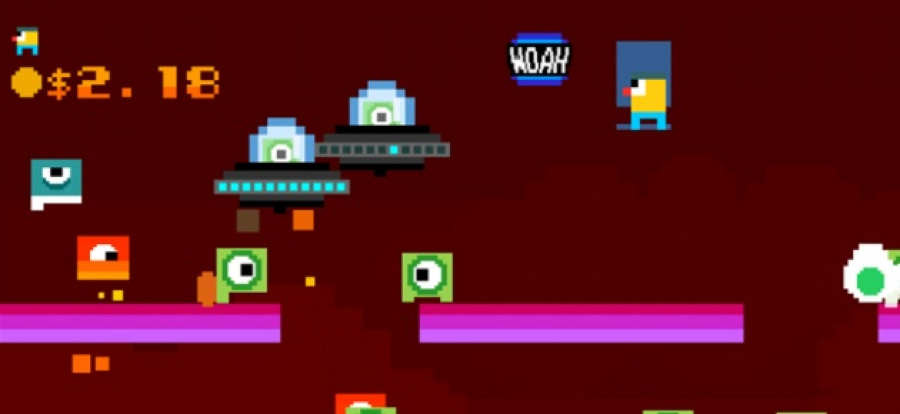 It's that time of the year where the video game industry goes absolutely bonkers for a few days and unveils a ton of new information about upcoming games for various systems and devices. In true keeping with this tradition, Nintendo of America has uploaded a shed-load of new trailers for previously announced Wii U and 3DS games.
Being the good folks that we are, we've embedded all of these in one place below for your benefit - so why not take a look and see what you've got to look forward to?
Upper Byte's action-platformer tasks you with ninja-ing your way through a fantasy Far Eastern-themed world.
---
Chromophore: The Two Brothers Director's Cut (Wii U eShop)
Having undergone a slight name change, Chromophore: Two Brothers Director's Cut is a nostalgic retread of the action-adventure/role-playing genres and sports a Game Boy aesthetic.
---
Yu-Gi-Oh! Zexal World Duel Carnival (3DS)
Popular characters from the Yu-Gi-Oh! franchise battle it out in the card-based role-playing game.
---
A puzzle-adventure game in which you use a range of wacky inventions to combat enemies and solve puzzles. There are in fact two new trailers for you to feast your eyes on.
---
A puzzle-platformer with a dark and twisted setting. Problem-solving and defeating bosses are the key to helping protagonist Born escape from an inevitable curse.
---
STARWAHL: Just the Tip (Wii U eShop)
Quite possibly the weirdest game in the list, STARWAHL: Just the Tip can essentially be described as a game about neon-magical dolphins that joust one another to death. Up to four players can join in the madness.
---
A sequel to the popular puzzle title on the 3DS eShop, which blends Picross-style puzzles with a fresh twist. This edition will include over 100 puzzles and a new zoom option.
---
Pier Solar and the Great Architects (Wii U eShop)
Previously known as Pier Solar HD, this game offers a JRPG experience and sports a traditional top-down 2D design.
---
Persona Q: Shadow of the Labyrinth (3DS)
The first Persona game on a Nintendo console, this RPG has a new visual style that's unusually funky. The game will incorporate gameplay elements from the popular Etrian series.
---
PAC-MAN and the Ghostly Adventures 2 (Wii U)
Based on the popular children's TV series, PAC-MAN and the Ghostly Adventures 2 sees the popular pill-popper and his gang of chums set off in a new action-platforming adventure.
---
One Piece Unlimited World Red (Wii U)
A continuation of the popular Japanese series in which Luffy and the gang set off on a new adventure.
---
A hybrid of tower defence and real-time strategy, Cubemen 2 promises online multiplayer across multiple systems.
---
Citizens of Earth (Wii U eShop)
Top town 2D adventure RPG where you play as Vice-President of the World. As per all career politicians, you must use your charisma and negotiating skills to get ordinary people to fight your battles for you.
---
In this action game you must guide a small rolling creature through a series of hazardous mazes containing some puzzle-lite elements.
---
Defend your burrow from a horde of evil bunnies in this unusually violent animal-based fixed first-person shooter.
---
Phoenix Wright: Ace Attorney Trilogy (3DS eShop)
Experience the original trilogy, starring everyone's favourite blue-suited defender of justice, in this remastered edition exclusively for 3DS eShop.
---
A crazy single-screen platformer which resembles Mario. Bros in the gameplay department.
---
Already available on mobile devices, Nyamyam virtual pop-up book for a game will be appearing on Wii U later this year.
---
Which of these games are you most excited for? Let us know in the comments section below