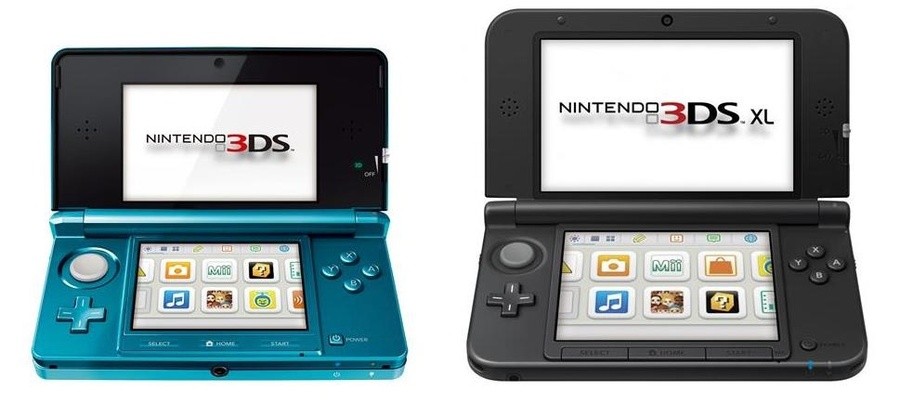 Not too long ago we published five reasons to choose Wii U this Holiday season, so it now seems only fair to do the same for the 3DS. With so many systems and games competing for our time the little portable has plenty of rivals, but it's also a terrific option in a time of the year typically full of travelling and relaxation away from the TV.
There is one rather large elephant in the room — the New Nintendo 3DS. Out now in Japan and Australia, it's due in 2015 in other territories. As we've suggested a few times before, we'd expect Nintendo to get these into worldwide stores in good time ahead of 31st March 2015, in order for sales and revenues to boost annual financial results; that was surely the reasoning for the rushed release of the original 3DS in March 2011. In terms of purchasing hardware, then, buyers need to consider the current retailer deals on the existing models against the features coming in the New models — C-Stick, NFC and amiibo support, faster CPU, improved 3D viewing angle and more. That's a major factor for potential owners, though this article is also here to highlight reasons why we should all be eyeing up the games and opting to spend our time and money with the 3DS we already own, too.
With that all said, here are our five reasons for the 3DS to be near the centre of your gaming universe this Holiday season; just like in the Wii U entry, uniqueness is undoubtedly a recurring theme.
StreetPass
Whether heading to the shops or sharing a house with other 3DS owners, StreetPass remains a fun extra on the console, and in many ways epitomises what makes the portable tick. There are simple built-in games — we're also fans of the four latest additions that can be bought separately — while a lot of games support the functionality in some way. You can go on the hunt for puzzle pieces, grow a garden, develop an army to rule the world or — to take a recent example — play a high-tempo mini-game in Super Smash Bros. for Nintendo 3DS.
The best thing about StreetPass is that it encourages us to take our 3DS with us into the world, and it can be satisfying to return home and see that green notification light — it's a cute and innocent way to see and connect with other 3DS gamers. A lot of time can be lost in the StreetPass games or in simply messing about with hits in a host of retail and download games; ideal for those quiet moments in the Holidays.
Unique and Exclusive Retail Games
While we emphasized the angle of 'unique' retail games for Wii U, that's even easier with the 3DS; that's simply because the nature of the system makes the majority of its library distinctive to the hardware. It's a notable system in the marketplace, as it lacks the power of smart devices and Sony's Vita yet offers a different proposition with its combination of inputs and dual screen setup. While game ports do exist, its library is populated with some fantastic Nintendo titles and a host of third-party experiences that are either exclusive to the hardware or ports with a fresh approach. Its retail line-up emphasizes how the 3DS has found some success against the odds; it's full of games that feel like they only really work on Nintendo's hardware.
Well over three years after launch — nearer four years — there's a sizeable, impressive library. A good number of Nintendo franchises and IPs have top-notch entries, and there's been a terrific expansion of engrossing, detailed RPG experiences in particular. Whether you want platforming, whimsy, strategy, an engrossing adventure or a detailed RPG, there's a host of first class games to choose from.
Also, Pokémon.
Virtual Console
There are valid complaints about the 3DS Virtual Console, namely the fact it's not host to the growing range of Game Boy Advance downloads — they're on Wii U — and there's some regurgitation of NES games we've seen before. That's all true, but this is also a platform that's brought us Game Boy and Game Boy Color downloads for the first time; releases have slowed down, yes, but there's a handsome back-catalogue.
It's an excellent option for those too young to have owned the original systems, or others that simply didn't own them back in the day, and these retro games also serve a reminder of what made those portables so iconic; in some respects the style of current-day 3DS games isn't too far from that bygone era. Aside from Pokémon — which is limited to spin-off titles — a number of big names have already been covered. It's not all bad on the NES front, either, as the 3DS is a great way to enjoy the glory days of Mega Man while on the go.
eShop-Only Games
Moving beyond the Virtual Console, the eShop bears some resemblance to the retail line-up — this isn't in terms of the actual games, but in its quirkiness. There are some ports of smart device games, for example (not all bad, too) but it's a platform that attracts a batch of committed and — in some cases — high quality developers. Developing for the 3DS is, by its very nature, not as simple as some other platforms, but it does offer unique opportunities that attract enjoyable projects.
Nintendo's pitched in with its own games, of course, but efforts such as Gunman Clive, SteamWorld Dig and various small-scale efforts from Level 5 provide some excellent experiences; Image & Form's title even moved up to HD systems following success on Nintendo's portable. There are studios that have published some of their most definitive and enjoyable work on the 3DS store, including Renegade Kid and WayForward, the latter recently releasing Shantae And The Pirate's Curse in North America.
The eShop is a source of terrific entertainment on the 3DS.
Glasses-Free 3D
Rather like our defence of the GamePad in the equivalent Wii U entry, we're swimming a little against the tide to praise the glasses-free, autostereoscopic 3D screen of the 3DS. It's easy to forget how mind-blowing it was when revealed, and the fact that the New Nintendo 3DS has improved the feature reminds us that — despite the market-savvy release of the 2DS — Nintendo still wants us to enjoy games with that slider up.
There seems to be a decent proportion of 3DS owners that don't use the effect at all, yet that seems to be a pity; in most cases any disorientation passes after a short time getting acquainted with how it works. Another problem is the narrow 'sweet spot' in the original models, yet in a number of games it adds to the overall impression a game can make; even in titles where there's no discernible 'benefit', for this writer's money plenty of games still look better regardless. Games like Luigi's Mansion: Dark Moon, Pullblox / Pushmo and — particularly — Super Mario 3D Land benefit, with the added depth contributing to the overall experience.
This is still a relatively unique feature, too. Mainstream 3D TVs still require glasses, and only a small number of smartphones support glasses-free 3D.
---
Those are five key selling points of the 3DS to consider, then; some of these will only improve and increase in prominence as 2015 brings more games and the New models.
Let us know what you think of this list — including whether we're dastardly fiends for not including 3DS HOME Themes or Miiverse — and vote for your favourite out of our 'reasons' in the poll below.
Which of these 'reasons' is best for choosing the 3DS? (240 votes)
Please login to vote in this poll.