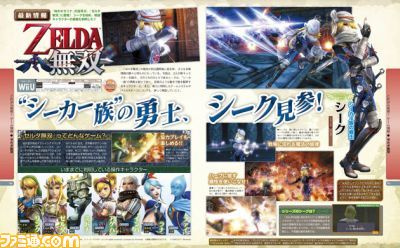 Just yesterday we reported on the news that a Goron was being teased as a new playable character in Hyrule Warriors. It seems that tease was just the beginning, as a preview from Famitsu on its latest issue is promising details on three new playable characters.
As expected, it's the turn of The Legend of Zelda: Ocarina of Time to make its appearance in the Warriors / Zelda collaboration. Three characters from the title will be playable; first up is Sheik, which is a variation of a pivotal character in the Nintendo 64 classic — it seems peculiar to be dodging certain spoilers on a retro game, but we will. Also confirmed are Darunia, the Goron leader from the title, and Princess Ruto of the Zora. The latter is likely to be the most intriguing in terms of her moveset, while the confirmation of Darunia is no surprise in light of various Goron NPCs being prominent in a widely-played preview build of the title.
The official website is yet to be updated with official screens and videos, as Famitsu is enjoying its advance exclusive. We'll bring those assets to you as they arrive, but are you excited about these additions as playable characters in Hyrule Warriors? Let us know.
[via siliconera.com, famitsu.com]