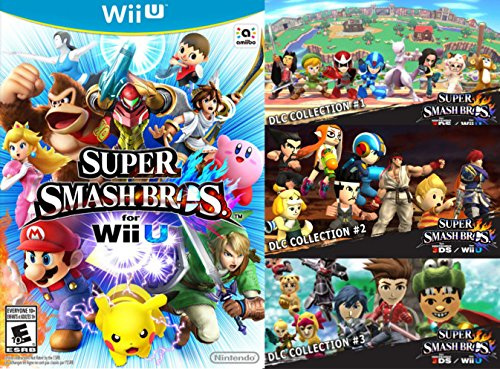 Super Smash Bros. on Wii U and 3DS is the game that keeps giving, assuming you dig into your pocket every now and again. It's rather sneakily become Nintendo's most substantial DLC vehicle to date, serving up over $50 of extra content across four batches if you've opted to buy it all across both versions. It ain't chump change.
Ahead of the busy shopping season Nintendo - in North America at least - is bundling most of the goodness together in one package. Amazon.com is now listing download packages that include the game and the first three complete DLC Collections; the Wii U version is $99.99 and the 3DS package is $79.99.
Taking the recommended prices for the download versions of the games alone, $59.99 on Wii U and $39.99 on 3DS, this does offer a modest saving:
Wii U DLC collections 1 to 3 when bought individually - $41.93
Wii U package saving at $99.99 - $1.93
3DS DLC Collections 1 to 3 when bought individually - $41.93
3DS package saving at $79.99 - $1.93
It's a marginal saving, though it should be pointed out this isn't a great deal for those intending to have both versions of the game, as each DLC pack only offers the content for one platform. Anyone that then buys the same content for the other system will end up paying a lot more than if they buy the game alone and then buy the discounted combo DLC packs for both platforms. Another aspect that strips the appeal from this bundle is the fact that Amazon (and others) are offering physical versions of the game at a nice discount, making it less expensive to buy the disc version and then download the DLC separately.
For some this is a valid option, however, and also represents another solid example of a sales partnership with Amazon. Other retailers already sell download codes for some of the packs, though Amazon seems to be first out of the gate with this bundle.
Let us know what you think of this offering in the comments.