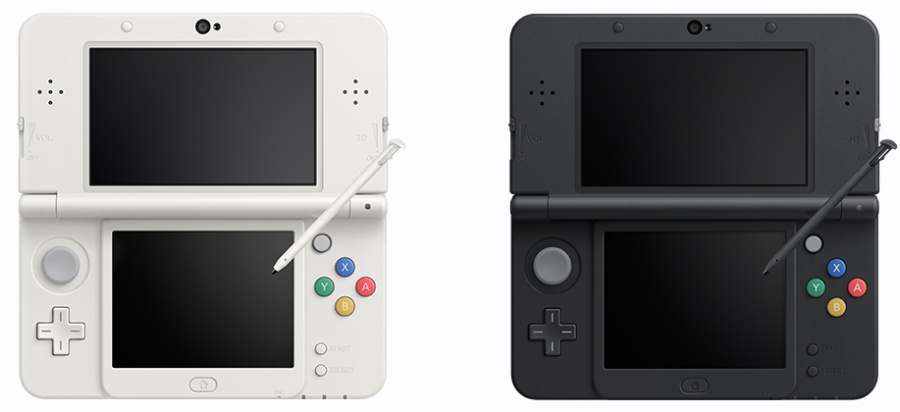 Now that the whole New Nintendo 3DS Ambassador Promotion in Europe is drawing to an end, it's time to move on from topics such as who's been picked by Club Nintendo, what makes Europe so special and what the flip Nintendo of America was up to when it all went down. Those topics are so ten minutes ago, and now we move onto the important issue of when the actual full systems come out.
Assuming the launch range follows those of Japan and Australia / New Zealand, we have two New 3DS XL and two New 3DS standard models on the way. There'll be Metallic Blue and Metallic Black XL systems, while those opting for the smaller models and those rad faceplates have the choice of White or Black - both of the smaller models have SNES coloured face buttons.
That's all lovely, and while we're still waiting for a release date we do have some pricing emerging in Europe. We've been under the impression - based on pricing elsewhere - that the New models will step in at the full price of the current hardware; we expect the older models to have a drop when that happens, which is only logical. Thankfully GameStop in Italy has opened pre-orders (without a release date) that show this trend coming through, albeit at the high-end of the pricing for current models.
New Nintendo 3DS XL - €199.98
New Nintendo 3DS - €169.98
As for GameStop in the US right now, it's continuing to flog current systems with a $30 discount, with XL's recommended price in the country being $199.99.
Though current models often - but not always - come with a bundled game at that sort of price, this seems pretty reasonable considering the various features in the upgrade. It's also worth noting that in the UK £179.99 ambassador bundle the individual system unit - which is the smaller model - was attributed a value of £155.99 for the country, so the pricing picture is coming together.
Are you happy with this pricing and the general idea of the New Nintendo 3DS being close to the equivalent full prices for the older models? Let us know in the comments below.
[via gamestop.it, gonintendo.com]