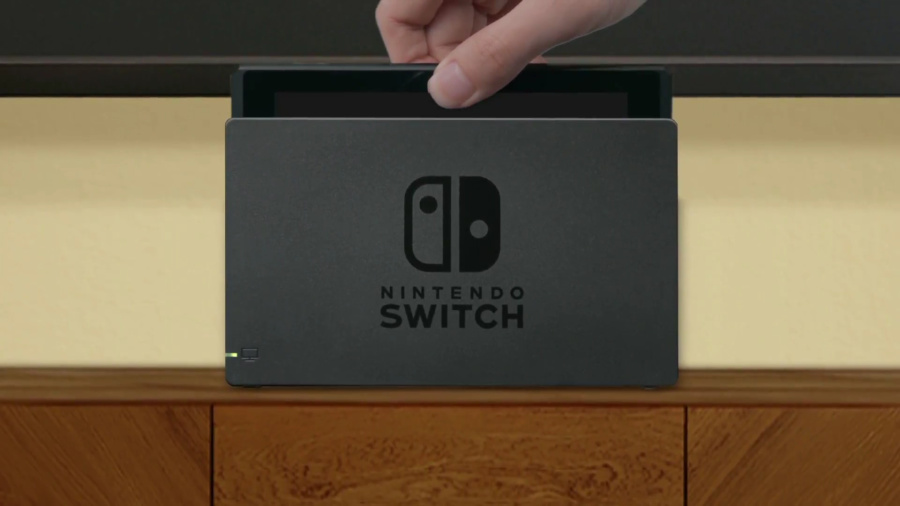 While it may have come under fire from fans in the past, there's little question that Ubisoft has been one of Nintendo's most loyal publishing partners over the past few years. The company made a big splash at the launch of both the Wii and Wii U, and is bringing three titles to the Nintendo Switch - a high number compared to other publishers.
Speaking to GamesIndustry.biz, Ubisoft's French studio head Xavier Poix explained why the company is so confident in Nintendo's new machine and why it has decided against creating any new titles for the Switch launch.
When quizzed about the console's target audience, Poix replied:
It will still be for kids. The console itself is very modern and it can really answer the need of wanting some high quality gaming experience on your couch at home, with long-sessions, as well as being able to take it with you into another room, or on the bus. This should definitely appeal to a younger audience. I think there will be room for everyone. I'll be interesting to discover how people will use this on-the-go feature. That is why games like Rayman and Just Dance are good titles for this console, because I'd like to know how people will play them. Rayman Legends, for instance, is a game that has DNA that is very similar to Switch. It is a game you can play on the big screen at home, with yourself and others. But you can also see this easily being played on the smaller Switch screen, and even in multiplayer. We imagine that, with the smaller screen, people will be playing for shorter play sessions, and Rayman Legends is a game that allows you to do both long and short play sessions.
In the future, we will have to manage and look at how people are playing on Switch. No one can tell what the breakdown will be between playing on the couch - for what I imagine will be longer play sessions - and playing on-the-go for shorter sessions. Switch games need to think about that.
He also batted aside concerns about the console's cost, and the perceived lack of games at launch:
Today, people are spending €800 on the new iPhone. It shows that people are eager to spend more money than previously on very high end, interesting new things that they can carry with them. I'm not saying it wouldn't be better at a cheaper price, but I think we can count on Nintendo making sure that the software that will be linked with Switch will be more and more interesting.

Nintendo's strategy is to have a portfolio of strong games that will be released month after month, which I think is a good strategy. If I remember correctly, with the Wii U, there were many titles at launch which lacked the quality to engage the player, they didn't understand why it was different. In this case, I think Nintendo has proposed a good portfolio. It is a good way of moving forward.
Poix was questioned about why Ubisoft isn't producing a brand-new game for the system at launch, as it did with the Wii (Red Steel, for example) and Wii U (ZombiU):
First of all, I think these are games that are a good fit the platform, even though we haven't made an announcement of a brand new title. When you think about Just Dance for instance, that game was brought to the Wii first and uses the whole motion gaming aspect. But Just Dance is about playing with anyone and anytime, it is about accessibility, and what is interesting is that Switch brings that anywhere aspect to the table. So the ability that the games had on Wii and Wii U in terms of bringing people together into a room, well now that room can be anywhere. The room you want to play Just Dance in can be a kitchen or a garden, it can be anywhere.

The Switch has been made for Just Dance. Just Dance has sold more than 65m units, it has had more than 100m players that have used it. In the Switch box today, you have two Joy-Con controllers, so right from the first day you can play two player Just Dance - with each person holding a Joy-Con. Of course you can play in front of the TV, and also play on the smaller screen, which means you can now have a Just Dance party almost anywhere. It's the perfect match for that game.
So we are bringing titles that we think fit with what Switch is all about. Of course, in the future we have other things that we will be very happy to share with you at a later date.
Poix also stated that he was confident that the Switch can find its own niche in the market and sit neatly between home consoles and smartphones:
Today, we have two ways of playing - and a lot of people are doing both. There is the high-end, high value, experience that you have at home in front of your TV - in multiplayer or not. But when the TV isn't there anymore, if someone else is using it for example, then you are left alone with your mobile phone. So there is a need for Switch, and we probably don't realise it right now, which is what makes this so interesting. There is a promise of keeping the player in the world that he or she loves. Switch can really change the way people are interacting with their games and the worlds we are creating.
I am confident Nintendo can create a bridge between the worlds of mobile and TV. Between the desire to play on the TV, but also the need to play somewhere else because you can't be in front of your TV all the time.
Finally, Poix was asked what makes the Switch different from the Wii U, a console which Ubisoft supported heavily at launch but backed away from as it struggled for sales:
The message of the Wii U wasn't clear enough. I think what they really did well with the Wii is that they found a new system, a new way of playing and an easy way of showing that to every audience. In terms of the Wii U, the idea of playing with two screens, and with a controller that is bigger than usual, it is something that is very hard to explain. It is ok when you play games that use this feature, because you understand, but it's not something you can understand very easily by just seeing it. I think the Switch, from day one - which I think is why they introduced the Switch at first without any other information - is to see if the message is something that people can easily understand. And for me it is simple. You know the handheld console, you know the home console, the Switch is the bridge. It is a home console on-the-go. It is a very simple message that anyone can understand. Of course there are more features that you'd need to play to understand it properly, but I am really confident that the messaging itself - which was key to the success of Wii - is there for the Switch.
What do you make of Poix's confidence in Nintendo's new console? Do you think Ubisoft will give the machine its full support, or do you detect a hint of caution from the fact that all three launch games are available elsewhere? Let us know with a comment.
[via gamesindustry.biz]