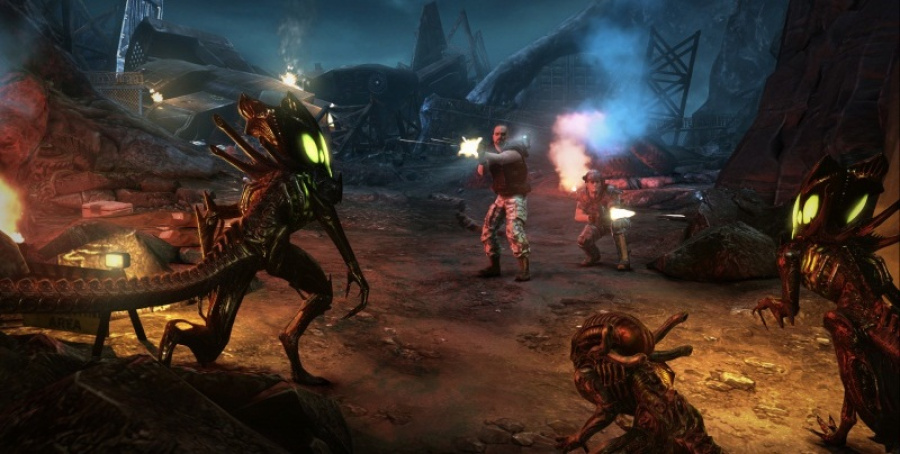 For a number of months — or years, depending on how much you follow the franchise — Gearbox software has been plugging Aliens: Colonial Marines, a title taking on the branding of one of the most treasured sci-fi movies ever released. We've been watching closely as it's also coming to Wii U, with Gearbox's Randy Pitchford even going so far as to make bold claims about the upcoming Wii U release being the best-looking version. For fans of the movie, excitement about the concept was probably given reassurance by the thought of the team behind the Borderlands games being involved.
It seems, if an anonymous forum post is to be believed, that we may have been victims of a bit of press spin in the build-up to this release, with much of the title (notably its single player component) apparently being out-sourced to TimeGate Studios. While its part in the development was already known, it had previously been suggested that the highly regarded Gearbox team was doing much of the work; not so according to the former team member, whose post was actually tracked down today from last year.
Hate to say it, but I wouldn't get your hopes up too high for Colonial Marines. I used to work at Gearbox, and the development of that game has been a total train wreck, going on what, six years now?

Gearbox isn't even making the game, except for the multiplayer. Primary development was outsourced to TimeGate Studios, which has a less than stellar past.
The suggestion that TimeGate Studios has done much of the work is reinforced, in part, by its prominent placing in the opening cinematic credits.
Sega presents
With 20th Century Fox
A Gearbox Software production of
A TimeGate Studios
Demiurge Studios
Nerve Software
and Gearbox Software game.
While we're waiting for the Wii U version and will be giving our view then, this title's PC, Xbox 360 and PS3 release has been met with harsh judgements from many critics; appropriately its multiplayer mode, apparently assigned to Gearbox, has been highlighted by some as its sole saving grace. VG247.com has compiled a summary of reviews, with the majority awarding low scores that have contributed to a metacritic rating — at the time of writing — of 50% for the Xbox 360 version, based on 23 reviews; the PS3 rating is currently lower. Eurogamer, for its part, has awarded a rather damning 3/10 review score.
It'll be interesting to see how this one turns out on Wii U, though if that release has a review embargo until after the game hits stores — as the current versions did — then there may potentially be a monstrous disappointment lurking in the air ducts. We'll keep our motion tracker focused on it until then.
Let us know if you intend to buy Aliens: Colonial Marines when it eventually hits the Wii U in our poll below.
Do you intend to buy Aliens: Colonial Marines on the Wii U? (133 votes)
I might buy the Wii U version
41%
I'll buy the Xbox 360 / PS3 version instead
2%
No way, GAME OVER MAN!
44%
Please login to vote in this poll.
[via pushsquare.com, eurogamer.net, twitter.com]