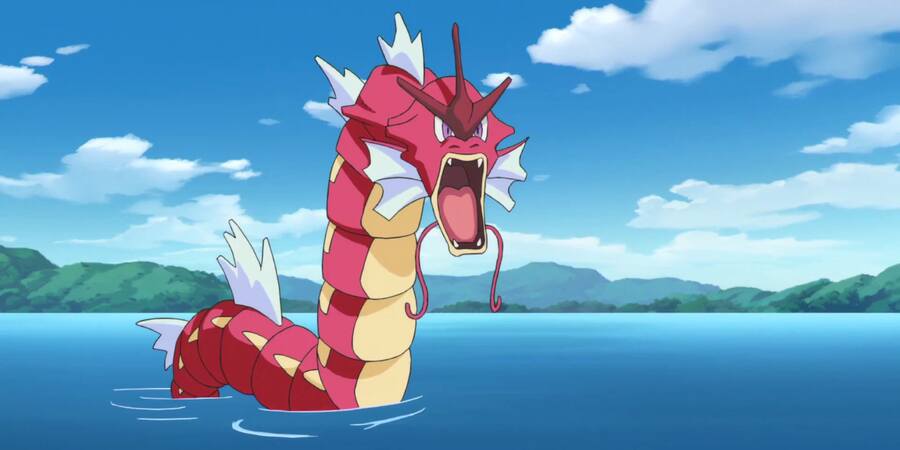 Shiny Pokémon are as elusive and mysterious in Pokémon GO as you'd expect. They started rolling out last year in March with Shiny Magikarp and Red Gyaradaos, but now number at almost 100.
They're so rare though, that it might well be a long while before you encounter one – if you encounter one at all. In this guide, we're going to list all of the Shiny Pokémon available in the game so far, detail how you can get a chance at catching them, and include a few tips to help make your life easier.
What Is A Shiny Pokémon?
A Shiny Pokémon is an incredibly rare version of a normal Pokémon with a special coloration. For example, a Shiny Gyarados is a deep red as oppose to its traditional blue colour.
The different colours aren't always so pronounced though, and sometimes the differences can be as small as different eye colours. It really depends on the Pokémon.
Aside from this unique appearance, there's nothing special about a Shiny Pokémon. Statistically they're the same, and have no advantages in combat or anything like that.
How To Catch Shiny Pokémon In Pokémon GO
Shiny Pokémon are encountered in a variety of different ways, and each Pokémon species itself differs. It might be that you have to encounter the Pokémon in a Raid or through an Evolution.
However, there's no reliable method to catch a Shiny Pokémon. It's entirely up to chance, and even then they're incredibly rare to encounter. Your best bet is to focus on a particular few that you want and repeat the catch requirements until you get one. If you get one.
All Shiny Pokémon In Pokémon GO
Below, we've included a list of all of the Shiny Pokémon in Pokémon GO, what they look like, and the means with which they're encountered. It's important to note that there is no guarantee that you will encounter a Shiny Pokémon – even if you follow the instructions. You simply have a chance, and a slim one at that.
Pokémon
Appearance
How To Catch
Shiny Absol

Shiny Aerodactyl

Raids
Research
Encounter
Wild

Shiny Aggron

Evolution

Shiny Altaria

Evolution
Shiny Ampharos

Evolution
Shiny Arcanine

Evolution
Shiny Aron

Shiny Articuno

Raids
Shiny Banette

Evolution
Shiny Bayleaf

Evolution
Shiny Blastoise

Evolution

Shiny Bulbasaur

Eggs
Research
Encounter
Wild

Shiny Charizard

Evolution
Shiny Charmander

Eggs
Research
Encounter
Wild

Shiny Charmeleon

Evolution
Shiny Chikorita

Shiny Cloyster

Evolution

Shiny Dragonair

Evolution
Shiny Dragonite

Evolution
Shiny Dratini

Shiny Dusclops

Evolution
Shiny Duskull

Shiny Eevee

Shiny Espeon

Evolution
Shiny Flaaffy

Evolution
Shiny Flareon

Evolution
Shiny Forretress

Evolution

Shiny Geodude

Wild
Shiny Glalie

Evolution
Shiny Golem

Evolution
Shiny Granbull

Evolution

Shiny Graveler

Evolution
Shiny Grimer

Shiny Growlithe

Shiny Gyarados

Evolution
Shiny Hariyama

Evolution
Shiny Ho-Oh

Raids
Shiny Houndoom

Evolution

Shiny Houndour

Shiny Ivysaur

Evolution
Shiny Jolteon

Evolution

Shiny Kabuto

Shiny Kabutops

Evolution
Shiny Kyogre

Raids

Shiny Lairon

Evolution
Shiny Larvitar

Evolution
Shiny Lugia

Raids
Shiny Luvdisc

Shiny Magby

Eggs
Shiny Magikarp

Raids
Research
Encounter
Wild

Shiny Magmar

Evolution

Shiny Makuhita

Shiny Mareep

Eggs
Research
Encounter
Wild

Shiny Mawile

Raids

Shiny Medicham

Evolution
Shiny Meditite

Shiny Meganium

Evolution

Shiny Mightyena

Evolution
Shiny Minun

Wild
Shiny Moltres

Raids
Shiny Muk

Evolution

Shiny Murkrow

Wild
Shiny Natu

Eggs
Research
Encounter
Wild

Shiny Omanyte

Shiny Omastar

Evolution
Shiny Pelipper

Evolution
Shiny Pichu

Eggs
Shiny Pikachu

Evolution
Research
Encounter
Wild

Shiny Pineco

Eggs
Research
Encounter
Wild

Shiny Plusle

Wild
Shiny Poochyena

Shiny Pupitar

Evolution
Shiny Raichu

Evolution
Shiny Roselia

Wild
Shiny Sableye

Shiny Shellder

Raids
Research
Encounter
Wild

Shiny Shuppet

Shiny Snorunt

Shiny Snubbull

Shiny Squirtle

Eggs
Research
Encounter
Wild

Shiny Sunflora

Evolution

Shiny Sunkern

Eggs
Research
Encounter
Wild

Shiny Swablu

Shiny Togepi

Eggs

Shiny Togetic

Evolution
Shiny Tyranitar

Evolution
Shiny Umbreon

Evolution
Shiny Vaporeon

/
Evolution

Shiny Venusaur

Evolution
Shiny Wailmer

Eggs
Raids
Research
Encounter
Wild

Shiny Wailord

Evolution

Shiny Wartortle

Evolution
Shiny Wingull

Shiny Wobbuffet

Evolution

Shiny Wynaut

Eggs
Shiny Xatu

Evolution
Shiny Zapdos

Raids