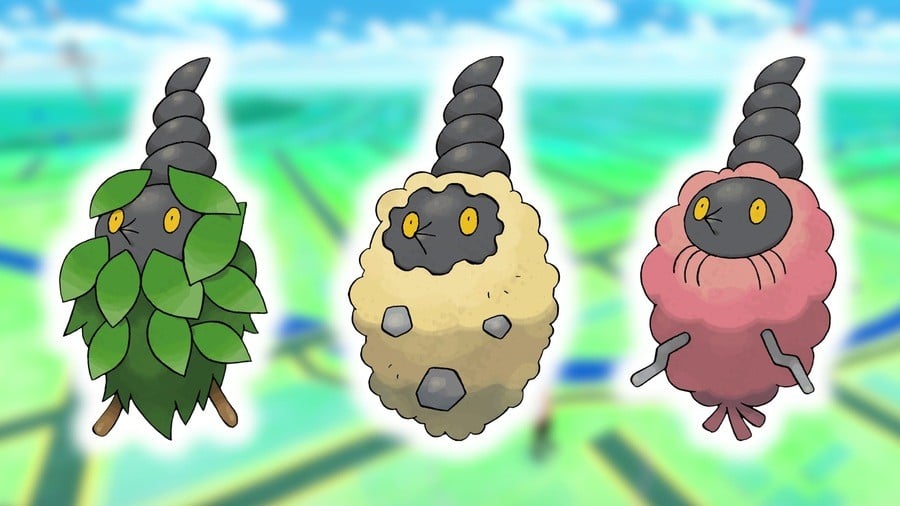 Burmy is one of the more confusing creatures to collect in Pokémon GO, and indeed in the Pokémon series as a whole. Originating from the Pokémon Diamond and Pearl games available on Nintendo DS, Burmy caused all sorts of confusion among players when it first appeared in Pokémon GO.
At first, Burmy was thought to be a regional exclusive, just like Pokémon such as Mr. Mime, Farfetch'd and Tauros, but this has since been proven to not be the case. If you have any questions about Burmy - such as where to find it, how its evolution works, and Burmy's different forms - you should find your answer waiting for you down below.
So, let's crack on with it, shall we?
Burmy Explained - What Is It And What Are Its Forms?
Burmy is a Bug-type Pokémon now available in Pokémon GO. Similar to other Pokémon like Unown and Castform, Burmy can be found in various forms.
In the main series of Pokémon games available on Nintendo DS and 3DS, any one Burmy can change between its three different forms depending on your in-game location. In Pokémon GO this works slightly differently; instead, you can find all three different types of Burmy in the wild and your specific Burmy will always remain the same form.
The three different forms are called Plant, Sandy and Trash, and are referred to as being different 'cloaks'. All three are classified as the same Pokédex entry - number 412.
Where To Find Burmy - Plant, Sandy And Trash Cloaks
The secret to finding a specific type of Burmy hasn't been officially revealed, but players are already beginning to discover patterns which seem to help out massively and - importantly - they do make an awful lot of sense.
Players over at the Silph Road Reddit have deduced that Burmy's Pokémon GO locations appear to fall in line with how its form-changing ability works in the main series of games. Rather than being regional or timed exclusives, the different cloaks seem to pop up in the following areas regardless of which country you live in:
Plant Cloak: Parks, forests, and other grassy locations
Sandy Cloak: Beaches or other sandy areas
Trash Cloak: Urban areas such as towns and cities
If you're after one type in particular, try heading out to the specific areas mentioned above.
Burmy Evolution In Pokémon GO - How To Get Wormadam And Mothim
Burmy's evolutions are one of the more complex families in the game. Similar to the Eevee evolution chain, Burmy's evolution path branches off into multiple different routes and there are several different factors at play.
As you'll know by now, Burmy comes in three different forms. One of Burmy's evolutions - Wormadam - also comes in three different forms, and the form it takes will be the same as the Burmy from which it evolved. Your Burmy will only evolve into Wormadam if it is female, however.
Here's how to get the different types of Wormadam:
Plant Cloak Burmy (Female): Use 50 Burmy Candy to evolve into Plant Cloak Wormadam
Sandy Cloak Burmy (Female): Use 50 Burmy Candy to evolve into Sandy Cloak Wormadam
Trash Cloak Burmy (Female): Use 50 Burmy Candy to evolve into Trash Cloak Wormadam
It's worth noting that Wormadam's type will change depending on its cloak (Plant Cloak Wormadam is Bug/Grass-type, Sandy Cloak Wormadam is Bug/Ground-type, and Trash Cloak Wormadam is Bug/Steel-type).
Things change entirely if your Burmy is male. If you have a male Burmy, regardless of its cloak, it will evolve into a Mothim. Mothim has only one main form, just like most other Pokémon.
Here's how Mothim's evolution works:
Plant Cloak Burmy (Male): Use 50 Burmy Candy to evolve into Mothim
Sandy Cloak Burmy (Male): Use 50 Burmy Candy to evolve into Mothim
Trash Cloak Burmy (Male): Use 50 Burmy Candy to evolve into Mothim
[source reddit.com]