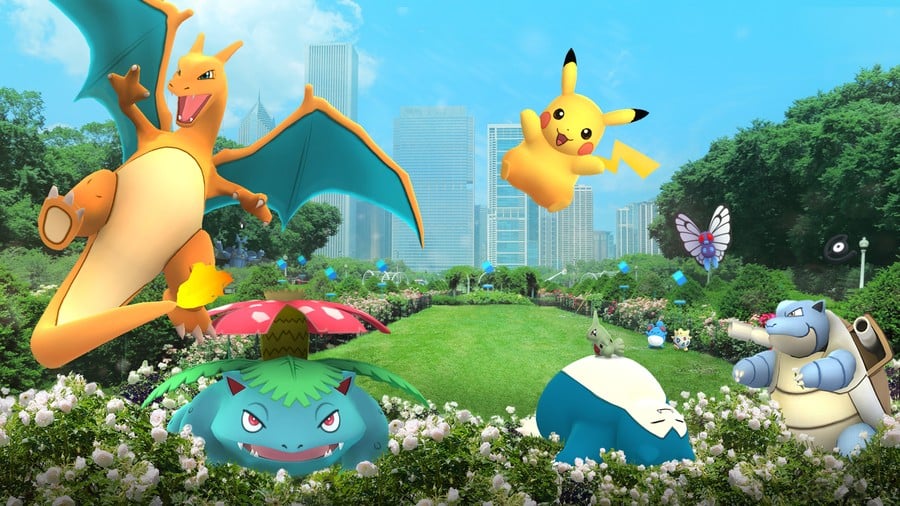 Hatching eggs in Pokémon GO is an important alternative source of new Pokémon, often with more favourable hatching percentages for monsters that are rarely encountered in the wild. Keeping track of what is available to hatch is a challenge in itself - with plenty of limited time events and tweaks to availability to stay aware of. In this regularly updated guide, we'll help you concentrate on the egg types that will help you complete your Pokédex, and alert you to important potential hatches.
Pokémon GO Egg Types and Where to Get Them
Eggs come in a variety of different forms, the names corresponding to the distance you must walk to hatch them:
2km (with green spots)
5km (orange spots)
7km (yellow with pink spots)
10km (purple spots) -
2, 5 and 10km eggs have a random chance of dropping when you spin a Pokéstop (10km eggs tending to drop less frequently). 7km eggs are found instead in gifts received from friends. You can carry a maximum of 9 eggs of any variety at one time - new eggs will not be dispensed until you hatch one of your existing eggs (note that you cannot delete eggs).
Eggs aren't just about hatching harder to get species - the Pokémon you get from them also have higher than average IVs (two and three star ratings) and you'll also get a random number of evolution candies (longer distance eggs yield more candy).
How To Hatch An Egg in Pokémon GO

To hatch an egg, simply tap the Pokéball, tap on the 'Eggs' column, select an egg, then hit 'Incubate' and select an incubator. Alternatively, you can select an incubator using the icon on the bottom right of the eggs column, then select an egg.
All players receive a single infinite use incubator, but if you want to hatch a lot of eggs at once you can acquire additional limited use incubators from the shop or as a reward for completing special research quests such as that for Mew and Celebi.
Once an egg's sitting in an incubator, simply walk the specified distance to hatch the egg.
If you enable Adventure Sync (see the app's settings) you don't even have to have the app open while you walk
Note that during certain events, Pokémon GO developer Niantic may halve hatching distances - this stacks with the super incubator (which reduces distance to two-thirds normal).

Pokémon GO Egg Hatching Odds
The Pokémon contained in each egg will be a mystery until you hatch it - however, there are a limited number of species that appear in each egg type.
It is important to note that species in the lists do not have an equal probability of hatching - Niantic make continual tweaks to probabilities for balancing purposes (and these tweaks are never made public) but community research suggests that certain species may appear in as many as 10% of all eggs of any given type, while others appear in fewer than 1%.
One very important thing to note - the Pokémon in any given egg is determined by the egg list at the time it was received. If you receive an egg during an event in which a certain Pokémon is available, you can hatch it months later and it still may contain that Pokémon! However, eggs received before the event will not contain the limited time offer Pokémon even if hatched during the event (for this reason, you best option is to aim to have an empty/easy to empty egg-list ahead of major events).

Pokémon GO Egg Hatch List
Below, you'll find a handy list of all of the Pokémon you can find in each of the different hatching types, from 2km all the way up to 10km.
Current events
Niantic have announced that regional Pokémon have been added to 5km eggs in their respective regions. Mime Jr. has also been released for the first time in European 5km eggs
Generation 5 (Unova) begins its rollout on 16 September - known hatches are now listed below
We are currently monitoring the effect of these changes and whether they have lead to the exclusion of certain Pokémon from the hatching lists.
2km Egg Hatches
Dex Number
Appearance
Name
1

Bulbasaur
4

Charmander
7

Squirtle

63

Abra
66

Machop
90

Shellder
92

Gastly

98

Krabby
129

Magikarp
152

Chikorita
155

Cyndaquil

158

Totodile
172

Pichu
173

Cleffa
174

Igglybuff

175

Togepi
200

Misdreavus
220

Swinub
252

Treecko

255

Torchic
258

Mudkip
261

Poochyena
296

Makuhita

304

Aron
307

Meditite
320

Wailmer
325

Spoink

333

Swablu
370

Luvdisc
387

Turtwig
390

Chimchar

393

Piplup
401

Kricketot
438

Bonsly
505

Patrat

506

Lilipup
509

Purrloin
519

Pidove
5km Egg Hatches

Dex Number
Appearance
Name

27

Sandshrew
54

Psyduck
58

Growlithe
77

Ponyta

81

Magnemite
86

Seel
95

Onix
104

Cubone

108

Lickitung
111

Rhyhorn
114

Tangela
116

Horsea

123

Scyther
138

Omanyte
140

Kabuto
179

Mareep

193

Yanma
198

Murkrow
204

Pineco
207

Gligar

215

Sneasel
227

Skarmory
228

Houndour
236

Tyrogue

238

Smoochum
239

Elekid
240

Magby
270

Lotad

298

Azurill
299

Nosepass
318

Carvanha
328

Trapinch

331

Cacnea
345

Lileep
347

Anorith
353

Shuppet

355

Duskull
360

Wynaut
361

Snorunt
366

Clamperl

406

Budew
415

Combee
418

Buizel
420

Cherubi

425

Drifloon
427

Buneary
431

Glameow
434

Stunky

436

Bronzor
449

Hippopotas
451

Skorupi
453

Croagunk

456

Finneon
458

Mantyke
459

Snover
495

Snivy

498

Tepig
501

Oshawott
522

Blitzle
529

Drillbur

562

Yamask
590

Foongus
5km Region-Exclusive Egg Hatches
Dex Number
Appearance
Region
Name
439

Europe
Mime Jr

The following Pokémon also have a chance of appearing in 5km eggs in their respective regions: Farfetch'd, Kangaskhan, Tauros, Heracross, Corsola, Volbeat, Illumise, Torkoal, Zangoose, Seviper, Lunatone, Solrock, Tropius, Relicanth, Pachirisu, Chatot, Pansage, Pansear, Panpour, Heatmor and Durant.
Please see our Regional Pokémon guide to see if the Pokémon listed above are available in your region.
7km Egg Hatches
Dex Number
Appearance
Name
27

Alolan Sandshrew
37

Alolan Vulpix

50

Alolan Diglett
52

Alolan Meowth
74

Alolan Geodude
88

Alolan Grimer

172

Pichu
173

Cleffa
174

Igglybuff
175

Togepi

236

Tyrogue
238

Smoochum
239

Elekid
240

Magby

298

Azurill
360

Wynaut
406

Budew
433

Chingling

438

Bonsly
440

Happiny
446

Munchlax
447

Riolu

458

Mantyke
10km Egg Hatches
Dex Number
Appearance
Name
131

Lapras
137

Porygon

142

Aerodactyl
147

Dratini
246

Larvitar
280

Ralts

290

Nincada
302

Sableye
303

Mawile
349

Feebas

359

Absol
371

Bagon
374

Beldum
403

Shinx

408

Cranidos
410

Shieldon
433

Chingling
440

Happiny

443

Gible
446

Munchlax
447

Riolu
597

Ferroseed

599

Klink
607

Litwick
622

Golett
633

Deino
Do Egg Lists Change?
Niantic does like to change things up regularly, and we've already seen a bunch of changes to the eggs list since Pokémon GO launched. Examples of changes include:
Adding Pokémon from new generations
Event Pokémon (usually temporary)
Time-limited events
So as you can probably tell, you can expect this list to change on a number of different occasions, and sometimes temporarily. Remember that Pokémon can be removed as well as added!
We will keep this eggs list updated, so keep checking back to ensure you remain on top of any changes.
Recent events