The Nintendo Switch is now a little less than a month away. Over the coming weeks we're going to use official details and our own hands on impressions to give breakdowns and opinions on various features and games that are integral to the system. First up - the Joy-Con.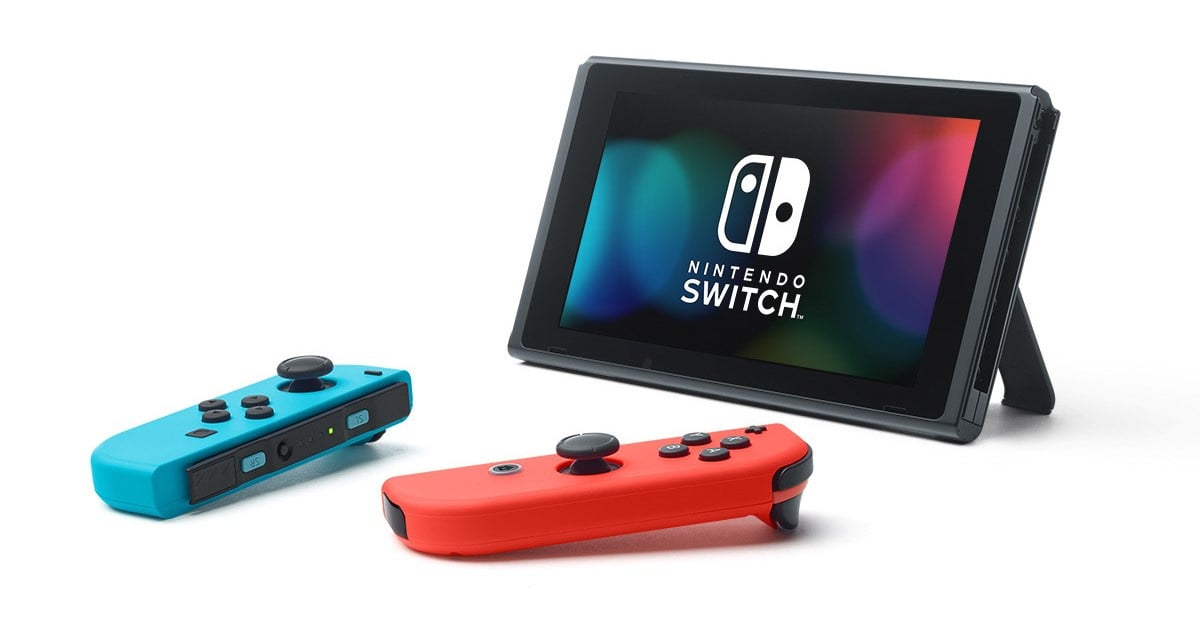 It seems an age ago now, but in early 2016 a patent emerged for a controller that would feature complex infrared and gesture recognition technology, and the paperwork actually originated in 2014 in Japan. While various patents come and go with little relation to real-world products, this one was evidently a result of Nintendo's early work on developing the Joy-Con controllers, or at least part of the concept that would eventually be a part of the devices.
That's just one part of the Joy-Con which, once they have a chance to truly shine, could have a significant impact for the Switch. If you haven't seen it for a while, it's worth catching up with the showcase of the controllers from the recent Tokyo event.
Though we've seen video demos of that infrared concept, it's not been readily shared too often; low lighting in busy events probably isn't a good setting for it, we suspect. Yet we have experienced the remainder of the Joy-Con tricks, and we think it's worth emphasizing how important these are to the system, not just as portable control elements but more besides. Time will tell whether they have as big an impact as Wii Remotes, but the technology and ideas are in place to at least give them a chance.
For this writer, the very first encounter with the controllers was in a 1-2-Switch minigame, as many others at the preview event had rushed to play The Legend of Zelda: Breath of the Wild. The much anticipated action adventure title isn't a true showcase for the controllers, though, due to it being a project shared with Wii U. 1-2-Switch may divide opinion on its status as a standalone retail game, but it is the best way to appreciate what Joy-Con can do; for that reason alone it should be considered at launch.
Our first encounter (the initial duo to attend the event) was, helpfully, with the most impressive demonstration of what the controllers can do. 'Ball Count' has a simple concept - move the controller to roll around virtual marbles in the controller, and guess how many there are. Written down like that, it sounds utterly mediocre, but in practice it was an eye-widening moment. It's the greatest showcase we've tried, to date, for HD Rumble, which is precise force feedback designed to replicate small and precise details. It was a sensation we hadn't really encountered with a controller, as you can genuinely feel each marble rolling around inside. That was a moment when we realised that these are truly clever little pieces of kit.
Aside from HD Rumble, Joy-Con (Nintendo seems to prefer the plural without the 's') naturally utilise motion controls combined with that feedback. Mini-games have you swing and 'catch' virtual swords by recreating the motions, in the latter case clapping the remote into your other hand. They pick up motion to simulate dancing, just like Wii Remotes, and infamously they combine the impressive HD Rumble with motion in the 'Milk' game. While our thoughts on 1-2-Switch as a potential purchase are mixed at best, the game did showcase what these little controllers can do. Speaking personally, this writer has pre-ordered 1-2-Switch with the sole purpose of using it to show off the controllers. On the one hand it's a reluctant purchase, but the Joy-Con are that good that they need to be showcased.
Nintendo knows, of course, that the clever alignment of accurate motion controls (shown off effectively in ARMS demos, too) and that extraordinary HD Rumble are tough ideas to sell to those watching trailers. Some will simply say the Wii Remote had motion controls and vibrated, so what's the difference? It'll only be when more people really try them out that their features really become clear. We hope that, for those that don't buy 1-2-Switch, Nintendo will come up with a short and simple 'demo' download, as one idea, that shows Switch owners these clever little tricks.
Yet it's not just the impressive technology that matters with the Joy-Con, and the easy message for Nintendo to promote has been the diversity of uses and configurations. We had a lot of fun using them as small detached controllers while playing on the Switch screen in demos like Sonic Mania and the fantastic Snipperclips, and also popping them into those dinky wheels for Mario Kart 8 Deluxe. They can also become a rather modest 'proper' controller with the grip (though the Pro Controller is hard to resist for this sort of play), but most importantly enable that Switch portability.
When clipped into the console it feels like a carefully designed fit, showing that Nintendo ensured that the weight and balance work well. When playing Mario Kart 8 Deluxe and Breath of the Wild with the standard Joy-Cons + Switch format, it felt comfortable and better than expected, frankly; that general though applies to the Joy-Con in general. They look so small, even as you pick them up, that you expect it to be a problem. Yet they seemed to just work, even when we were initially scratching our heads figuring out which way to hold them in ARMS.
The beauty for family and friends, of course, is that having two Switch owners in one place immediately allows four players in games like Mario Kart; it shouldn't be too hard among groups of Nintendo family and friends to get eight player matches going, as for some games you'll only need four owners on hand (or a couple of owners that have splashed out on extra Joy-Con). Right off the bat this writer's family will have three Switches between houses, so get-togethers will be easy-peasy when playing together.
Of course, the jury is still out on a few things for the Joy-Con. One is longevity, and how sturdy they'll be after a decent amount of use. Likewise, the mechanic for clipping them in and out of the Switch needs to be absolutely solid and reliable. Finally, they feel comfortable and pleasurable to use in demo settings, but the test will be longer play sessions at home, away from the rush and hubbub of events.
Finally, the lack of a D-Pad. In order to give owners two mini controllers out of the box - essentially - the configuration on the left had to be an analogue stick and four face buttons. Nintendo will naturally say those four face buttons can be a D-Pad but, let's be real, in any demanding 2D platformer or fighting game that won't cut it. The Pro Controller is an option, of course, but we hope Nintendo will release additional configurations in the future. A single left Joy-Con with a real D-Pad would no doubt sell well.
All of that said, we think the Joy-Cons have plenty to offer, and it'll be interesting to see how titles like ARMS turn out, and how franchises like Splatoon 2 and Super Mario Odyssey put the likes of HD Rumble and more to work. It's when playing with others in experiences that put the controller's capabilities to work, however, that they truly come alive. If Nintendo isn't producing a true WarioWare title, for example, we'd be surprised.
The Joy-Con have the potential and the features to be Nintendo's most innovative controllers since the Wii Remote, and arguably the most impressive to date. We can't wait to fully put them through their paces when the Switch arrives.