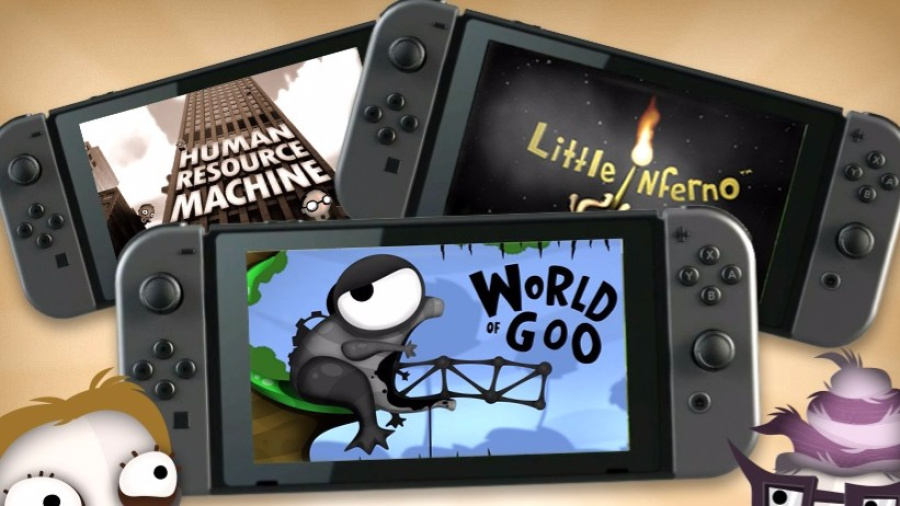 The news that Tomorrow Corporation is bringing World of Goo, Little Inferno and Human Resource Machine to the Nintendo Switch was very welcome indeed, giving those who perhaps missed the company's titles on other formats the chance to experience them on Nintendo's forthcoming hybrid system. Keen to find out more about this noble and enterprising venture, we sat down with Kyle Gray and Kyle Gabler - as well as with social media guru Dandy Wheeler - for a brief chat and some chocolate biscuits.
As per the traditional interview opening, can you introduce yourselves to our readers?
Kyle: Tomorrow Corporation is a vast indie corporation literally bursting with exactly 3 employees. 66.67% of our staff is named Kyle. 75% by volume. Meanwhile 100% of our actually useful work comes from our employees named Allan.
Other Kyle: But we're also a bunch of scrappy Nintendo nerds, so we're bringing all of the games we've ever built to the Switch.
Following Human Resource Machine's arrival on Wii U in late 2015, you seemed busy last year bringing that game to smart devices, wrapping up with Android towards the end of the year. Can you talk a bit about that process, and how well or otherwise the game did for you on Wii U compared to platforms like iOS, Android and (of course) PC?
Artist Kyle: We spent most of last year developing new tools and tech for our two upcoming games. One of them is the biggest and most game-like-game we've ever made. We're pretty terrible at multitasking, but I think we're figuring it out!
Finance Kyle: We expected only a small group of nerds would ever be interested in Human Resource Machine - it's a game for people who feel like they might be part robot - but it's sold over half a million copies on various platforms so far. Can I say that?
Dandy Wheeler: No. This is why we don't let developers talk to the press.
Now we're into a shiny new year and you've confirmed that your back catalogue is coming to Switch. First of all, can you talk a little about the history behind World of Goo as a 2D Boy game on WiiWare, and how that's now coming to Switch under the Tomorrow Corporation banner?
Other Kyle: The history of 2D Boy and Tomorrow Corporation is confusing, so we made a helpful diagram.
Back in the early golden days of indie games, Kyle Gabler and Ron Carmel formed 2D Boy and made World of Goo, which Allan helped bring to the original Wii in 2008. Shortly after releasing Henry Hatsworth at EA, Kyle Gray left that company to join Kyle Gabler and Allan to form Tomorrow Corporation in 2010.
To further maximize confusion, we decided to bring World of Goo to the new Nintendo Switch as Tomorrow Corporation. If we were a real company, this would probably have been under a huge PR announcement, but since we're fairly inept indie developers, we just decided to put it out there. You guys were the first ones to notice.
This means, of course, that this is your third generation of games on Nintendo download stores. How drastic, or otherwise, do you feel the evolution has been from the WiiWare days to the eShop of today? Are you pleased with how the Switch eShop is shaping up, is there anything in particular that bodes well for its future?
Dandy Wheeler, PR and Demolitions Expert: Considering the Nintendo e-shop is prominently featuring three award winning games by Tomorrow Corporation, I'd say the eShop is shaping up great!
Kyle: Thanks Dandy. We haven't actually seen the Switch's eShop yet, and we're just as curious as everyone else to see what it will look like.
Little Inferno was notably a launch title on the Wii U eShop; how has the experience of being an early publisher on Switch compared to that release on Wii U?
Caffeinated Kyle: We're still a sweaty, nervous wreck like we were during the Wii U launch.
Dandy Wheeler: I've taken control of our Twitter.
Decaff Kyle: After we got all three games optimized on the Switch, we noticed they'd aged really nicely and feel somehow even more relevant in today's scary world.
Dandy: Aged like a bag of fine wine.
Kyle: I think Nintendo must have designed the Switch just for us, because our games feel like a perfect fit with all the ways you can control the device. And it doesn't hurt that everything looks beautiful on the screen.
As a team you seem to be particularly loyal to Nintendo platforms; what draws you to these systems?
Kyle: We grew up with Nintendo stuff. Rolling out of bed in Link's Awakening, defeating Wart in Super Mario Brothers 2, eating cereal ("Nin-ten-do it's a Cereal, Wow!").
Other Kyle: None of us were cool enough to own a Sega.
Talking specifically about these Switch re-releases, can you outline the special features that fans can look forward to?
Two Handed Kyle: We've been having a lot of fun getting all three games working with the Switch's various control modes:
In Handheld Mode, you can use your fingers to control all three games.
In TV Mode, you can use either Joy-Con (or in some cases both Joy-Cons) to poke and grab at the games. They're really great controllers, and feel buttery smooth, we assume because Nintendo filled them with invincibility stars and mushrooms. They feel even more precise and less lethal than the original WiiMotes.
In Tabletop Mode, you can use any of the above.
Kyle: This means we can provide local multiplayer in World of Goo. We're also working on possibly getting local multiplayer in the other two games as well.
Will there be any promotions for those that decide to pick up two or even all three games, such as a bulk discount?
Kyle: Each of our games will be cheaper than ... an arugula salad in San Francisco. And you'll be able to get all three of our titles for less than the price of some of the other titles.
Other Kyle: There might be some technical hurdles to form a bundle, but people keep asking, so we're looking into if it's possible.
Dandy Wheeler, Nutrition Enthusiast: Arugula is a critical part of our ecosystem and my lunch.
Are these games still planned for launch? We've noticed that your original 3rd March announcement has been 'switched' to 'Coming Soon'.
Other Kyle: We're still planning to release on launch, but as a team of three developers, it's a race against time, and we can already hear the music speeding up.
How optimistic are you that the Switch audience will connect well with these three games?
Kyle: Move over Zelda, Tomorrow Corporation's here!
Other Kyle: We have no idea! But whatever happens, we put games exclusively on Nintendo consoles because we just like Nintendo.
What's next for Tomorrow Corporation, do you have any other projects in development right now?
Other Kyle: We're working on two new games, hopefully more info to report soon.
Dandy Wheeler, Social Media Executive: Stay tuned to the front page of newspapers worldwide.
Do you have any final messages for our readers?
Kyle: Have a great time with the Switch!
Dandy Wheeler: The crowds are forming, see you real soon, tweet me!
---
World of Goo, Little Inferno and Human Resource Machine will launch on Switch this March.