As is an early New Year tradition here at Nintendo Life, we're going to look back at Nintendo's last year to consider what went well, areas that were problematic and to remind ourselves of how the company shaped up. 2013 was a year of contrasting tales for Nintendo - the 3DS was a major success (the best-selling system in multiple territories) yet the Wii U's sales woes continued and dragged Nintendo's financial performance back. 2014, then, kicked off with pressure on Nintendo to secure improved sales and return to profit; it was to prove a particularly turbulent start to the year.
January
It was a month of dramatic highs and lows for Nintendo; for starters, it had to deal with the ongoing fall-out of the Nintendo Network issues that had blighted the 2013 festive period. The recent inclusion of Nintendo Network IDs on 3DS and the launch of Pokémon Bank in Japan had caused a Holiday meltdown, and the subsequent removal (or non-release) of the 'mon app from the store had irritated fans around the world. Even in early January Nintendo was apologising for its absence, before finally re-launching the app in its homeland.
The greatest drama, which made for a difficult January for fans keen to focus on games and good times, came in the financial markets and the board room. A mix of factors including fluctuating market conditions and the Chinese government lifting a console ban brought an astounding share price rise, which seemed like a jolly way to start the year. That was a false dawn, to put it mildly, as Nintendo stepped in ahead of US sales data - in the middle of the month - to announce major reductions in sales and financial projections: in other words, the Holiday season hadn't gone well enough and previous projections were well off the pace. The share price plummeted as rapidly as it had climbed.
That early announcement was damage control ahead of the true financial figures at the end of January. The results - poor sales and operational losses - were just a setup for worse numbers to come, according to Nintendo itself; Satoru Iwata and Shigeru Miyamoto both took pay cuts. As a counter attack, Satoru Iwata brushed off some calls for his resignation and laid out his plans and strategy for Nintendo; he spoke of more aggressive licensing of Nintendo IPs, a dedicated team for smartphone projects, DS games for the Wii U Virtual Console (which has only brought one release to date), and made headlines with an intriguing half reveal of a new Nintendo platform - Quality of Life (QoL). These presentations to investors didn't bring a boost in share prices, but did show that Iwata-san would be standing his ground.
Away from financial affairs there was good, bad and peculiar news. There was a bit of a stir over altered Bravely Default outfits for its North American release, while the 3DS was also in the news as Nintendo lost a major patent case with Tomita Technologies; predictably, that's ongoing in appeals courts. Some humorous news came with the revelations that hackers found a way to remove region-locking from 3DS retail cartridges, before hackers hacked the hack - yes, really. There was happy news when Capcom announced Monster Hunter 4 Ultimate for a Western release on 3DS, while Next Level Games revealed that its focus is solely on Nintendo games; we're still curious as to what the studio is up to right now. We all had a chance to vent at EA, meanwhile, when an employee was quoted as saying the Wii U was dead to them very quickly - based on sales figures of its games on the system and the reaction of the Nintendo Life community, the feeling was mutual.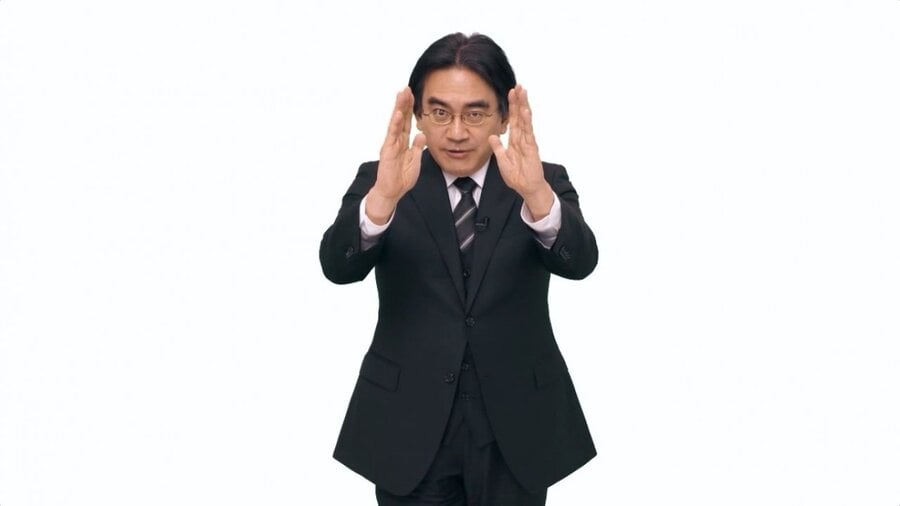 February
After a preceding month dominated by business, only a little of that crept into February. More investor briefing comments attributed to Satoru Iwata caught the eye, with fans of modern networks and compatibility perhaps pleased by his stated goal to emulate iOS and Android with a common platform in future hardware. That raised excited speculation about the future, and executives from companies such as Sony and Amazon spoke up in support for Nintendo and its vital role in the games industry.
Then the big N got us talking about games again with a Nintendo Direct on 13th February. Highlights for Wii U included Game Boy Advance titles for the Virtual Console, a final release date for Mario Kart 8 and (in one for 3DS fans too) an arrival for Little Mac in Super Smash Bros. In terms of the 3DS we were given release dates for a number of Spring and Summer games, while a limited edition Yoshi 3DS XL was confirmed for Europe. It was a Direct of enticing footage and useful details, if not lots of megaton reveals, though the sighting of Peppy Hare in Steel Diver: Sub Wars certainly set tongues wagging. On a negative score, Nintendo upset Wii owners when it confirmed the shutdown of online multiplayer on the Wii, effective as of 20th May.
February brought some decent games on the retail scene, with Nintendo's opening 2014 gambit for Wii U being Retro Studios' Donkey Kong Country: Tropical Freeze - the revered Texas-based studio also said it'd been working on a new project since November 2013. The LEGO Movie Videogame tied in nicely with the hugely popular film, meanwhile, and fans of a late indie WiiWare arrival heard the welcome news of Retro City Rampage DX coming to the 3DS eShop; it was heavily promoted by Nintendo itself. Pokemon Bank started to arrive in the West, the announcement of the Sonic Boom games caused an internet meltdown, and quirky sim Tomodachi Life was confirmed for localisation.
In the wider, weirder world of the internet, notable stories included a rare gold Nintendo World Championship NES cart attracting huge bids, and the bizarre Twitch Plays Pokemon became a viral phenomenon. Ubisoft continued its role as the pantomime villain of the publishing world by delaying Watch Dogs for Wii U, though shocking Wii U sales numbers for its games had likely played a role in the decision. Oh, and a Nintendo patent emerged for an awesome room illumination device.
March
February was a busy month, so March was certainly a calmer period for Nintendo. Some of the month was summed up by Nintendo and third party publishers attracting the wrong kind of headlines - the closure of Wii online services was explored further, while Capcom made clear it could hear the anguished cries of Mega Man fans, before confirming Game Boy entries for the 3DS Virtual Console. Criterion boss Alex Ward lamented how Need for Speed on Wii U didn't get the chance it deserved, and Batman: Arkham Knight was exciting and, unsurprisingly, skipping Wii U.
There were positives, though, with a good example being Platinum crediting Nintendo as the saviour of Bayonetta. There was undoubted excitement when Nintendo showed off terrific upcoming eShop games, and disbelief turned to quickened pulses as Legend of Zelda DLC arrived in Sonic Lost World on Wii U. We had Mario Kart 8 bundles, confirmation of the Yoshi 3DS XL model for North America and even the launch line-up for GBA Virtual Console games, all bringing some smiles to faces. On the games front European 3DS owners could also get stuck into Professor Layton vs. Phoenix Wright: Ace Attorney.
There were some weird stories this month, too, with Activision randomly dropping free DLC into Call of Duty: Ghosts for Wii U, while major PS4 release inFAMOUS Second Son had a load of Nintendo references included. There was also the exciting and equally terrifying news of a "dark and edgy" Sonic film being in the works, while we unboxed Super Mario Happy Meals for some reason.
---
Be sure to check back in the coming days as we continue to look back at key moments for Nintendo in 2014 - the next part will feature E3, no less.