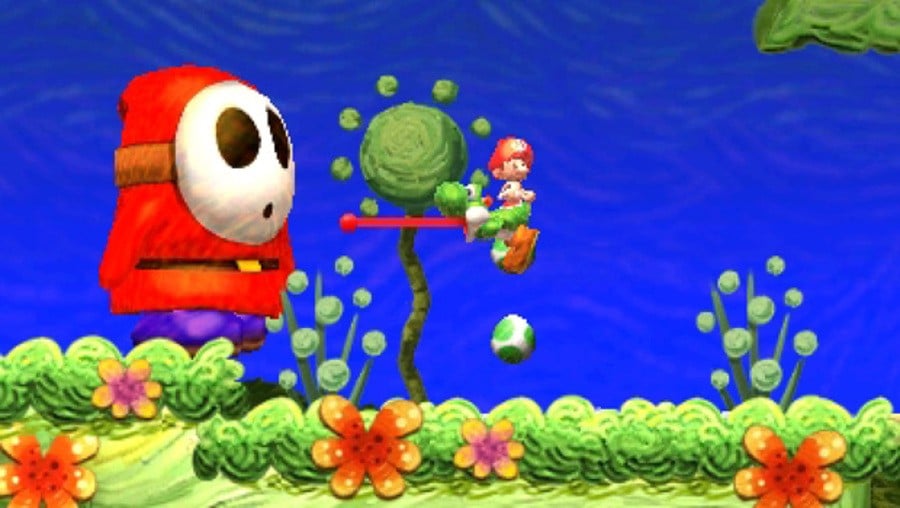 Among the wealth of exciting news revealed in Nintendo's Direct presentations today was new information on Yoshi's New Island for 3DS.
Due to release on 14th March in both Europe and North America, the next instalment in the series will feature a number of new gameplay features, and bears an art style that is reminiscent of Yoshi's Story on the Nintendo 64. Yoshi will have the ability to unleash an egg-ceptional amount of havoc thanks to his new giant eggs, some of which are industrial-strength titanium, it would appear. Using these large eggs, Yoshi will also be able to destroy considerable amounts of the stage environments, resulting in 1-Up bonuses should he do enough damage.
Not only that, but by collecting a star power-up, Yoshi will be able to run up and along walls, as well as temporarily fly and smash through even more scenery - who knew that the little dinosaur could be so destructive? Additionally, the Flutter Wings allow Yoshi to fly through the air non-stop, and this bears a resemblance to an earlier power-up found in Super Mario World. For a first-hand look at the new features that were shown off during the presentations, take a look at the video below.
It seems that European gamers will get an extra treat, too, with the 3DS XL below arriving in the region on the same day as the game. No pricing details were given, and this hasn't been announced as yet for North America.
In related news, Super Mario Advance 3: Yoshi's Island, which was originally released on Game Boy Advance in 2002, will be coming to Wii U Virtual Console in April.
Are you egg-cited for Yoshi's New Island? Let us know in the comments section below.