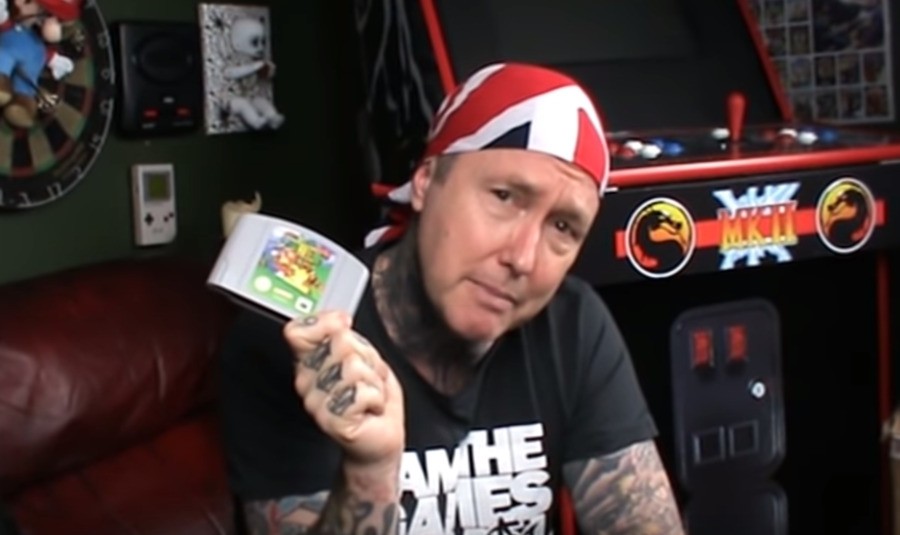 You'll have to forgive us here, as we're going to go a bit misty-eyed and nostalgic. Dave "The Games Animal" Perry - one of the most instrumental figures involved in the creation of the iconic UK TV show GamesMaster - has just launched a new YouTube channel which aims to replicate the '90s vibe that drew so many of us to our Sony Trinitrons back in the day - and he plans to play the game that ultimately ended his time on the show.
If you're from outside the UK and under 30, you may well be wondering what any of this means - so allow us to give a short history lesson. One of the most famous faces in the UK games industry back then, Perry was one of GameMaster's presenters and enjoyed a rather rocky relationship with Dominik Diamond (the whole story has been wonderfully recounted in this excellent Eurogamer feature, in case you want to catch up properly).
During one challenge, Perry failed spectacularly on Super Mario 64, a game he had never played before and - to this day - believes he was only given because his rivals on the show knew he would fail. The rest is history; Perry left GamesMaster - a show he helped to create - and footage of him throwing a hissy fit has become a regular part of 'Worst TV of the '90s' clip shows ever since.
In case you haven't seen it, here goes:
Perry went on to found his own publishing company and eventually exited the games industry altogether, and now runs a successful tattoo parlour (as you can tell from the amount of ink covering his body). However, he recently attended a retro gaming event in the UK and was given a hero's welcome - and rightly so, as Perry is unquestionably one of the key figures of '90s games media.
His rapturous reception has convinced him to give YouTube a go, and the first episode of Games Animal TV is now available to watch. We're not going to embed it here, for reasons that will become quickly obvious if you decide you're grown-up enough to click the link at the end of this paragraph. In an effort to perhaps parody the 'in your face' attitude of the '90s, the episode features 'The Game Babes' - a group of half-naked ladies who dance around in front of a Mortal Kombat arcade cabinet. Perry also uses some high-level swears, so consider yourself warned. Are you warned enough yet? Then click here at your own risk.
Putting aside the whole debate of whether or not Perry should be presenting videos like this on YouTube (and, and the 480p thing is deliberate), one aspect of the episode will be of interest to Nintendo fans - at one point, Perry holds up the Super Mario 64 cartridge, his nemesis.
Perry insists he was set up on that fateful day, but admits that Nintendo has always been his weakness; like so many UK gamers in the '90s, he picked Sega over Nintendo and feels that despite claims that he was one of the best players in the country at the time (he certainly does play a mean game of Street Fighter II), his knowledge of Nintendo platforms leaves something to be desired.
Still, he's willing to revisit one of the darkest moments of his life - if his viewers let him. Perry ends the episode with an offer; we can either watch him play Super Mario 64 again and hopefully not suck quite as much, or he will talk about some other topics from his career in the games industry.
We have a feeling we know which option most people will choose.