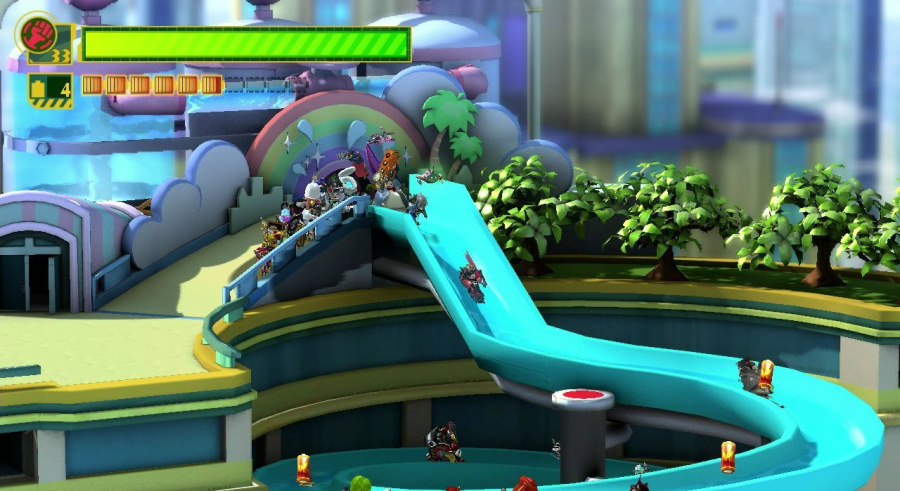 The Wonderful 101 is the next high-profile Wii U exclusive on the horizon, due 23rd August in Europe and 15th September in North America. It's one of two system exclusives being developed by PlatinumGames, so as a result it's pretty clear that it's going to be a high-octane action experience with enough craziness to make your eyeballs expode. Or at least it looks that way.
Ahead of the game's arrival, and in order to help gamers understand exactly what kind of experience this is, the developer is producing daily blog entries on its official website. The first is written by the game's Director, Hideki Kamiya, in his own unique style; an excerpt is below.
It's been some time since I directed my last game, "Bayonetta," and I've been busy upholding my name as Twitter Master in the meanwhile. However, it's about time I unleashed a new game upon the world, so it looks like I'll finally be able to regain my original title of Game Designer!
Anyway, since "The Wonderful 101" is a completely new game, I'm sure most people out there still have no idea what it's about, despite the fact that the release date is not too far away. Most people seem to be going "Oh, that's that game with the ridiculously large crowd of characters running around, right?" or "Wait, is that the game where you play as a dog?" or "Wonderful What? Never heard of it."

...If I had to give a brief description of this game, I would say that it's a simple, pure Action Game in which you become a hero and defeat bad guys. It doesn't require a lot of deep thought. It's just that there's a few… well, a LOT… more heroes than in your average game.
Subsequent posts are packed with detail on battle systems, prominent characters and more, with enough screenshots to make each and every entry look very pretty. To check them out head on over to http://platinumgames.com/blog/ and scroll down until you find the first entry in the series, they're certainly worth a read.
[via platinumgames.com]