As a board game representation of cold-blooded capitalism, Monopoly is rather brutal — up to six entrepreneurs start with the same level of capital and acquire land as quickly as possible, before then applying hefty rent charges for merely standing on the land. The goal is to bankrupt the other players; it's a cruel world.
Yet still, it's fun, and we've had some awesome Nintendo-themed editions, with the upcoming Legend of Zelda set being an example. Pokémon fans haven't been left out, however, as the previously confirmed Kanto edition — accompanying a previously release 'mon version — has emerged at retailers such as GameStop in North America, with a release date of 30th August. It includes plenty of neat 'mon-themed features, too.
Pokémon themed game board features the Kanto Region and all eight gyms
6 collectible metal tokens: Pikachu, Bulbasaur, Charmander, Squirtle, Eevee, Jigglypuff
Custom sculpted Poké Marts and Pokémon Centers replace traditional Houses & Hotels
With this just a week away we're sure some fans are already browsing multiple retailers to look for the best deal. Let us know if you're one of them — this does seem to be North American only right now — and enjoy the images below.
Thanks to Ryan Millar for the heads up.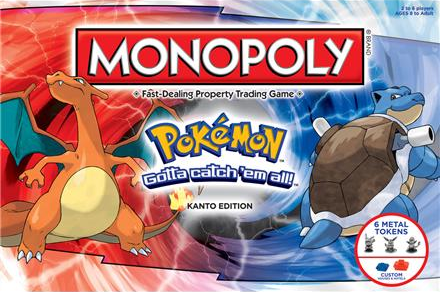 [via gonintendo.com]