Yesterday we brought you the first part of our 2013 summary, which contained the thrills and spills of three Nintendo Direct broadcasts and a handful of major game releases. We did miss out on the story of Ubisoft delaying Rayman Legends in order to facilitate a multi-platform release, as was correctly pointed out to us in the comments. It was a bitter disappointment for platforming fans that had penned it in as a launch window exclusive when, as it would transpire, it was neither.
Now we move onto the Spring months, which kicked off with tales of Wii U woe with financial results and, unfortunately, would continue that theme. There were bright spots, however, with the insanity of E3 and the 3DS looking ahead to the Western release of a hugely popular game based on those old jokes about animals crossing roads...
So without further ado, let's tackle Nintendo's Spring of 2013.
April
April was a busy month for Nintendo, succeeding in raising some hype and also having to confront some challenges. In the early days we had a 3DS update to fix some issues from the previous update, for example, showing that not all necessarily goes smoothly in such matters. The main event, meanwhile, was a 3DS-centric Nintendo Direct; it was a big deal, announcing The Legend of Zelda: A Link Between Worlds, Yoshi's New Island and Mario Party: Island Tour, along with confirmation of an Animal Crossing: New Leaf 3DS XL bundle and localisation news for Bravely Default, Shin Megami Tensei IV and the Guild02 games. There was excitement for Wii U owners, too, with a system update improving performance and bringing the launch of the the Virtual Console, as well as a release date for Pikmin 3. Another big shock, and one that had dominated the day as rumours spread, was that EarthBound would arrive on the Wii U eShop after years of waiting.
If Nintendo Direct was pure gaming hype and excitement, Nintendo's annual financial report at the close of the month served to bring the mood down. Nintendo squeaked a net profit but made an operating loss, as the Wii U in particular failed to meet its already-lowered targets; the poor results unsurprisingly put Nintendo on the defensive, but post-results briefings had some positives, such as the statistic that over 80% of 3DS and Wii U devices are connected online.
There were a series of launches and delays, too. A web browser version of Miiverse arrived, allowing Wii U owners to interact on the platform on computers and smart devices. A Monster Hunter 3 Ultimate update opened up online play to bring together European and North American hunters, along with off-TV GamePad play, while promising RPG mashup Project X Zone was dated for the 3DS. In more disappointing news Brain Age: Concentration Training — known as Dr Kawashima's Devilish Brain Training — was delayed in Europe, and has still not arrived at the time of writing. There was also a baffling explanation that Circle Pad Pro support was left out of Luigi's Mansion: Dark Moon as it "didn't add anything", a sentiment that many who enjoyed the game would nevertheless dispute.
In the weirdness category, we had the humorous revelation explaining that resource and performance issues were behind the absence of feet in Fire Emblem: Awakening, the discovery that Link is a master of Kyudo Archery, yet more Majora's Mask 3D rumours, and some bonkers Circle Pad Pro mods.
There were some decent games in this month, too, with Fire Emblem: Awakening finally hitting Europe and LEGO City Undercover: The Chase Begins also racing onto the 3DS; the most high profile Wii U arrival was Injustice: Gods Among Us. On the eShop front the Wii U store had a host of Virtual Console entries and the rather fun Kung Fu Rabbit in Europe, while notable arrivals on the 3DS platform included Super Little Acorns 3D Turbo and Dillon's Rolling Western: The Last Ranger in North America.
May
Nintendo once again delivered a monthly dose of Nintendo Direct goodness, though with E3 around the corner it was understandably low-key. The biggest announcement by far was the official reveal of the Wii U and 3DS-exclusive Sonic Lost World, with the home console also confirmed to be receiving Mario & Sonic at the Sochi Olympic Winter Games. Release dates were given for New Super Luigi U and The Wonderful 101, as well as confirmation of the two Game Boy Color Zelda Oracle games and Game Gear titles for the 3DS Virtual Console; E3 demo booths at Best Buy locations throughout North America were also confirmed.
That last point gives us a neat segway into some notable pre-E3 news that hit last May, with confirmation that Nintendo would broadcast a Direct broadcast, followed by a media-only presentation, rather than the standard live big-theatre press conference. It was understandable, with Microsoft and Sony set to dominate headlines with the PS4 and Xbox One, but disappointing nevertheless. Beyond the upcoming E3 extravaganza there were some interesting developments, such as a successful tech teardown of the Wii U GamePad that reportedly showed upgradeable firmware and existing functionality to support two GamePads in use at once. Opinions were shared that the mysterious Wii Vitality Sensor never emerged as Nintendo was simply unsure of how to use it, while Nintendo of Japan revealed a white 32GB Wii U model alongside improved Wii Remote and GamePad batteries — the batteries came West but not, to date, the larger white console model. Also notable was the reputed emergence of a functional 3DS flashcard, certainly a concern for Nintendo, and yet it was primitive in function and shutout by a subsequent system update; it's failed so far to have the kind of impact that R4 cards had with the DS series of systems.
Fire Emblem: Awakening was still making interesting headlines, especially as it emerged that the title was a last-chance saloon for the franchise that had paid off with commercial success; it also became clear that revealing images of some characters were censored when localised in North America. Somewhat less positive were reports of Nintendo vigorously claiming ad-revenue on copyright footage on YouTube, prompting fierce debate — while legally within its rights, the activity itself was questioned, and the company reportedly eased the policy in subsequent months; YouTube is in the midst of another broader copyright storm at the time of writing. Details also emerged of a Mega Man FPS that polarised opinion among fans and Capcom executives.
There was some lighter news to enjoy, too, such as the charming Printing Miiverse art show, the spectacle of first-generation Pokémon as visualised by 151 artists for charity, and the heart-warming tale of how the 3DS gave a stereoblind man a window to the third dimension.
In terms of new games, the Wii U retail stand-outs were Resident Evil Revelations and LEGO Batman 2: DC Super Heroes, with 3DS retail bringing us Pokémon Mystery Dungeon: Gates to Infinity in Europe (a March release in North America) and Donkey Kong Country Returns 3D. While the Wii U eShop was largely limited to a range of Virtual Console titles, the 3DS store delivered a range of goodies including The Denpa Men 2: Beyond the Waves, Mario and Donkey Kong: Minis on the Move and The Starship Damrey.
June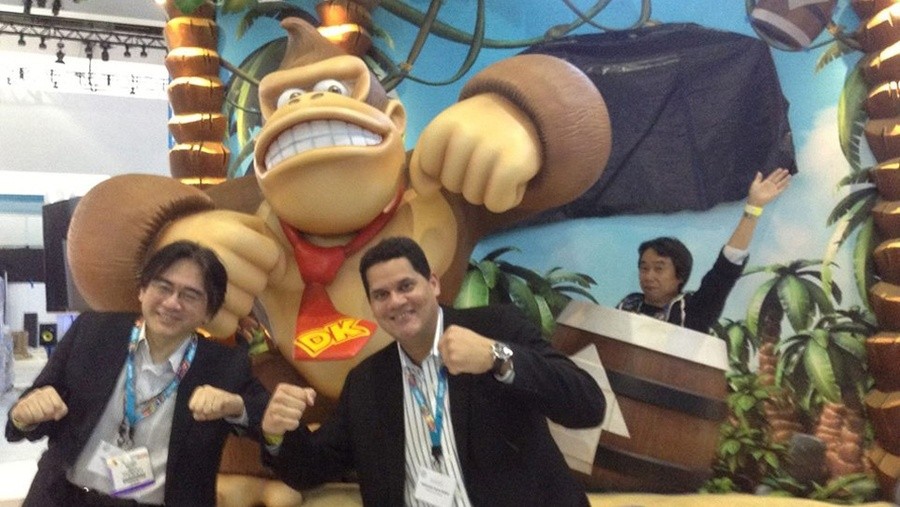 June is E3 month, so that's where we'll begin. As announced in May, the company opted for a Nintendo Direct broadcast, which did deliver some big news. Three major titles confirmed in January 2013 all made their expected appearances, with Super Mario 3D World, Mario Kart 8 and Super Smash Bros. all shown — the reveals of Mega Man, The Villager and the Wii Fit Trainer for the latter also grabbed plenty of attention. The latest project from Retro Studios was revealed to be Donkey Kong Country: Tropical Freeze, which was good news for fans of its Wii predecessor but undoubtedly disappointing for plenty of others. It was also a presentation packed with new footage of anticipated games, such as Bayonetta 2, Monolith Soft's X, Pokémon X & Y and The Legend of Zelda: A Link Between Worlds. There were release date status updates and a series of interesting developer interviews also issued by Nintendo, though a clear negative from the event was the absence of many multi-platform projects confirmed for the Wii U; that's a headache moving forward.
There were a number of other interesting stories to emerge after and around E3. For one there was a major 3DS system update that added save backup functionality and — in Europe and Japan — four paid-DLC StreetPass games in the Mii Plaza; strangely, it would be a number of weeks before these additional games arrived in North America. There were multiple stories surrounding white Wii U systems, too, with rumours that Nintendo was recalling under-selling 8GB systems, which evolved into more realistic news that the company was simply not restocking the model in substantial numbers; some bundles would utilise the 8GB systems in the festive season.
In further news to emerge after E3, Nintendo confirmed that it would launch its first free-to-play game sometime before the end of March 2014, with it since emerging that this'll be in the form of a Steel Diver title. Mario Kart 8 was also confirmed to be bringing some innovation to Miiverse with Mario Kart TV, which will allow racers to upload some video of their races to the social network. In less awesome but important news, The Pokemon Company laid down the law on cheaters, reacting to worrying statistics on manipulated matches by threatening competition bans to those that break the rules.
In terms of new games in June, the Wii U was host to Game & Wario as well as the DLC form of New Super Luigi U, while Animal Crossing: New Leaf was the dominant force on 3DS. Mutant Mudds Deluxe was a Wii U eShop highlight in North America, while Kokuga and Mighty Switch Force! 2 — among others — caught the eye on the 3DS store.
June did bring a good share of fairly light-hearted news, too. There was the peripheral that allows gamers to use a GameCube controller on the Wii U, the tale of the briefly reported missing Katuhiro Harada, Tekken producer, who was actually just at home with a cold. There was enjoyable music, too, with The Roots performing an awesome Mario rap on Late Night With Jimmy Fallon.
In that musical spirit, let's close this segment with a neat and short video that we posted in this month, showing the history of Nintendo's home console controllers with a rad backing track.
---
So that's Q2 down. Check back for the frivolities and serious stuff of Q3 tomorrow.