As 2015 gears up we continue this look back to the major headlines of Nintendo's 2014, assessing the best and worst of the big N's year. The January to March entry covered the year's first Nintendo Direct and some serious issues for the company, with Satoru Iwata coming under pressure over poor business performance. April to June, however, brought us the beginnings of a comeback, while gamers had some memorable experiences to enjoy.
April
April begins, of course, with April Fools' Day, and we managed to have a bit of fun with an 'exclusive' on a Nintendo VR platform called the Virtual U; the majority rumbled us quickly, and our choice of topic was a mix of silliness and wishful thinking; 2014 was a year where Virtual Reality was the hottest subject in town. One prank that didn't go so well, however, was when EA dev Frostbite taunted the Wii U, prompting an apology from Peter Moore.
Nintendo had a funny-old April, overall, but certainly one that got fans talking and rather excited about what was to come. Early on there was a Super Smash Bros. Direct hosted by Masahiro Sakurai, in which a whole load of challengers - including Greninja and Zero Suit Samus - were confirmed while we were given the lowdown on unique modes and 60FPS performance for the 3DS entry, and new online multiplayer modes and 'code of conduct' rules. While the promised Summer 2014 release window for the 3DS entry was eventually missed, it was nevertheless a highly entertaining Nintendo Direct.
There were two more Directs in April, though Nintendo released them directly onto YouTube with no forewarning. There were a whole load of details on content and modes in a humorous Mario Kart 8 Direct towards the end of the month, in which we learnt more of customisation options, new characters and Mario Kart TV. An equally bonkers straight-to-YouTube Direct confirmed Tomodachi Life for the West, the first of the IP released outside of Japan and what would prove to be a sales success on 3DS. Nintendo did begin to tackle the controversy over the game's absence of same-sex marriage, a topic that would continue into May.
This month brought hardware bundle announcements, too - the biggest headlines went to the Mario Kart 8 Wii U bundle, but a pink and white 2DS Kirby: Triple Deluxe bundle also reminded us that the portable remained a priority for Nintendo. There was also buzz around the official details for Mario Golf: World Tour DLC (a precursor to extensive DLC in other games as 2014 progressed), while some fun lighthearted stories included Sony Worldwide Studios President Shuhei Yoshida joking about his Miiverse ban. There was also celebration as the Game Boy turned 25 years old.
Oh, and Nintendo made a big deal of revealing its E3 plans.
May
Major news from Nintendo would arrive from its annual financial results investor briefing, with the headline story being Satoru Iwata's announcement of the Nintendo Figurine Platform; this would later emerge as amiibo at E3. Another intriguing comment from Iwata-san was that Nintendo's plan for redefining the video game industry was two years away - whatever that means - while he also had to defend low Wii U sales projections. During May Nintendo also directed a fair bit of attention towards its upcoming E3 efforts - we learnt that it would host two major evening presentations, were given venues and details for the Best Buy Smash-Fest events and told that Zelda Williams would be doing something special at E3; this final tease wasn't that announcement, as it would come later in the year.
Major releases were grabbing attention, of course, and the début footage of Pokemon Omega Ruby & Alpha Sapphire generated serious hype. Hyrule Warriors details and screens were on a regular rotation from Koei Tecmo, while details of free Mercedes DLC for Mario Kart 8 in Japan caused a stir as fans dreamt of proper DLC. Intrigue and buzz around Tomodachi Life continued to grow as Nintendo issued demo codes through Club Nintendo, though it was a title that generated continued controversy that raged on from April. A botched non-apology led to anger from a 'Miiquality' campaign, though Nintendo then struck a far more conciliatory tone and promised more consideration in future entries. It was a rare instance of such difficult topics confronting the big N head on.
There were some interesting stories related to Nintendo games in this month, such as Nintendo revealing plans to develop all-new distinct hardware for the Chinese market and decent Sonic Lost World sales. We learned that Story of Seasons would be localised, while Smash Bros. hype developed further with accessory company PDC announcing a GameCube-inspired fight pad. On the wackier side of things an Ocarina of Time prototype was listed for $100,000; we're still rummaging through our attic for similarly valuable games.
And yes, Mario Kart 8 was released.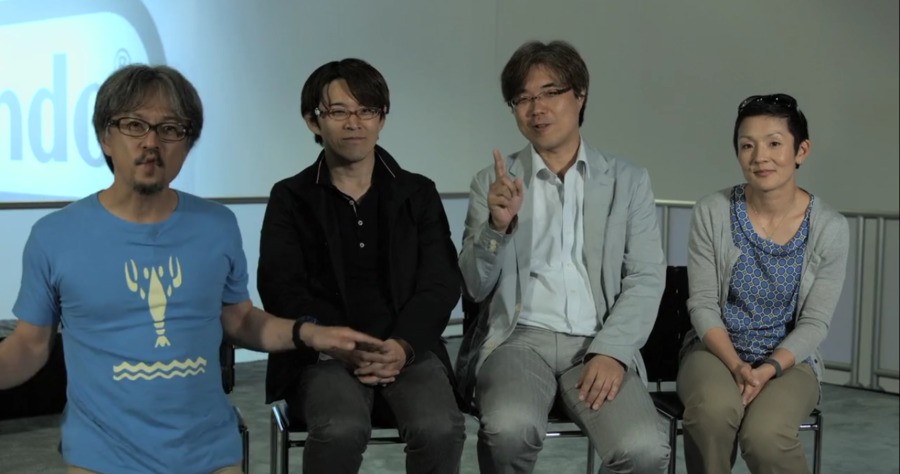 June
Plenty happened in June, but we'll start with the month's biggest event, E3. Nintendo's main event followed those of Sony and Microsoft, but it seized some early attention nevertheless with a glut of eShop game reveals on YouTube. The main Nintendo Digital Event won a lot of popular acclaim, with the earnest, snappy and sharp format providing a refreshing change from the conventional press events of other companies - animations from Robot Chicken helped set the tone, while new titles and products such as amiibo, Mario Maker, Splatoon, Captain Toad: Treasure Tracker and more made their first appearances. A scheduling screw-up by Time, however, brought a megaton before the event - Star Fox was revealed for Wii U. The biggest moment, though, was arguably the first footage and details for The Legend of Zelda for Wii U.
We saw more of previously announced games, too, with a big emphasis on Super Smash Bros. and new footage of games like Yoshi's Woolly World and Xenoblade Chronicles X. Beyond that event there were more reveals, including Devil's Third and Code Name S.T.E.A.M., while the Super Smash Bros. Invitational was a terrific live show. Arguably the biggest triumph of E3 was the rolling daily stream from the Nintendo Treehouse team, in which games were shown in more detail by the highly-regarded localisation team. In terms of bringing fans closer to E3, it played a big role in creating the perception that Nintendo had done an excellent job in Los Angeles. One of the few downers was Satoru Iwata missing the festivities due to illness (an operation to resolve a bile duct growth) and the extraordinary admission from Ubisoft that it is holding back a completed Wii U game until sales pick up.
Beyond E3, Mario Kart 8 made some headlines - it passed 1.2 million sales on its launch weekend around the world, the Luigi death stare went viral, that Mercedes DLC was confirmed for the West and there was debate over whether fire-hopping should be patched out of the game (it wasn't); we also loved this instance of a Walmart employee being confused by the game's concept. Beyond Mario Kart 8 the hype continued to build for Hyrule Warriors, and the Wii U was in the headlines with a major system update that added the Quick Start menu. In smaller news European eShop fans saw the first example of actual cross-buy between Wii U and 3DS. A fresh 2DS bundle with New Super Mario Bros. 2 didn't really set pulses racing, admittedly, and EA bemused and perhaps amused with confirmation (again) of FIFA 15 for everything but Wii U, even the Wii and 3DS were included in year's releases.
To end this segment with a memorable moment from E3, then, here's The Legend of Zelda series producer Eiji Aonuma doing a cucco dance.
---
Be sure to check back soon as we tackle the vital Fall and Holiday periods of 2014, when Nintendo continued to push hard and release some of the year's finest games.