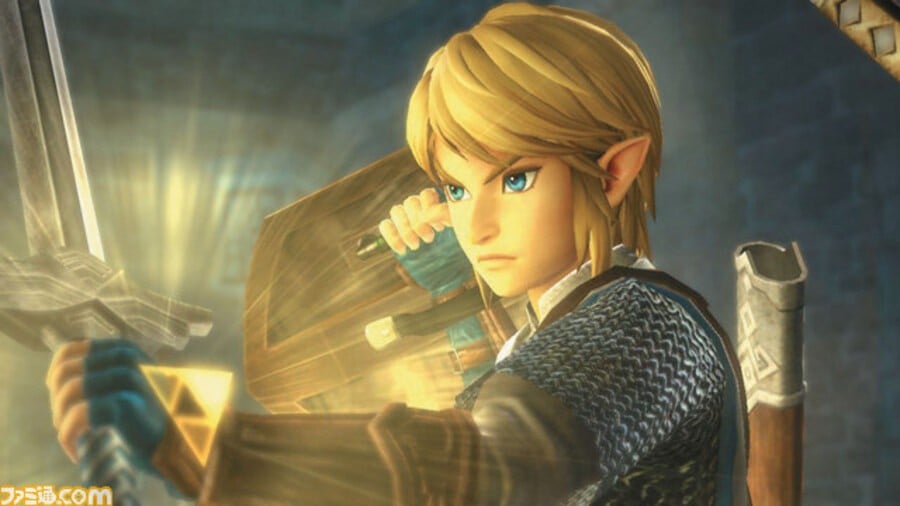 It seems Hyrule Warriors is quite the hot topic right now, with news of its Japanese release date and Team Ninja involvement just recently bombarding our screens. As it's coming relatively soon in Nintendo and Tecmo Koei's homeland — 14th August — there's a little hype starting to build.
More details have now emerged via Famitsu — helpfully translated by Siliconera — and reveal a little more about the actual gameplay and design; there are certainly some positive details.
One notable feature is that local multiplayer will be supported, with one player using the TV and another focused on the GamePad's screen. There'll be multiple playable characters, with Impa now confirmed as the leader of the Elite Guard — she utilises a long sword. Different weapons will give a different feel to combat, such as quicker strokes with a one-handed sword, heavier impact with larger weapons and upgrades available for both weapons and characters. In addition some classic Legend of Zelda moves will make the cut, such as Link's Spin Attack, bombs, and Z-targeting for dodging and targeting weak spots.
Considering its relatively close release, it's a little surprising that development progress is given as 70%, but the developers have extensive experience in producing these Warriors-style titles.
A series of screenshots, above and below, also show more of the game in action and some character designs. Link sports some dashing attire, while what we believe is the witch Shea — a villain — sports a figure that we're going to tentatively blame on the involvement of Team Ninja producers.
Some of these details and screens certainly seem positive, but let us know what you think.
[source famitsu.com, via siliconera.com]