Update:
The translated English investor briefing has now been posted, confirming the details outlined below. The provisional names for this range — or 'platform' — of figurines are 'NFC Featured Platform' and 'Nintendo Figurine Platform'.
Original Article:
With the continuing success of the Skylanders and Disney Infinity brands, each successfully combining video games with collectible figurines, it's been a common refrain to suggest that Nintendo should follow suit with similar products. It made a relatively minor entry last year with Pokémon Rumble U on the Wii U eShop, the first and only game to utilise the NFC (near field communication) capabilities of the home console's GamePad.
After stating plans to expand licensing of its characters and IPs earlier this year, Satoru Iwata has used his latest investor briefing to reveal an upcoming 'Nintendo Figurine Platform'. At the time of writing only the Japanese version of the briefing has been published, yet while we await the formal translation we can discern a number of details about this project.
The primary selling point is that rather than release figurines specific to individual pieces of software, Nintendo intends to release these collectibles that will work across multiple games, as demonstrated in the diagram below.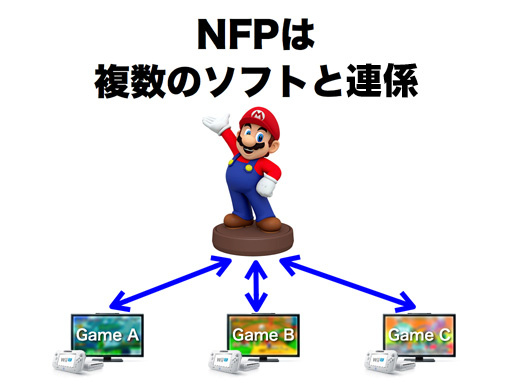 The objective will be for these figurines to both read and write data, opening up possibilities of customisation of characters. Plans on the Wii U-based products, which will be scanned using the GamePad NFC sensor, will be revealed more fully at E3. According to an automated translation details are likely to point to a release of this figurine platform for the Holiday season this year, which could be a valuable new product and selling point for the home console.
Iwata-san did also address the fact that the company doesn't want to exclude 3DS owners from enjoying these figurines and related games. Pictured below is a planned NFC reader / writer that is targeting release in the "first half of next year"; it will utilise the portable's infra-red sensor.
These sorts of products and ideas have certainly been in demand for a while, as they seem perfect for promoting Nintendo brands. Let us know what you think — and whether you're excited about seeing more of the Wii U figurines and related games at E3 — in the comments below.
[source nintendo.co.jp]