Zero Time Dilemma may have been announced and revealed in a limited fashion in the West since 2015, but Famitsu magazine is currently gearing up to run an 8-page feature to formally reveal the 3DS and Vita title to the Japanese market. With any Famitsu feature comes, of course, a batch of intriguing details for fans in the West to translate.
First of all, an early scan shows the full cast of nine participants (details via Gematsu)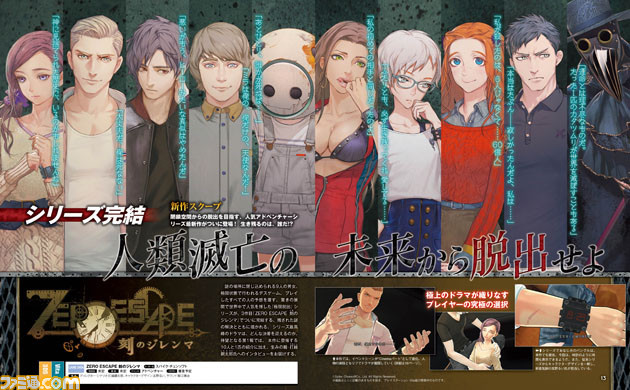 Carlos (voiced by Tomokazu Sugita)
Akane (voiced by Miyuki Sawashiro)
Junpei (voiced by Tatsuhisa Suzuki)
Q (voiced by Aki Toyosaki)
Eric (voiced by Akira Ishida)
Mira (voiced by Maaya Sakamoto)
Diana (voiced by Mamiko Noto)
Phi (voiced by Chiaki Omigawa)
Sigma (voiced by Daisuke Ono)
Snippets from an interview with game director Kotaro Uchikoshi have also emerged, part of which promises that mysteries from predecessors 999: Nine Hours, Nine Persons, Nine Doors and Zero Escape: Virtue's Last Reward will be solved. In addition it looks like the game won't pull any punches, with Uchkoshi-san joking that it could be a rare 3DS game to get the CERO Z (adults-only) rating.
As the final chapter, will all mysteries be resolved?

All of the mysteries from the previous games will be solved. We're making sure that the people who play it for the first time will also enjoy it.

Are there any extreme scenes?

The 'Ultimate Choice' is a thing where one's life is put at risk. I want the player to be well-worried. Since we don't want to soften up the presentation for the sake of age regulations, we're putting out the presentation how I want it without changes. So the possibility that this is the first Z-rated game for 3DS is high. (Laughs.)
Are you looking forward to the arrival of Zero Time Dilemma this year?
[source gematsu.com]