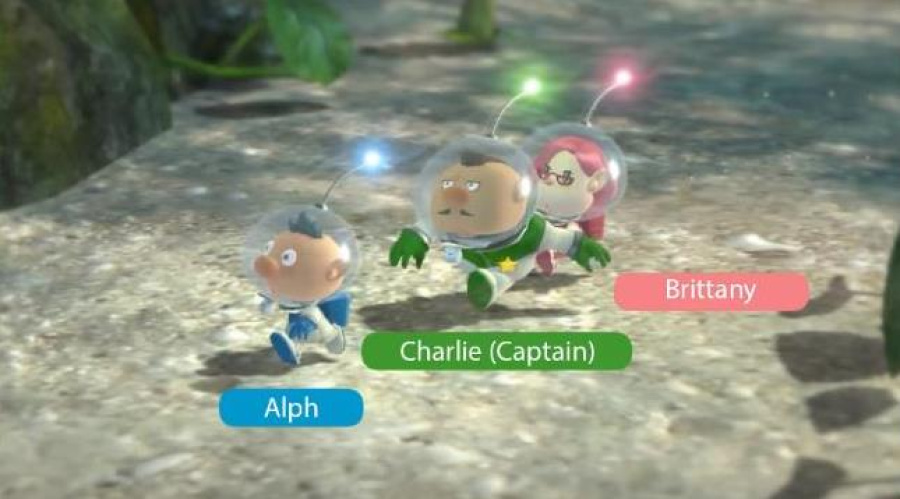 Of all of the titles shown during today's Nintendo Direct broadcasts, Pikmin 3 perhaps had the most coverage of all. Plenty of new details were revealed but, to put Europeans out of their misery first, this title is now confirmed for 26th July in the region.
In terms of new details, the three new characters in the image above were introduced, and they're employing the assistance of the Pikmin to gather fruit seeds to save their home, Planet Koppai. It seems that resource management will be key, as you can send each character and a group of Pikmin to different areas to carry out tasks; if something goes wrong in all of this multi-tasking, you can view a replay of the day and go back to restart from a point of your choosing, with Satoru Iwata emphasizing that players can learn from their mistakes.
It was the single player game being shown off, and it was explained that you can play with the GamePad or Wii U Pro Controller, while the former supports off-TV play. It was emphasized that the Wii MotionPlus and Nunchuk option is the most intuitive and comfortable to use; Iwata seemed to suggest the eyebrow-raising possibility of playing with just a Remote+Nunchuk and the GamePad as a screen, but that was clarified in subsequent press releases that the GamePad can simply be kept to hand as a second monitor with useful information, as you play on the TV.
In terms of the GamePad screen's interface — or KopPad as it'll be known in the game — it's been polished a great deal since the preview builds at events in 2012. The map and functionality has been stylised, and the idea of keeping the screen handy while playing with the Wii Remote seems reasonable, with a concept image on the right.
Satoru Iwata also promised that the next Nintendo Direct would feature details on the Challenge Mode and also multiplayer. If there's online co-op — which isn't necessarily likely — then excitement for this release may kick up a notch. It'll be interesting to see how multiplayer will be supported.
Plenty to absorb with Pikmin 3, then. Let us know what you thought of this part of the presentation in the comments below.