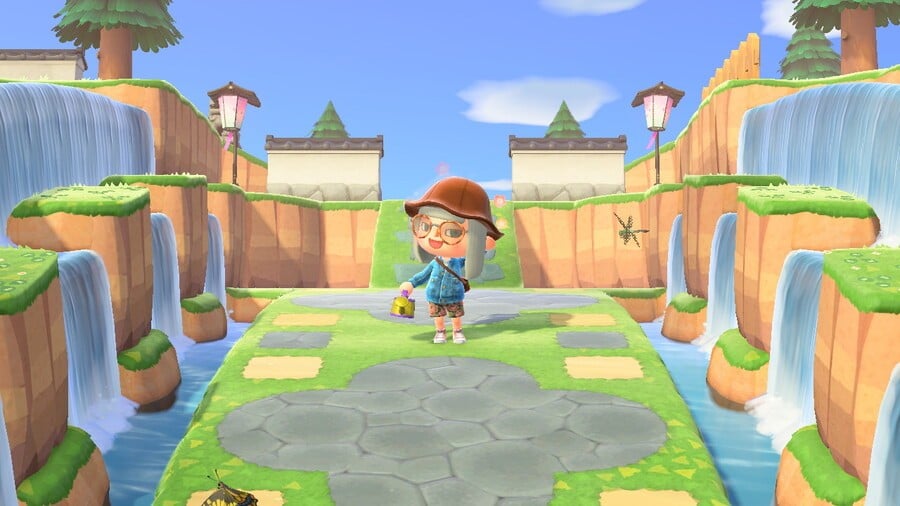 In every iteration of Animal Crossing, there has always been some form of rating system in place to judge how well players organize and take care of their towns. These evaluations have become increasingly more complicated with each entry - and New Horizons is no different.
Whether you're working towards a "Perfect Town" or "5-Star Island" rating, it's a necessary achievement in order to progress in all of the games - and we've finally cracked the code on the most recent challenge.
Guide to getting a 5-star island rating in Animal Crossing: New Horizons
What is the Island Evaluation?
The Island Evaluation in Animal Crossing: New Horizons is a system put in place by Isabelle at Resident Services after six homes are built on your island. Your island will be consistently scored on a scale from one to five stars (with five being the highest rating), based on how well you are developing your deserted destination.
The score is based on a number of criteria including building development, plant life, furniture placement around the island, and many other items.
How do you improve your island rating to 5 stars?
While even dataminers have yet to determine the precise ingredients for a perfect island, trial and error from many sources has concluded the following roughly-estimated qualifications (we'll update with more information as it becomes available):
Must have maximum number of villagers living on island (10 NPCs; does not include playable characters)
Must have Able Sisters' shop and upgraded Nook's Cranny
Must have certain amounts of furniture placed neatly and evenly around island (cost or rarity of items does not affect score, but each item has a different amount of points - likely based on size):

Around 50-60 DIY crafted pieces of furniture or items
Around 20 furniture items purchased with Nook Miles
Around 40 furniture items purchased from the store with Bells

Must have around 50-200 pieces of fencing placed on island
Must have a certain amount and variety of plant life on island:

Around 250 bloomed flowers
Around 110 fully-grown trees
Around 10 fully-grown bamboo thickets

Must keep island clean by clearing all sticks and weeds each day
While we have yet to know the precise numbers that go into the rating system, Isabelle - as always - is happy to help. Each time you check in with her at Resident Services, Isabelle will provide updates and hints on improvements to be made - such as "adding fencing" or "purchasing items with Nook Miles".
Your rating from Isabelle is also updated in real time, immediately after all changes are made, so be sure to check in with her often! Follow her lead, and you'll have a perfect island in no time.
What will bring down your island rating?
According to dataminer @_Ninji, the following items and actions have been found to knock your island rating score - and Isabelle will apparently warn you if you're guilty of any of them:
More than 220 trees on your island
More than 15 loose items lying around your island (that are not furniture or decorations - such as tools or bags of medicine)
A "very messy" map (keep things organised, people)
What happens when you achieve a 5-star island rating?
We'll be honest - we put a lot of time and effort into achieving our 5-star island rating... and were really hoping for a bit more of a reward.
While it's not nothing, there are really only a few things players can expect to receive after achieving a "perfect island":
A recipe from Isabelle for a Golden Watering Can (and yes, this one breaks too... which really makes no sense)
Lily of the Valley flowers will begin blooming around the cliffs on your island (for us, it began the very next day, at a rate of about one per day - as long as you keep up your score)
Bragging rights on the interwebs
The 5-star island rating achievement in Animal Crossing: New Horizons is honestly one of those things many of us will strive for out of pure completionism and obsession, rather than for any significant reward.
However, we'd much rather be rated on our imaginary island development efforts than our real-world skills any day, so we'll do whatever Isabelle says - and do it with a smile!
Have you achieved a 5-star island rating in New Horizons? How long did it take you to create a perfect island? Any tips for others looking to do the same? Let us know in the comments below.
---
This article is part of our Animal Crossing: New Horizons walkthrough, which covers How To Fish with Complete Fish List and How To Catch Bugs with Complete Bug List. If you're looking for specific fish we can tell you how to catch the elusive Coelacanth, Mahi-Mahi, Giant Trevally, Stringfish and Golden Trout, along with a list of Fish And Bugs leaving at the end of June and the Best Custom Design Codes and Islands we've found so far. We can also help with How to Spot Redd's Fake Paintings and Statues, How To Make Bells Fast, How to Breed Flowers, How To Get More DIY Recipes, How to Upgrade Nook's Cranny, plus tips on using the Star Wand, Tool Ring, Rock Trick, Cutting Down And Moving Trees, and using amiibo on Harv's Island.
And finally Where To Buy Animal Crossing: New Horizons On Nintendo Switch if for some reason you haven't yet picked up the game.