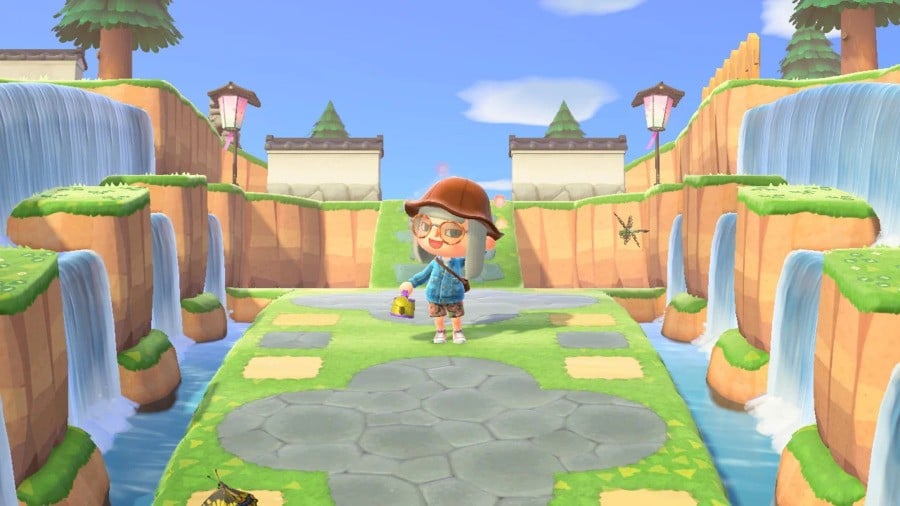 Since Animal Crossing: New Horizons launched back in March 2020, a large community of gamers have been sharing incredible custom designs created for the game. However, perhaps even more impressive are the amazing landscaping projects players are undertaking to engineer the perfect Animal Crossing 5-star island paradise using custom designs, items from the game and a metric ton of patience and talent.
We're not just talking about using the terraforming Island Designer App to reroute a river or shave a sharp edge off a cliff, either. We're talking major environmental manipulation and decoration that turns a deserted island into a rural paradise, urban metropolis or theme park! While we can't help but feel a little jealous and shameful that our own islands are so vanilla by comparison, we're still bowled over by some of the best designs we've seen online.
Ornate and delicate walkways, urban jungles, insanely intricate waterways and path systems; the following are a handful of the most impressive Animal Crossing islands we've seen across social media since the launch of New Horizons. We'll add to them as and when the latest incredibly grand designs pop up.
It's also now possible to visit other people's islands without bothering the host via Dream Address codes, so check out our guide on the best Dream islands, which includes a couple of the islands below. Enjoy!
The best Animal Crossing: New Horizons islands we've seen on the web
Rural and Natural
Waterscaping and Cliff-construction
Urban and Organised
Ornate
Themed
And finally this mighty effort from B4SSOON:
---
Feeling suitably belittled by the incredible examples above? Or inspired, perhaps? We'll be adding to these as we find new and inspiring creations, but let us know if you've seen any other particularly amazing islands on the interwebs (or if you've created something awe-inspiring yourself) in the comments below.
We're off to our lowly and boring 'normal' island to sulk for a while and redouble our efforts at creating an island paradise.
---
This article is part of our Animal Crossing: New Horizons walkthrough, which includes a Complete Fish List, Complete Bug List and Complete Sea Creatures List. If you're looking for specific fish or bug, we can tell you how to catch the elusive Coelacanth, Mahi-Mahi, Giant Trevally, Stringfish, Golden Trout and all the Sharks and Beetles, along with a full list of Critters leaving at the end of the month. We've also compiled a Complete Villager List and a Complete List of K.K. Slider Songs, as well as the Best Custom Design Codes and Islands we've found so far, and the best islands to visit using Dream Address Codes.
We can also help with How to Spot Redd's Fake Paintings and Statues, How to Make Bells Fast, How to Breed Flowers, How to Get more DIY Recipes, How to Upgrade Nook's Cranny, where and when to find special characters like Gulliver, Sable, Label, Wisp, Celeste, Pirate Gulliver and Jack, plus tips on using the Star Wand, Tool Ring, Rock Trick, Cutting Down and Moving Trees, using amiibo on Harv's Island, How to Back Up Your Island Data, How to Time Travel, How to Get a 5-Star Island Rating and a whole lot more.
And finally Where to Buy Animal Crossing: New Horizons on Nintendo Switch if for some reason you haven't yet picked up the game.