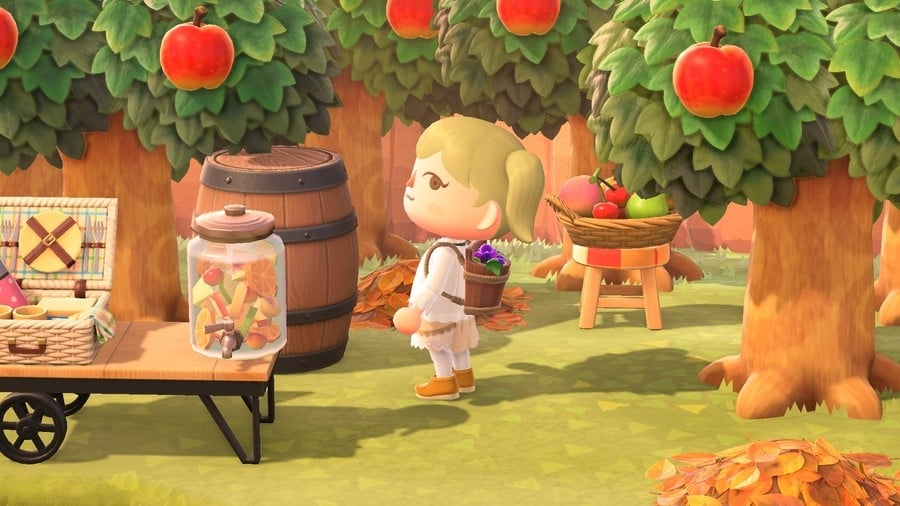 With a new season in Animal Crossing: New Horizons comes new crafting recipes and materials, and the chanceto see your islands dressed up in warm tones and all kinds of spoopy decor.
To celebrate the season of falling leaves, we've pulled together comprehensive lists of all things fall (or 'autumnal', if you like) in Animal Crossing for your reference, so that you can make the most of this season on your own deserted island.
Animal Crossing: New Horizons: Complete Guide to Fall Seasonal DIY Crafting Recipes
When is the fall season in Animal Crossing: New Horizons?
In all Animal Crossing games, autumn officially begins on September 1st in the northern hemisphere, and lasts through November 25th. If you're playing in the southern hemisphere in New Horizons, fall begins on March 1st, and runs through May 25th.
You'll be able to tell that the seasons have changed on your island when you take a look at the color of the grass and trees, as well as the new types of weeds growing.
However, the most beloved part of the change in seasons in New Horizons is definitely the updated recipes, items and furniture series available to forage and craft.
Autumn DIY crafting recipes and materials, and when to get them
There are three categories of seasonal fall DIY recipes in total. However, each have specific time frames within the fall season for when you can obtain them — as well as their corresponding crafting materials:
| | | |
| --- | --- | --- |
| | Northern Hemisphere | Southern Hemisphere |
| Acorn / Pine Cone recipes | September 1st - December 10th | March 1st - June 10th |
| Mushroom recipes | November 1st - 30th | May 1st - 31st |
| Maple Leaf recipes | November 16th - 26th | April 16th - 25th |
How and where can you find fall DIY recipes?

When you fire the game up for the month of September, Isabelle will send you a seasonal DIY recipe for a Tree's Bounty Little Tree — which you craft by using pine cones and acorns (obtained by shaking trees). However, as with any other time of year, seasonal recipes can also be obtained in the following ways:
Shooting down balloons (most common)
Finding bottles on your shore
Interacting with neighbors while they craft in their homes
If you're feeling frustrated in your quest for more recipes, check out our handy guide.
Acorn / Pinecone (Tree's Bounty) Furniture List
The first — and most common — category of recipes are the Tree's Bounty items, which can be crafted with acorns and pine cones:
Item
Image
Traditional Balancing Toy

Tree's Bounty Mobile

Tree's Bounty Lamp

Tree's Bounty Little Tree

Leaf Campfire

Pile of Leaves

Yellow-Leaf Pile

Pine Bonsai Tree

Acorn Pochette

Tree's Bounty Big Tree**

Tree's Bounty Arch**
**denotes items that also require Maple Leaf crafting materials
Mushroom Furniture List
Next is the Mushroom furniture list — some of which may be familiar to fans of previous games. These recipes and items are only available in November:
Item
Image
Mush Table

Mush Lamp

Mush Log

Mush Partition

Mush Parasol

Mush Low Stool

Mushroom Wreath

Mush Wall

Forest Wall

Forest Flooring

Mushroom Wand

Mush Umbrella
Maple Leaf Furniture List
Lastly, we have the limited-run Maple Leaf list — which has a tiny window of ten days for obtaining, starting on 16th November in the northern hemisphere and 16th April on the southern hemisphere:
Item
Image
Autumn Wall

Colored Leaves Flooring

Maple-Leaf Pond Stone

Leaf Stool

Maple-Leaf Umbrella

Red-Leaf Pile

Maple-Leaf Pochette
And now you're ready to enjoy the autumn season to its fullest! Have you begun crafting any of the fall recipes yet? Which of the three categories of recipes and items are your favorites? Let us know in the comments below!
---
This article is part of our Animal Crossing: New Horizons walkthrough, which includes a Complete Fish List, Complete Bug List and Complete Sea Creatures List. If you're looking for specific fish or bug, we can tell you how to catch the elusive Coelacanth, Mahi-Mahi, Giant Trevally, Stringfish, Golden Trout and all the Sharks and Beetles, along with a full list of Critters leaving at the end of the month. We've also compiled a Complete Villager List and a Complete List of K.K. Slider Songs, as well as the Best Custom Design Codes and Islands we've found so far, and the best islands to visit using Dream Address Codes.
We can also help with How to Spot Redd's Fake Paintings and Statues, How to Make Bells Fast, How to Breed Flowers, How to Get more DIY Recipes, How to Upgrade Nook's Cranny, where and when to find special characters like Gulliver, Sable, Label, Wisp, Celeste, Pirate Gulliver and Jack, plus tips on using the Star Wand, Tool Ring, Rock Trick, Cutting Down and Moving Trees, using amiibo on Harv's Island, How to Back Up Your Island Data, How to Time Travel, How to Get a 5-Star Island Rating and a whole lot more.
And finally Where to Buy Animal Crossing: New Horizons on Nintendo Switch if for some reason you haven't yet picked up the game.