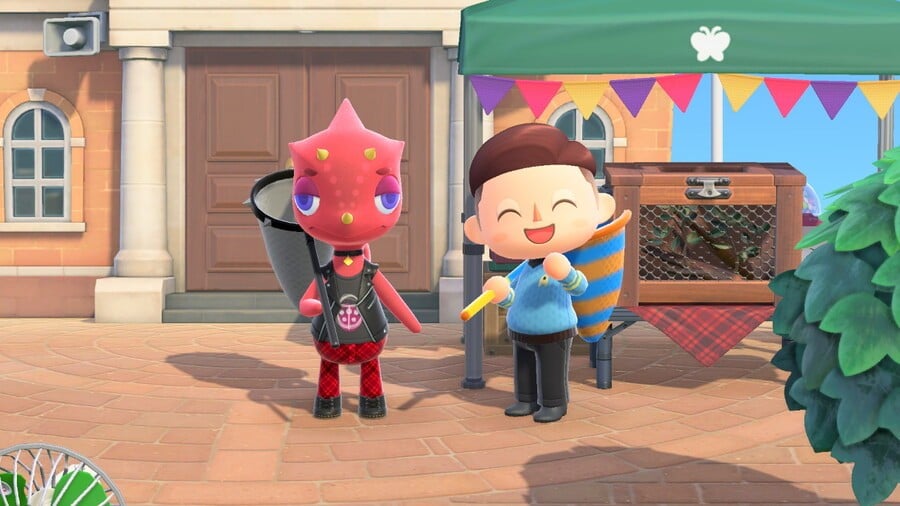 You may have already met Flick while he was visiting your island in Animal Crossing: New Horizons. The bug-crazy red chameleon appears on random days challenging you to catch certain bugs and paying top dollar for your specimens.
However, Flick also appears on certain Saturdays throughout the summer to host the Bug-Off Tournament.
Animal Crossing: New Horizons Bug-Off Event
When is the Bug Off?
Bug-Off tournaments happen every fourth Saturday during the warmer Summer months in the Northern Hemisphere (June, July, August, September).
In the Southern Hemisphere the Bug-Offs take place on the third Saturday of the warmer Summer months (November, December, January and February).
Therefore, the Bug-Offs in 2020 are scheduled for the following dates in the Northern Hemisphere:
27th June
25th July
29th August
26th September
And the Bug-Offs in 2020/21 are scheduled for the following dates in the Sorthern Hemisphere:
21th November
19th December
23rd January
20th February
What is the Bug-Off?
Between 9am and 6pm Flick will be on the main plaza of your island. For 500 Bells (or for free if it's your first ever Bug-Off) you can compete to catch as many bugs as possible in 3 minutes.
You can enter the competition as many times as you like throughout the day. The whole set-up for the Bug-Off is very similar to C.J.'s Fishing Tourneys.
Each bug you catch is worth 1 point, with every third bug netting you 2 bonus points. These points can then be redeemed from Flick for rewards that cost 10 points each.
What rewards can I get during the Bug-Off?
Entering the Bug-Off tournament multiple times during the day (note: the same day - points don't carry over) will eventually unlock trophies depending on the number of points you accumulate:
| Number of points obtained | Reward |
| --- | --- |
| 100 | Bronze Trophy |
| 200 | Silver Trophy |
| 300 | Gold Trophy |
You can also redeem points for bug-themed rewards from Flick. Each one will cost you 10 points and they'll be doled out at random:
Artisanal Bug Cage
Butterfly Backpack
Bug Aloha Shirt
Bug Cage
Bug Wand
Butterfly Wall
Ladybug Rug
Ladybug Umbrella
Spider Doorplate
Termite Mound
Toy Centipede
Toy Cockroach
By participating in the Bug-Off, you'll also earn Nook Miles and get a stamp for the first four events you take part in.
Hang on, where's K.K. Slider?
On Saturdays when the Bug-Off and Fishing Tourneys are taking place on the plaza, K.K. Slider won't be there. Instead, K.K. will visit on the Friday before the tournament, so you can still get your weekly concert from your favourite musical dog.
---
This article is part of our Animal Crossing: New Horizons walkthrough, which includes a Complete Fish List and Complete Bug List. If you're looking for specific fish or bug we can tell you how to catch the elusive Coelacanth, Mahi-Mahi, Giant Trevally, Stringfish and Golden Trout, along with a list of Fish And Bugs leaving at the end of July. We've also compiled a Complete Villager List and a Complete List of K.K. Slider Songs, as well as selections of the Best Custom Design Codes and Islands we've found so far.
We can also help with How to Spot Redd's Fake Paintings and Statues, How to Make Bells Fast, How to Breed Flowers, How to Get More DIY Recipes, How to Upgrade Nook's Cranny, how to make friends with special characters like Gulliver, Sable, Label and Wisp, plus tips on using the Star Wand, Tool Ring, Rock Trick, Cutting Down and Moving Trees, using amiibo on Harv's Island and much more.
And finally Where To Buy Animal Crossing: New Horizons On Nintendo Switch if for some reason you haven't yet picked up the game.