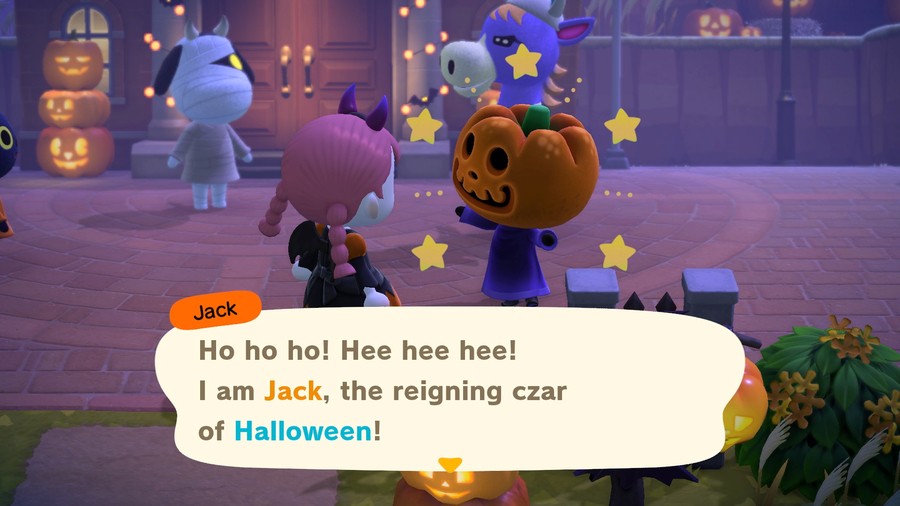 There are two things for certain that we know about humans: they are unnaturally obsessed with autumn... and they may have become a bit bored of Animal Crossing: New Horizons.
Sure, the game was a brilliant distraction earlier this year - but everyone knows the best parts of this series are celebrating the holidays, and unfortunately, those are sorely lacking in the summertime.
Thankfully, we can all go ahead and do a pumpkin dance, because the Animal Crossing: New Horizons fall update 1.5.0 has officially landed (and if you live West of Japan, chances are you've even got access to it before its official launch date on September 30th).
Animal Crossing: New Horizons: Fall Update Complete Guide
What is included in the new fall update for Animal Crossing: New Horizons?
The autumn New Horizons update is chock full of tricks and treats for all of you goblins and ghouls - including a new pumpkin-growing mechanism, a batch of pumpkin-themed DIY recipes to craft, spooky costumes and accessories for sale at the Able Sisters' shop, a new batch of "body paints" and eye colours to spruce up your look, fresh decorations at Nook's Cranny - accompanied by candy, pumpkin starts, and new seasonal items for sale - and, of course, the highly-anticipated end-of-October event with everyone's favourite Czar of Halloween, Jack.
New Pumpkin Crafting Recipes
Move over, farming sims - Animal Crossing is officially letting you grow crops. Pumpkins, to be exact.
We had predicted that other foods (besides fruit) might be coming to New Horizons back before the game released - and we're quite chuffed it's becoming a reality now, you lovely people.
While it's clear that there will be a great number of gourd-y goods available to find and craft for Halloween, it appears that some patience may be required to collect these DIY recipes. Check out our Spooky series pumpkin crafting guide for further details on how you can obtain these festive items.
And in the meantime, feel free to peruse our comprehensive list of all of the other fall recipes for crafting this season!
New Decor and Items at Nook's Cranny

If we could have one wish, it would be that all of the buildings on our islands were as festive as Timmy and Tommy's shop is each season - and fall is no exception.
Although a few seasonal changes were made to the appearance of Nook's Cranny in the last autumn update, they've really gone all-out for October - and are even selling seasonal items to get your player in on the fun, too. Check out their shop for new Halloween-themed items for purchase each day in October!
New Costumes and Clothing Items at Able Sisters

Naturally, it wouldn't be the Halloween season if we couldn't purchase creepy costumes and parade about in them like the monsters we are. Fortunately, the Able Sisters have us covered with a significantly-expanded inventory of items - which appear to rotate daily, as with regular clothing items.
Stay tuned here for a complete list of costumes available as we gather them throughout the spoopy season!
New Face Designs, Appearances and Emotions

What would a costume be without matching face and body paint to complete the look? As with obtaining different appearances at the start of your time on the island, simply take a trip to Resident Services and obtain these creepy new colors for your skin and eyes at the Nook Stop terminal in exchange for a few Nook Miles. You didn't have anything left to spend them on anyway, right?
And if you really want to express your love of Halloween, make sure to talk to your neighbors for a chance to obtain creepy new emotions for some recreational scaring.
Additionally, with the latest update to the NookLink App, you can now access your Reactions directly from your phone, making it easier to scare friends and foes this Halloween.
Halloween Event with Jack
At last, the main event! Check out our Animal Crossing Halloween guide for the full lowdown, but here's an overview...
The Halloween celebration, hosted by the Czar (or Tsar, if you like) of Halloween himself, will be underway at the end of October. To prepare, be sure to collect candy from Nook's Cranny each day (one per day, per player), and hoard it to exchange with Jack for special themed items on that hallowed night.
You'll also receive an especially-creepy photo from Jack via letter on the first of October - hang it up in your house and enjoy the spooky glow all month long.
Obtain In-Game Ring Con Downloadable Item
Oh - and, of course, there's the Ring Con item. Apparently, with all of the candy you'll be consuming this month, Nintendo is encouraging some exercise, too. It may have been tough to get your hands on a Ring Con in the real world since Ring Fit Adventure launched, but you can at least easily obtain one in-game after downloading the fall update. It does have an adorable animation - go ahead and work out your thumb muscles by interacting with it... if nothing else.
We're pretty excited about the latest fall update to New Horizons. Have you downloaded version 1.5.0 yet? Let us know down below!
---
This article is part of our Animal Crossing: New Horizons walkthrough, which includes a Complete Fish List, Complete Bug List and Complete Sea Creatures List. If you're looking for specific fish or bug, we can tell you how to catch the elusive Coelacanth, Mahi-Mahi, Giant Trevally, Stringfish, Golden Trout and all the Sharks and Beetles, along with a full list of Critters leaving at the end of the month. We've also compiled a Complete Villager List and a Complete List of K.K. Slider Songs, as well as the Best Custom Design Codes and Islands we've found so far, and the best islands to visit using Dream Address Codes.
We can also help with How to Spot Redd's Fake Paintings and Statues, How to Make Bells Fast, How to Breed Flowers, How to Get more DIY Recipes, How to Upgrade Nook's Cranny, where and when to find special characters like Gulliver, Sable, Label, Wisp, Celeste, Pirate Gulliver and Jack, plus tips on using the Star Wand, Tool Ring, Rock Trick, Cutting Down and Moving Trees, using amiibo on Harv's Island, How to Back Up Your Island Data, How to Time Travel, How to Get a 5-Star Island Rating and a whole lot more.
And finally Where to Buy Animal Crossing: New Horizons on Nintendo Switch if for some reason you haven't yet picked up the game.