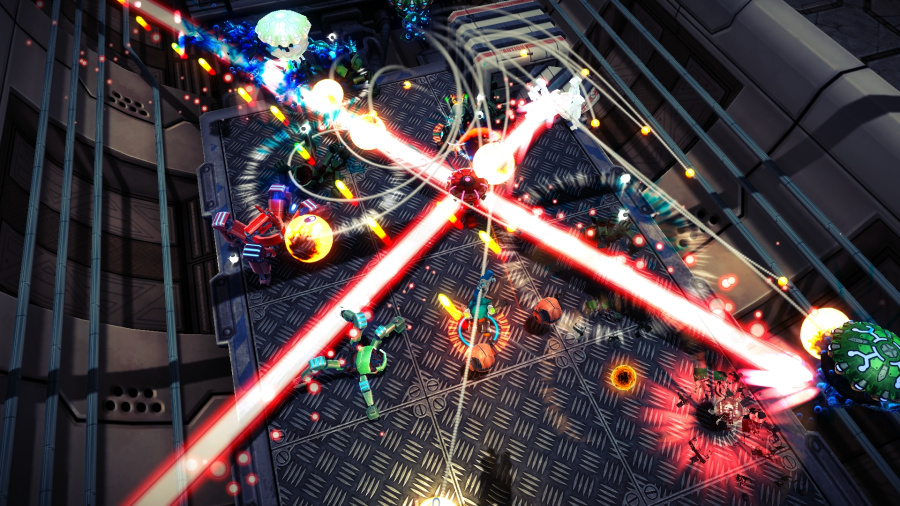 We first got our grubby mitts on Assault Android Cactus at EGX in September 2013 and liked what we played of this high octane arcade-style twin stick shooter. In fact, we found ourselves eagerly awaiting its arrival which was said to be Q1 2014 at the time.
Australian indie developer Witch Beam may have bitten off a bit more than it can chew as the Wii U eShop release date has now slipped to Q1 2016. The PC version is out on 23rd September this year, however.
For those who are not up to speed, the game is set in a vivid sci-fi universe and features a playable cast of all female androids sent to investigate a distress beacon coming from a ship lost in deep space. Each heroine must battle against hordes of robotic enemies using their character-specific primary and secondary weapons, while navigating dynamic stages that constantly introduce new elements.
Players begin the game with a choice of four playable androids and as they progress through the campaign unlock five more - including a currently unrevealed android with a vicious combat style, awarded for beating the game.
Each android not only comes equipped with their own particular weapons dictating their style of play, but also has their personality exhibited in dialogue. Cactus is the bold and confident leader, looking to uphold the law and bring evildoers to justice; Holly is a soft-spoken and shy android, rarely taken seriously by her opponents; and Starch is an adorably quirky lunatic who strikes fear into her enemies with just a smile and a wave.
In addition to a campaign that supports one to four players and a boss rush mode that lets players tackle the bosses one after another, Assault Android Cactus also offers Daily Drive and Infinity Drive modes, providing hardcore players a chance to show off their skill.
In Infinity Drive, players choose their best character and attempt to survive as long as possible against endless waves of increasingly difficult enemies and constantly changing stages, making every attempt feel different.
The Daily Drive challenges players to survive through ten randomly generated waves of enemies, but only gives them one chance per day. Every 24 hours, a new challenge and leaderboard awaits players.
Sanatana Mishra, director at Witch Beam had this to say:
We made an arcade action game that took our favorite things about the twin sticks and shump genres and combined them into something new that I think fans of those games are going to love. We've been inspired by so many shooters over the years, from Robotron, to Ikaruga, and Resogun, and hope Assault Android Cactus will be as fondly remembered as those classics.
We've updated our game page with the latest screenshots and you can take a look at the trailer below if you'd like to know more about this upcoming Wii U eShop game. Will it be on your must-buy list when it definitely maybe comes out in the first quarter of 2016?