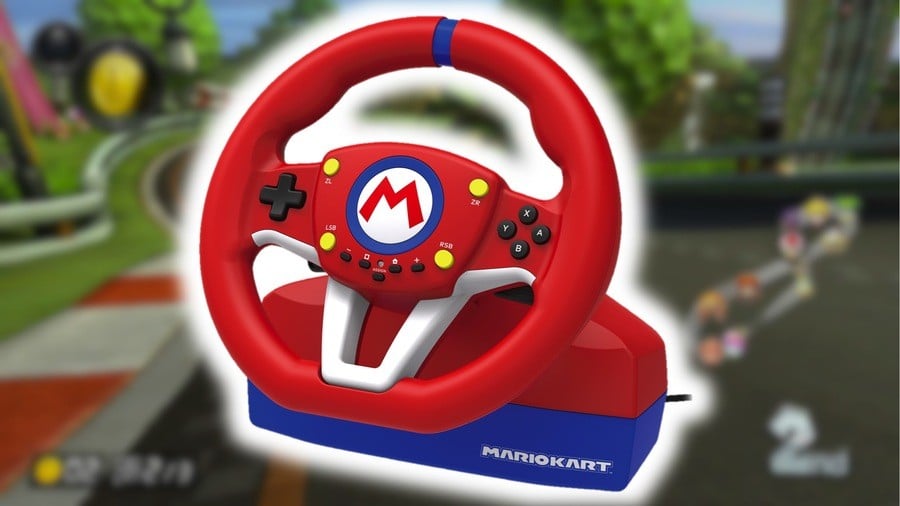 Update (7th Oct, 09:30 BST): Great news, folks! The Mario Kart Racing Wheel has now been spotted in the west with a pre-order option appearing on Amazon UK. The standard wheel is set at £59.99 with an estimated release date of 3rd January 2020.
You can find more details in our original article below.
---
Original Article (25th Sep, 12:30 BST): Gaming accessory maker Hori is set to release a Mario Kart Racing Wheel for Nintendo Switch, it has been revealed.
Two different versions of the wheel will be available, one being described as a "standard" model and the other being a more expensive deluxe model. The accessory will reportedly be compatible with both Nintendo Switch and PC, with functions from Switch's Joy-Con and Pro Controllers being available as standard. It also comes with a foot pedal, as you can see in the images below.
Buttons on the racing wheel are remappable and there are also "deadzone adjustment" and "reality adjustment" options to alter the wheel's turning radius. It only works in docked mode - although an extra USB accessory will reportedly enable the wheel to be used with Switch Lite - and the deluxe edition comes with some welcome extras like suction cups.
There's no news on a western release at the time of writing, although the racing wheel is planned to release in Japan this November. You can check out pre-order options below.
The wheel's announcement conveniently comes on the release day of Mario Kart Tour, which is now available on smartphone devices.
Fancy jumping into a spot of Mario Kart 8 Deluxe with one of these bad boys? We promise to never say 'bad boys' ever again.