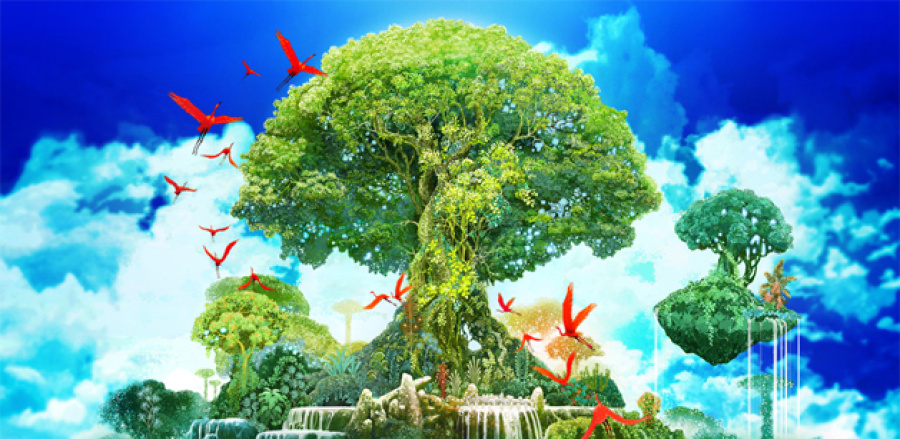 Launched just a few hours ago in Japan on iOS (due on Android later in the year), Rise of Mana is the most recent title in Square's long running RPG series, perhaps most fondly remembered by Western gamers for the first SNES entry Secret of Mana. In keeping with some of the more iconic Mana games, Rise of Mana is an action RPG and your unwittingly fused angel/demon character fends off Rabites and Mushbooms with the familiar mix of bows, sword, spears and other offensive cutlery.
The game is a free to play title, but one that's clearly had some real love and care poured into it. The plot is engaging and told through numerous lush 3D cutscenes rather than cheap recycled still images and the soundtrack (released next month) has been composed by Mana regulars and game music legends Hiroki Kikuta, Yoko Shimomura, Kenji Ito and Tsuyoshi Sekito. While the fear of hitting an invisible paywall is always looming in any free to play game, so far there appears to be nothing for sale in the cash shop that players can't also earn in-game.
Free to play titles may be often looked down on but a quality title, as Rise of Mana appears to be, can bring in a financial reward for the company as well as give fans of less mainstream series a fun game to play that may have otherwise not have existed. Rise of Mana may be tuned for mobile play but with a little tweaking there's no reason this couldn't also become an excellent 3DS game too, much like Puzzle and Dragons Z has before it.
[via jp.square-enix.com]