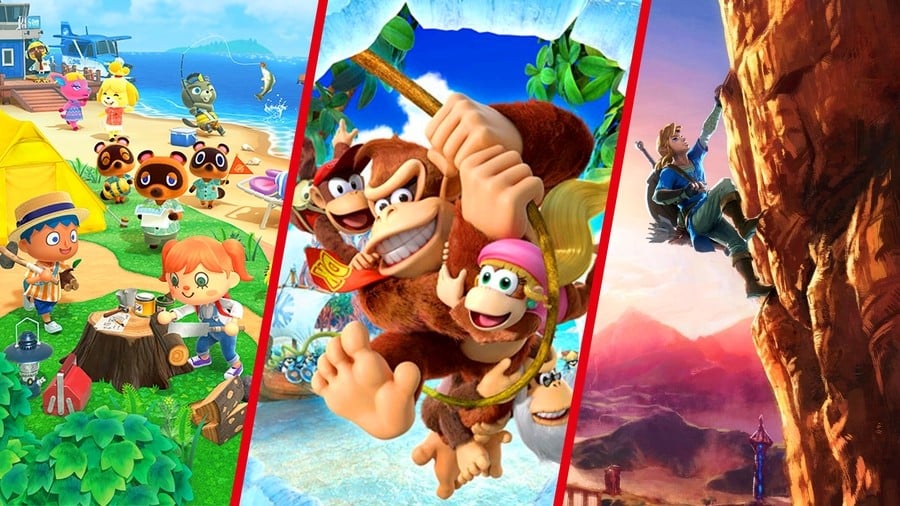 If you're feeling blue and are after a little video gaming pick-me-up, we've got just the thing. While the scope and function of interactive entertainment has grown far beyond mere escapism these days, games are still a brilliant way to jump into a totally different environment and get away from it all when things are looking grim.
The blue skies might be overcast in real life, but there is plenty of positivity to be found in our favourite Switch games and we've assembled a motley crew below to lift your spirits. So, below you'll find a (non-exhaustive, obviously) list of some of the games we love to fire up when we're in need of a cheer-up and the N64 isn't hooked up for a blast of Banjo-Kazooie.
Obviously, games and laughs with friends is a great way to beat the blues, so you might want to start with our selections of the best couch co-op Switch games or best Switch party games if you're not a solo gamer, or check out our selection of the best games to play if you can't leave the house.
If you're twiddling your thumbs on your own, though, let's take a look at our picks - in no particular order - of the best feel-good games on Nintendo Switch...
---
Of course, we've taken the happy-chappy rainbow-coloured route with this selection of feel-good games, but sometimes a chunky shotgun and an undead horde can be the best way to shake off the blues, so you might want to check out something like Resident Evil 4 or DOOM if you're after a more adult experience.
What games do you like to play when you're feeling less than 100%? Let us know with a comment below.
This article is one of our Switch Essentials guides which cover a wide variety of genres, including the Best Switch FPS Games, the Best Switch RPGs, the Best Switch Games For Kids, the Best Switch Couch Co-Op Games and the Best Switch Fitness and Exercise Games. We can also help out hunting down the Best Switch Horror Games, the Best Switch Racing Games, the Best Switch Action-RPGs, the Best Nintendo Switch Roguelikes, Roguelites and Run-Based Games , the Best Free Switch Games, and even Games to Play After You've Finished Zelda: Breath of the Wild.
Whatever your favourite genre, we've got you covered: Strategy Games, Metroidvanias, Puzzle Games, Party Games, Online Multiplayer Games, Shmups, Fighting Games, Hidden Gems, 2D Platformers, 3D Platformers, Sports Games, Beat 'Em Ups, Chill Games, Family Games, Retro-Inspired Games, Short Games, and the Best Switch Exclusives, as well as Every Arcade Archives Game, Every ACA Neo Geo Game and Every SEGA AGES Game On Switch.
If you're looking for the best Switch games regardless of genre, our reader-voted selection of the Best Nintendo Switch Games should help you out, and you can also find the Best Nintendo Switch Games of 2017, 2018, and 2019. And finally, if you're interested in other Nintendo consoles and retro games, check out the Best Game Boy Games, Best Nintendo DS Games, Best Nintendo 3DS Games, and the Best GameCube Games, as well as Every Nintendo Switch Online NES Game and Every Nintendo Switch Online SNES Game.