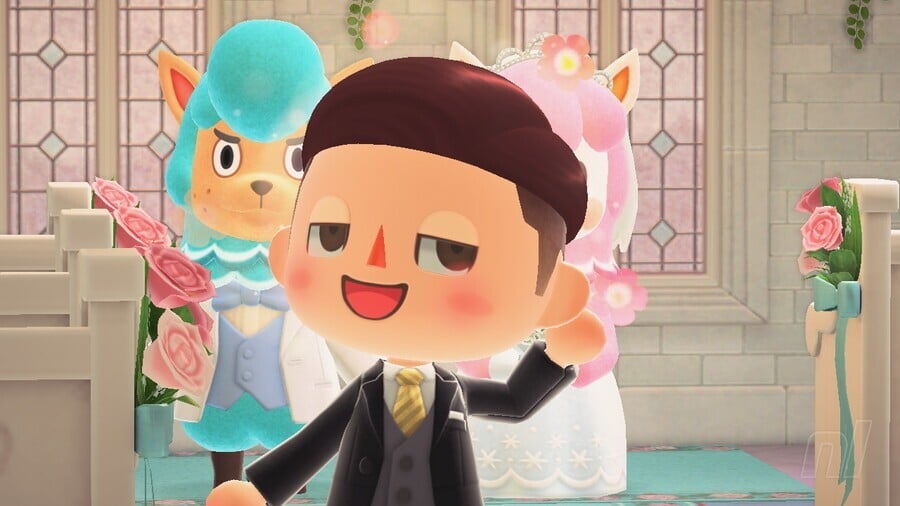 Wedding Season comes to Animal Crossing: New Horizons for the entire month of June. Yes, the Bells will be ringing as happy couples (or the happy couple, to be precise) celebrate their love in the most romantic event on the Animal Crossing calendar.
Originally arriving as part of the 23rd April update (which included the return of old favourite characters Leif the Sloth and (dodgy) art dealer Redd), perhaps the most surprising addition was Wedding Season.
But what exactly does Wedding Season entail? Will we get to tie the knot with our favourite island residents? In this guide we've collected all information on the Wedding Season event in Animal Crossing: New Horizons. Pack your camera for this one...
Animal Crossing: New Horizons: Wedding Season event
When is Wedding Season in Animal Crossing: New Horizons?

Wedding Season in New Horizons is a month-long event that runs from 1st June to 30th June.
What happens during Wedding Season in Animal Crossing: New Horizons?
Stepping out of your house on the morning of June 1, photographer Harv will phone you from his island asking you to swing by and do him a favour. It turns out that Cyrus and Reese--the alpaca couple who run the Re-Tail recycling shop in Animal Crossing: New Leaf--have turned up for a special photo session in honour of their wedding anniversary.
It's great to see the Re-tailers returning in New Horizon but, unfortunately, Harv has had some trouble getting everything prepared, so he enlists you to help out decorate his studio to the specifications of the happy couple in order to commemorate their blissful matrimony.
Using the camera on your NookPhone, it's up to you to set the scene and snap some pics to satisfy the pair and get rewarded for your efforts.
We're not sure we'd be happy if our wedding photographer turned up with only a cellphone, but maybe we're too picky. The cameras on phones these days can be pretty impressive.
What to do during the Wedding Season event
Every day throughout Wedding Season you can jet to Harv's Island, a destination in the game which players can reach at any time via the airport.
You normally use Animal Crossing amiibo cards to bring models to a bespoke photo shoot which you can decorate in whatever way you see fit. However, during Wedding Season Cyrus and Reese will ask for specific studio photos with themed sets of furniture built by Cyrus himself.
On the first day you'll find the studio set up for a white wedding (Reese and Cyrus wish to relive their wedding day for the first photo shoot in a chapel-like room). Simply add furniture from the list that meets their criteria - Cyrus's custom wedding benches function as pews, and flower arrangements make excellent decorations to adorn the walls, so go to town.
You can customise items from 3 different options by hovering the cursor over them and hitting 'X' while arranging them. You can also change your clothing by doing the same.
Once you've added appropriate decorations and arranged everything to your liking (and perhaps dressed yourself for the occasion), it's time for the photo shoot. Using your NookPhone, take pictures featuring the couple and the furniture (and yourself, if you wish).
When you're finished, speak to Reese and she'll look at the last photo you took and reward you accordingly. For example, the photo below was enough to get us the maximum 11 heart crystals on the first day (see below for more info):
In return for arranging the perfect picture, you'll receive wedding-themed items from the cute couple - the first of which is one of Cyrus' custom wedding benches.
And that's the end! However, Reese asks you to return the next day when the couple have another theme in mind for the next photo shoot (with a different reward). Returning every day throughout the event will net you a different reward.
What are Heart Crystals?
Heart crystals are a reward for completing Cyrus and Reese's photo shoots during Wedding Season. You can get between 5 and 11 heart crystals depending on the quality of your photo (if it includes all the requested elements). This increases to a maximum of 15 after the first seven days.
Heart crystals are a currency used to purchase wedding items from Cyrus. Unlike crafting items like Summer Shells (which appeared on our shores at the start of June) or Star fragments, heart crystals are a currency accepted only by Cyrus. They are a limited resource and can only be obtained by returning to Harv's island to photograph the Re-tailers.
Assuming you get the maximum number of crystals every day of Wedding Season (11 for the first 7 days and 15 for the remaining 23 days), it's possible for one player to collect 422 heart crystals during the entire Wedding Season (assuming you don't engage in any time travel).
One important thing to note is that YOU CAN ONLY ORDER A MAXIMUM OF 8 ITEMS FROM CYRUS EVERY DAY. So, don't hoard your heart crystals - spend them as you get them because you won't be able to order all the items if you wait until the end of the month.
List of Wedding Season items - Complete Wedding Set
The following is a list of every Wedding Season reward and item you can get by completing Cyrus and Reese's daily photo shoot and purchasing them in exchange for Heart crystals:
Wedding item pic
Wedding-themed item
Cost (number of heart crystals needed)

Wedding bench
5 heart crystals

Wedding decoration
3 heart crystals

Wedding table
6 heart crystals

Wedding chair
3 heart crystals

Wedding flower stand
4 heart crystals

Wedding candle set
4 heart crystals

Wedding head table
6 heart crystals

Wedding cake
5 heart crystals

Wedding pipe organ
40 heart crystals

Wedding arch
20 heart crystals

Wedding welcome board
5 heart crystals

White wedding wall
12 heart crystals

Wedding-party wall
12 heart crystals

Brown wedding wall
12 heart crystals

Green wedding wall
12 heart crystals

White wedding flooring
12 heart crystals

Brown wedding flooring
12 heart crystals

Green wedding flooring
12 heart crystals

Blue wedding rug
4 heart crystals

Red wedding rug
4 heart crystals

White wedding rug
4 heart crystals

Cake dress
20 heart crystals

Wedding tuxedo
20 heart crystals

Wedding pumps
6 heart crystals

Wedding shoes
6 heart crystals

Bridal veil
12 heart crystals
You'll need a total of 261 heart crystals to afford everything, plus another 4 for an extra flower stand required to craft the Wedding wand, an item you'll receive the DIY recipe for after a week of visiting the couple.
Harv will also gift you the DIY recipe for Wedding fencing, and Reese and Cyrus will present you with the Reese & Cyrus photo plate as a reward.
AbdallahSmash026 was first to collect much of the information above — check out his video for an exhaustive analysis of Wedding Season.
How can I prepare for Wedding Season in Animal Crossing: New Horizons?

You mean besides watching what you eat to make sure you can fit into your outfit? Well, you may want to start collecting clothing and crafting items and furniture that could fit in with a wedding theme. You don't need to take it with you to Harv's island — you can access your entire inventory and wardrobe from the island, so don't worry about packing your inventory before making the trip.
---
This article is part of our Animal Crossing: New Horizons walkthrough, which includes a Complete Fish List, Complete Bug List and Complete Sea Creatures List. If you're looking for specific fish or bugs, we can tell you how to catch the elusive Coelacanth, Mahi-Mahi, Giant Trevally, Stringfish, Golden Trout and all the Sharks and Beetles, along with a full list of critters leaving at the end of the month (unless you visit Kapp'n's Boat Tour islands, of course!).
We can also help with How to Spot Redd's Fake Paintings and Statues, How to Make Bells Fast, How to Breed Flowers, How to Get more DIY Recipes, How to Upgrade Nook's Cranny, where and when to find special characters like Gulliver, Sable, Label, Wisp, Celeste, Pirate Gulliver and Jack, plus tips on using the Star Wand, Tool Ring, Rock Trick, Cutting Down and Moving Trees, using amiibo on Harv's Island, How to Back Up Your Island Data, How to Time Travel, How to Get a 5-Star Island Rating and a whole lot more.
If it's new content you're looking for help with, we can help you find gyroids, unlock Brewster's café, use the new Pro Camera App for selfies, enact new ordinances, get the beloved Froggy Chair, and even learn How to Cook.
And finally, Where to Buy Animal Crossing: New Horizons on Nintendo Switch, if for some reason you haven't yet picked up the game, and How To Buy The Happy Home Paradise DLC, too!
[source youtube.com]