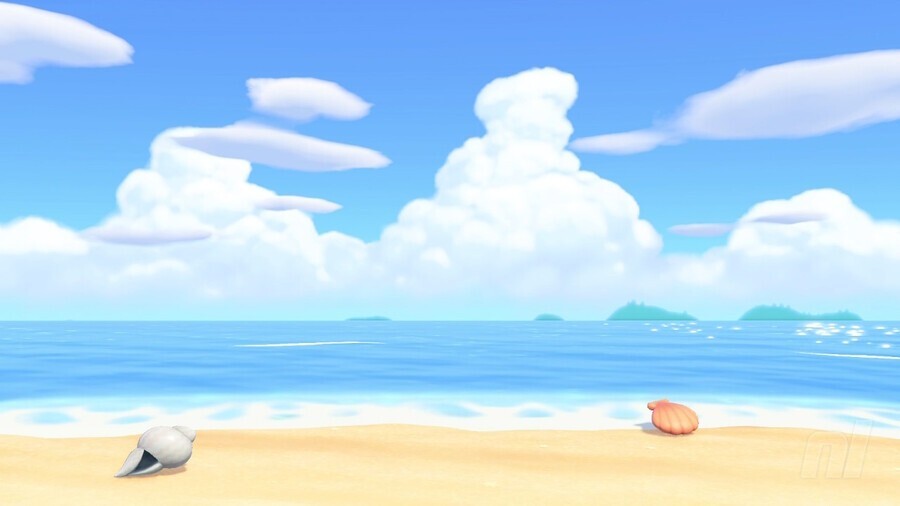 If you played Animal Crossing: New Leaf on 3DS and are now taking your first steps on your new desert island in Animal Crossing: New Horizons, you may well be looking forward to diving into the lovely HD ocean of the Switch entry in Nintendo's life sim series.
The question "Can you swim in Animal Crossing: New Horizons?" was one of the first that popped into our heads as we ran around the perimeter of our lovely island paradise. For the first months following the game's launch, the answer was disappointing, but following the first Summer 2020 Update you could finally get more closely acquainted with the waters surrounding your island...
How to swim in Animal Crossing: New Horizons
While the game launched in March 2020 with no method to enter the ocean (as was possible in Animal Crossing: New Leaf), the first of two summer updates landed on 3rd July 2020 and it brought the ability to swim, dive and collect 40 sea creatures (such as the sea star, sea anemone, and spotted garden eel) from the ocean floor. These new additions to your Critterpedia have their own page and can also be donated to Blathers at the Museum.
In order to enter the water you'll need to purchase a wetsuit from Timmy and Tommy for 3000 Bells (after downloading the update). While wearing the wetsuit you can run and jump into the coastal waters surrounding your island. Scallop-loving Pascal will appear if you find a scallop and he will give you DIY recipes for a mermaid-themed furniture set.
Much the same as the specialised fishing rods, bug nets and other equipment they sell, there are different wetsuit designs available every day:
Having featured in the previous entry in the series, we guessed that this ability would arrive sooner or later. It took a few months, but you can turn those frowns upside down because, yes, you can swim around your deserted (or not so deserted if you've had the game a while) island.
---
So, there you are! We knew that miser Nook would throw us a pair of Speedos sooner or later. Feel free to share your excitement for diving beneath the waves below.
This article is part of our Animal Crossing: New Horizons walkthrough, which includes a Complete Fish List, Complete Bug List and Complete Sea Creatures List. If you're looking for specific fish or bugs, we can tell you how to catch the elusive Coelacanth, Mahi-Mahi, Giant Trevally, Stringfish, Golden Trout and all the Sharks and Beetles, along with a full list of critters leaving at the end of the month (unless you visit Kapp'n's Boat Tour islands, of course!).
We can also help with How to Spot Redd's Fake Paintings and Statues, How to Make Bells Fast, How to Breed Flowers, How to Get more DIY Recipes, How to Upgrade Nook's Cranny, where and when to find special characters like Gulliver, Sable, Label, Wisp, Celeste, Pirate Gulliver and Jack, plus tips on using the Star Wand, Tool Ring, Rock Trick, Cutting Down and Moving Trees, using amiibo on Harv's Island, How to Back Up Your Island Data, How to Time Travel, How to Get a 5-Star Island Rating and a whole lot more.
If it's new content you're looking for help with, we can help you find gyroids, unlock Brewster's café, use the new Pro Camera App for selfies, enact new ordinances, get the beloved Froggy Chair, and even learn How to Cook.
And finally, Where to Buy Animal Crossing: New Horizons on Nintendo Switch, if for some reason you haven't yet picked up the game, and How To Buy The Happy Home Paradise DLC, too!