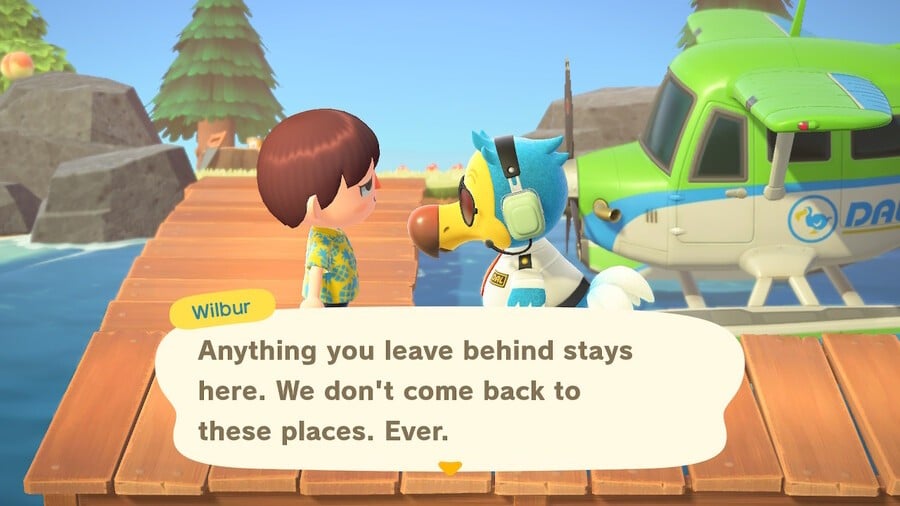 If you're running low on resources — iron nuggets, stone, wood — or you want to brighten up your Animal Crossing: New Horizons island with some different fruit trees, bamboo or flowers, the easiest way is to use a Nook Miles Ticket and go on an excursion to a randomly generated Mystery Island. If you're looking to visit the island of another player, you'll want to consult our guide for Animal Crossing: New Horizons local or online play instead, or use a Dream Address code to visit another place in your dreams. Here we be a-pillaging and a-plundering, argghhh.
You see, these special 'tour' islands don't belong to other players and are generated specifically for you to harvest resources and even recruit new villagers to come and live on your island. The materials available on these islands can be particularly useful early in the game when you're looking for building materials like iron nuggets.
But how do I get a Nook Miles Ticket and travel to these islands? you may be asking. You'll have to pay a visit to Resident Services. Simply follow the steps below and you'll be harvesting nuggets, bugs, flora and fauna in no time.
Animal Crossing: New Horizons Nook Miles Tickets - Where To Find Nook Miles Tickets
To redeem Nook Miles Tickets you'll have to head to the Resident Services tent or building and use the Nook Stop terminal. A Nook Miles Ticket costs 2,000 Nook Miles which can be collected by completing specified tasks around your island and redeeming them via your phone.
Once you're in possession of a Nook Miles Ticket simply head to the airport and talk to Orville the dodo.
Note: If you don't already have a Nook Miles Ticket, the option to fly to a Nook Miles island won't be available. Make sure you redeem Miles for a Ticket before heading to the airport.
Orville will then put you in the capable wings of Wilbur the pilot who will fly you to your randomised destination island.
What can you do on a Nook Miles Mystery Island Tour?
The randomly generated islands you visit are there to serve as sources of materials for you to collect and return to your island with. These include the following:
Harvest trees and bamboo - collect wood with your axe
Collect foreign fruit - remember that you can dig up entire trees and put them in your pocket to transplant back to your island
Collect flowers - using your shovel you'll be able to pocket pansies to brighten up your island
Harvest materials from rocks - using the patented Animal Crossing rock trick technique from previous games you'll be able to harvest 8 materials (iron nuggets, stone and clay) from every rock on the island
Meet new villagers and invite them to live your island - every island you visit will have another visitor you can talk to and invite back to your place


Catch bugs - using your net you can swipe and collect exotic beasties and, if you're willing to put some time and effort effort in, even engage in some entomological ecosystem engineering and harvest tarantulas to sell for big bucks


Go fishing - same as at home really, although perhaps with a chance at something more exotic
Chill the beans right down - what better way than escape the hassle of being Resident Representative than getting away from it all on your own deserted isla... Hang on, wasn't that the point of Nook Inc.'s Getaway Package in the first place? That wily raccoon, we knew he was a bad'un.
HOWEVER: It is important to note that once you leave, you will never return to the same island. Remember that anything you leave on the island - tools, materials, resources - will be effectively 'erased', so make sure you don't leave precious tools lying on the beach as you cram your pockets with exotic goodies.
How should I prepare for a Nook Miles Mystery Island trip?
First, you'll need the Nook Miles Ticket as detailed in step 1 above.
Before embarking, it's a good idea to expand your inventory storage capacity as that means you'll be able to bring back more materials and resources to your island.
Every island has a crafting station near the entrance and if you forget a vital tool (or they break on you) Wilbur has a range of flimsy tools which he'll be happy to sell you. These can be upgraded using materials found on the island itself.
And once again, remember that anything you leave on the island will be lost forever, so make certain you have everything you want to take home with you in your pockets before talking to Wilbur and leaving on your chartered Dodo Airlines flight.
What are the different types of Nook Miles Mystery Islands?
Thanks to the intrepid work of trollmz on reddit, we have a much clearer idea of the different types of Nook Miles Mystery Islands available. It seems that they are generated randomly from a limited template of islands.
The chart below is missing a few templates (head to the Animal Crossing subreddit for the most thorough up-to-the-minute rundown), but it shows a good many of the island types you may get to visit.
Do you recognise any of the islands above? We've visited several of them more than once.
---
This article is part of our Animal Crossing: New Horizons walkthrough, which includes a Complete Fish List, Complete Bug List and Complete Sea Creatures List. If you're looking for specific fish or bugs, we can tell you how to catch the elusive Coelacanth, Mahi-Mahi, Giant Trevally, Stringfish, Golden Trout and all the Sharks and Beetles, along with a full list of critters leaving at the end of the month (unless you visit Kapp'n's Boat Tour islands, of course!).
We can also help with How to Spot Redd's Fake Paintings and Statues, How to Make Bells Fast, How to Breed Flowers, How to Get more DIY Recipes, How to Upgrade Nook's Cranny, where and when to find special characters like Gulliver, Sable, Label, Wisp, Celeste, Pirate Gulliver and Jack, plus tips on using the Star Wand, Tool Ring, Rock Trick, Cutting Down and Moving Trees, using amiibo on Harv's Island, How to Back Up Your Island Data, How to Time Travel, How to Get a 5-Star Island Rating and a whole lot more.
If it's new content you're looking for help with, we can help you find gyroids, unlock Brewster's café, use the new Pro Camera App for selfies, enact new ordinances, get the beloved Froggy Chair, and even learn How to Cook.
And finally, Where to Buy Animal Crossing: New Horizons on Nintendo Switch, if for some reason you haven't yet picked up the game, and How To Buy The Happy Home Paradise DLC, too!