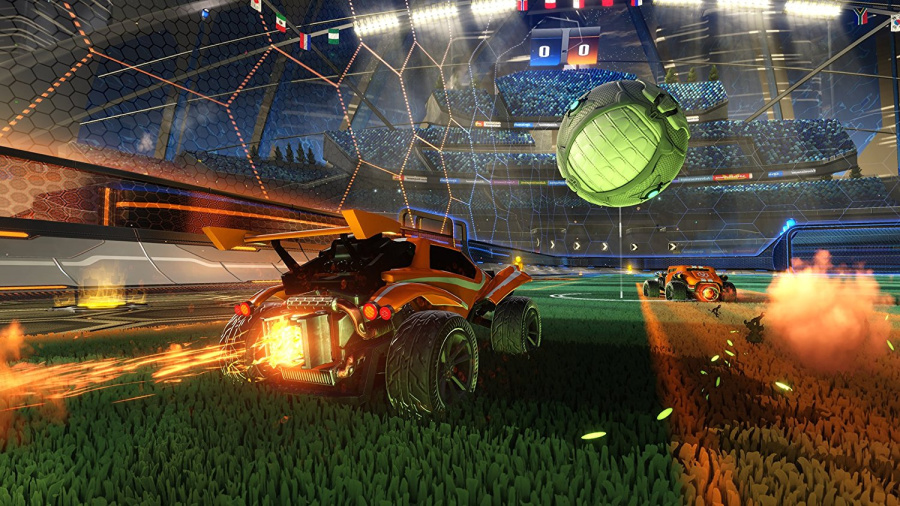 One of the surprise announcements of Nintendo's E3 showing was that the popular battle-car soccer game, Rocket League, would be making its way to the Nintendo Switch. Psyonix had earlier expressed interest in bringing the game to the Switch—the platform does seem to be a good fit for the game—but there were general concerns as to whether the Switch would be able to run the game at an acceptable level.
Psyonix boss Jeremy Dunham recently spoke a bit to Venture Beat about what the process was like porting the game to the Switch. Seeing as how the platform only has support for Unreal Engine 4—and not 3, which is what Rocket League was built on—it took the team some time crating a custom build. Here's what Dunham had to say on that:
We feel really confident about it. In the beginning, we weren't so sure. We had to do custom work. The Switch by itself doesn't have inherent Unreal 3 support. It only has Unreal 4. To support 3, we had to do custom work.
Part of this did mean that the game would have to run at a compromised performance compared to other platforms, but Dunham said that the team wanted to prioritize framerate over resolution:
The main compromise we had to make is we're running the game in 720p rather than 1080p, even on the TV. It's our opinion that it's much more beneficial for the game to run fast at 60 frames per second than to look the absolute best. We'll ship at 60 frames per second for the docked version and the undocked version.
Even so, Dunham wrapped up his comments on the Switch version by saying that the porting process has been moving much more smoothly than anticipated, and sounded quite optimistic about the quality of the team's work:
We're actually ahead of where we thought we'd be. We didn't think we would have it running this smooth, this early. For a while we were concerned about whether we'd have anything to show at E3 at all. We have a very talented team at Psyonix. Our engineers have done a lot of hard work to make sure this runs as well as it does already. We've already discovered things in the last few weeks that we weren't aware of a few weeks ago. It's already made the game perform incredibly. We're very encouraged.
What do you think? Will you be picking up Rocket League on the Switch? How do you think it'll compare to the other versions? Drop us a comment in the section below.