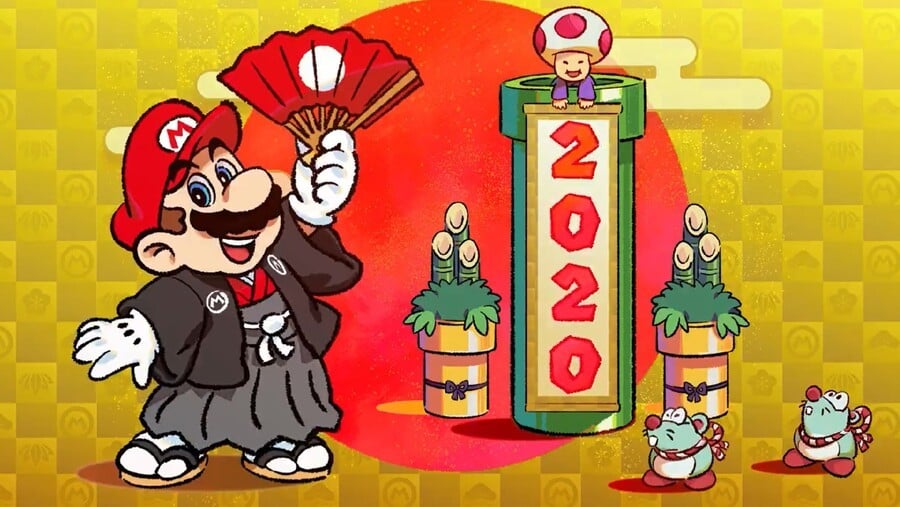 As we head back to work after the holidays, many of us will have heads filled with freshly made New Year resolutions for 2020. The new year is the perfect time for a fresh start; a chance to forge new paths or redouble our efforts towards goals that eluded us last year. Whether it involves getting fit this January or simply get through our backlog of 2019 games before buying any new ones, there's plenty for most of us gamers to be striving for this January and beyond.
The same is true of our favourite video game company, too. With Switch's third birthday fast approaching, Nintendo had an excellent 2019 and it's important that the company maintains its pace in the coming year. There's already plenty to look forward to, and things are very rosy at the moment, but now's not the time for Nintendo to rest on its laurels.
With that in mind, we've picked five areas that we believe the company should concentrate on with regards to Switch in 2020. Let's take a look:
1. Improve Switch Home Menu and UI
When Switch launched back in March 2017, its uncluttered menu interface was a joy. With other manufacturers clogging their console menus with all sorts of peripheral rubbish which makes navigation sluggish, Nintendo's simple approach was a breath of fresh air which concentrated on the essentials.
Nearly three years on, though, and the number of games on the system has ballooned in a way that not even Nintendo itself could have dreamed. With games on the eShop sold incredibly cheap (or sometimes given away for free), even frugal gamers' Switches have filled up and navigating through them is much more difficult than it should be. When famed game designers are openly bad-mouthing your Home Menu, it's probably time to take things back to the drawing board.
The ability to sort games was added in a belated update, but we have hundreds of games on our systems now and hunting through icons to find what we're after is a chore. To be clear, we're all for the 'games-only' approach and certainly don't want to see Switch's menu turned into the turgid mess of Xbox One's 'solution', but there must be a simpler way to find the games we want to play in our own libraries. Folders, anybody? Nintendo could always throw in a couple more themes if they're feeling generous, too. Basic White and Basic Black are just that: basic. At least give us some more colours to match our Joy-Con!
2. Overhaul the Switch eShop
In a similar vein, the Switch eShop was fine in the beginning, but with the hundreds of games now jostling for attention on the digital storefront, not to mention the pile that drop on the sales page every week, it's arguably not fit for purpose anymore. We've spoken before about the discoverability issues and how Nintendo should be using its design chops to solve these problems. A simple 'List View' or the ability to sort games by title or (discount) price would make it easier to navigate, but the entire store would benefit from an overhaul.
3. Continue expanding the value of Nintendo Switch Online - old games, new games
The arrival of Super NES games for Nintendo Switch Online subscribers has helped increase the value of Nintendo's online subscription service, and although a small batch of fresh games dropped in December, we're keen to see more value added to the service. In the absence of a Nintendo 64 Mini, it would be great to see N64 games arrive on the system. GameCube games would obviously be incredible, although that's a little more pie-in-the-sky. We'd imagine we're more likely to see remasters of those titles.
Beyond expanding the retro roster, exclusive new games would be an interesting avenue to explore. Tetris 99 may have garnered a standalone physical release, but the game remains available to each and every Nintendo Switch Online subscriber as part of the package.
Of course, with more content there's the prospect that Nintendo will evaluate its pricing and deem its annual price of $20 too slim. We wouldn't agree at present, but while we might bristle at the thought, we'd also pay $30 a year if it gave us access to, say, GameCube games. Regardless of its plans, Nintendo needs to keep expanding the value proposition of Nintendo Switch Online.
What about the useless Nintendo Switch Online app? we hear you cry. What about Friends List integration? Yes, those things too, but to be honest we've lost all hope on those fronts; Nintendo gonna Nintendo. If we can sweep all the company's online disappointments into one pile and quietly delete it from our phones, that's not a bad compromise if it nails everything else on this list, right? Right?
4. Keep releasing games, games, games!
The lineup for 2020 isn't looking bad - we're definitely getting Animal Crossing: New Horizons - although it's likely some announced first-party games won't release until 2021. Nintendo's general habit of only discussing games that are coming in the present calendar year means that there's likely plenty still under wraps - remember that last year many of the console's biggest releases such as Super Mario Maker 2 and Link's Awakening weren't announced until the first Nintendo Direct.
It's crucial that Nintendo keeps its foot on the gas when it comes to games. The strategy of focusing all its development teams on one console with Switch has paid huge dividends so far, with a regular cadence of first-party titles in addition to a huge influx of third-party software. We imagine we'll get a couple more Wii U ports in addition to some surprises, but with new consoles coming from competitors this year, it's more important than ever that the platform holder plays to its software strengths and continues to release games that only Nintendo could make.
And speaking of new consoles...
5. Release Switch Pro baby, yeah!
Ah, this old chestnut! Last year Nintendo rejuvenated its Switch lineup with Switch Lite and the original console continues to sell like a substantial amount of warm baked goods. The standard model got a modest internal revision, but nothing that changed the outward look of the console or boosted performance beyond battery life. You could argue that talk of the rumoured Switch Pro was a little fanciful last year - muddying the waters with two new SKUs within months of each other would have been unwise - but the business realities this year make an updated model far more likely.
And that reality is a new generation of consoles from Microsoft and Sony. Nintendo may have had Holiday Season 2019 pretty much to itself, but PlayStation 5 and Xbox Series X are both primed to launch by the end of the year and they promise to take gaming into the next generation.
Whether or not you buy the marketing spiel for the new wave of consoles or believe that ray tracing and fast loads are enough to offer a generational leap for console gaming, the stark fact is that Switch - a system which has held its own in direct competition with far more powerful consoles in remarkable ways thanks to incredible (and unlikely) ports - will be out of its league. Ports that were previously improbable will likely become impossible as Switch's mobile chipset (now several years old, remember) simply can't keep up.
So what do we get? New Nintendo Switch? Nintendo Switch Up? We've already seen whispers of new SKUs and the rumour mill will soon be in full swing. We would assume that whatever form a new version would take, it would be fully compatible with 99% of existing software and accessories. Then again, Switch Lite removed the console's namesake gimmick, so who can possibly say what Nintendo has up its sleeve. There's only one thing for certain: the next generation is coming and after three years the standard Switch model is only going to look longer in the tooth compared to PS5 and Xbox SX. Now is the time to go 'Pro', Nintendo.
---
What do you think Nintendo's New Year resolutions should be? Let us know your thoughts below.