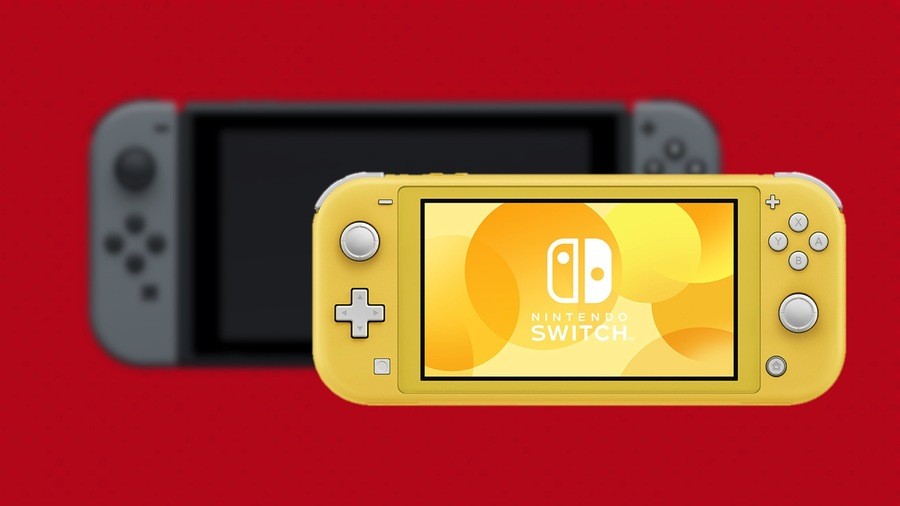 So, Nintendo has finally revealed its new Nintendo Switch hardware revision, the Nintendo Switch Lite. A slightly smaller console dedicated to handheld play, the Switch Lite ditches the standard model's ability to detach the Joy-Con controllers, and has instead been designed as a handheld-only system.
But what else is new? And what exactly are the key differences between the Switch and the Switch Lite? That's what we're hoping to answer for you right here.
Switch vs. Switch Lite
Let's kick things off with how the console looks. You'll be familiar with the standard model on the left, of course, but here's how the Switch Lite shapes up side-by-side. You'll notice that the standard model's left-side buttons have been replaced with a traditional D-Pad, and the speakers have moved from the front of the console to the bottom.
You can see the dimensions for each console below.
A Detailed Look At Switch Lite
Here's a look at the Switch Lite from all angles, including all of the buttons, ports and other fancy gizmos available.
Gameplay Modes
One of the key features of the standard Switch model is its three gameplay modes: TV mode, Tabletop mode, and Handheld mode. The Nintendo Switch Lite can only be played in handheld; it cannot connect to the TV and does not feature a kickstand to use in a Tabletop setup.
It's also worth noting that the Nintendo Switch Lite does not feature HD Rumble or an IR Motion Camera.
Pricing
The Nintendo Switch's recommended retail price has been $299.99 since it launched in 2017. The Nintendo Switch Lite's recommended retail price will be $199.99.
Compatible Games
The standard Nintendo Switch is, of course, compatible with all games that have released for it so far. The Nintendo Switch Lite can play any Switch games which support handheld mode.
For games that do not support handheld mode, players can wirelessly connect compatible controllers to the Switch Lite and effectively create a makeshift tabletop setup. If you're using original Joy-Con controllers, you'll need to have a way of recharging them as they cannot be docked to the Switch Lite.
What Does It Come With?
The Nintendo Switch Lite does not include a dock, HDMI cable, or kickstand like the original model. Instead, the box will simply contain the console and an AC adaptor.
Weight, Screen Size, Battery Life and Storage
Weight: Nintendo Switch: .88lbs with the Joy-Con attached | Nintendo Switch Lite: .61lbs
Screen: Nintendo Switch: 6.2" touchscreen, 720p | Nintendo Switch Lite: 5.5" touchscreeen, 720p
Battery Life: Nintendo Switch: approx. 2.5 - 6.5 hours | Nintendo Switch Lite: approx. 3 - 7 hours
Storage: Nintendo Switch: 32GB | Nintendo Switch Lite: 32GB
What Colours or Styles Are Available?
The standard Nintendo Switch launched with grey, and neon red/neon blue designs at launch.
The Nintendo Switch Lite will be available in yellow, grey, or turquoise at launch, and a special Pokémon edition has been revealed for a November release.
---
The Nintendo Switch Lite launches on 20th September 2019. Are you thinking of getting one?