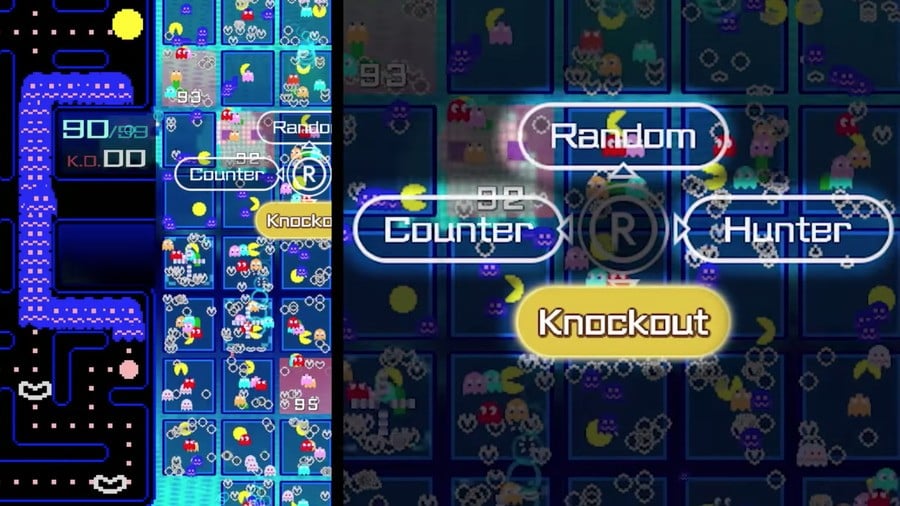 With PAC-MAN 99 now available on Switch, it's time to put all of our Tetris 99 skills and experience to good use once again.
Just like Tetris 99, Nintendo Switch Online's other battle royale freebie, PAC-MAN 99 comes with several in-game targeting options that aren't explained to the player. In this guide, we'll walk you through what they do and when it's best to use them – just make sure you've mastered the basics first!
Let's-a-go! (Hang on, that's the wrong gaming mascot, isn't it?)
How To Target PAC-MAN 99 Players
Targeting players in PAC-MAN 99 is very similar to using power-ups, in that there are four settings which can all be seen on-screen.
By default, targeting modes are selected by using the right stick on your controller, although you can map them to other parts of your controller by customising your settings. Each direction corresponds to a particular target mode, and we've indicated these for you below.
Random (Up)
Random is as random as random can be. This very standard option is the one that the game will automatically select whenever you start a game, and unsurprisingly targets other players at random.
There's no huge advantage or disadvantage to this, but it's probably the best place to start when you're getting to grips with playing the game. You likely won't get many KOs, but you also won't make mistakes by faffing about trying to figure out which opponents need taking out.
Knockout (Down)
Knockout specifically targets opponents who are on the verge of being wiped out, perfect for getting that terrifying number of 98 foes down a little.
This mode is probably the most offensive option of all, targeting those who might be struggling to knock them out and claim KOs. If KOs are what you're after, there's no better choice.
Counter (Left)
On the flip side, then, Counter is perhaps your most defensive option. Choosing Counter will let you target any opponents who are currently targeting you, hopefully causing them enough bother to stop them from being able to cause you too much damage.
If you feel like you're getting ganged up on, or just want to stay as safe as possible, Counter's a decent shout.
Hunter (Right)
Hunter is the least clear option of the lot and, at the time of writing, we can't confirm with 100% certainty how it behaves.
On close inspection, it appears that selecting Hunter allows you to target the player who currently has the most KOs to their name (which would fall in line nicely with similar modes present in Tetris 99 and Super Mario Bros. 35). If this is indeed the case, choosing Hunter will allow you to target the game's best player, and therefore the biggest threat, although the risk here is obvious – this player is likely very good, and if they decide to Counter you, they'll be sending lots of Jammer Pac-Man your way.
Manual Select (L/R or Touchscreen)
This one isn't immediately obvious, but you can also select the exact player you want to target – although it's much easier to do this in handheld mode than docked.
When playing in handheld mode, simply tap the player you want to attack on the touchscreen. At first, there might seem like there's little point to this, but as you start to get better and better you'll start to notice more things going on in the background. If there's a player you consider to be a threat, perhaps it's worth targeting them?
As for docked mode, the same tactic can be performed by hitting the L and R buttons. This toggles through each opponent in turn which, to be honest, isn't worth the trouble. Still, it's there, and could come in handy late on when there are fewer opponents to toggle between.
---
This article is part of our complete PAC-MAN 99 guide, which includes beginner tips and tricks, advice on how to use Power-Up options (Standard, Speed, Train, Stronger), how to use Targeting options (Random, Counter, Hunter, Knockout), the game's basic controls and how to customise them, how to play a private match with your friends, and how to acquire and apply new custom themes.
Let us know if you found this guide helpful, and feel free to share your own tips in the comments below.