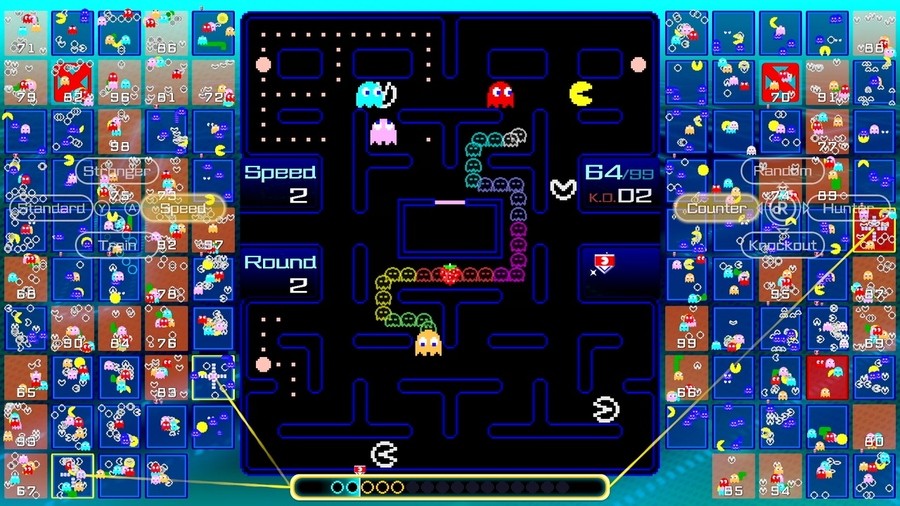 While the majority of your playtime with PAC-MAN 99 will likely be spent playing against strangers online, you can actually set up a private game that's invite-only. This will let you play with just your friends, your streaming community, or whoever you like, which certainly provides a nice change of pace.
Wanna get in on the action? Here's how to do it:
Hold Up... Not Everything's Free, You Know
Yes, sadly, private matches are not included as part of the base game offered at no extra cost to Nintendo Switch Online subscribers. Instead, you'll have to purchase either the PAC-MAN 99 Mode Unlock for £12.99 / $14.99, or the PAC-MAN 99 Deluxe Pack for £24.99 / $29.99.
Both of these offer extra modes, too, so it's up to you whether or not you feel the complete package is worth it. If you do decide to buy one of the packages, here's the next step...
How To Set Up A Private Match In PAC-MAN 99
If you own one of the DLC packs mentioned above, you'll notice that you can press 'X' while hovering over the main PAC-MAN 99 mode on the main menu. Press that and continue until you reach the password screen – simply enter a six-digit password of your choosing and you're good to go.
Just remember to share that code with your friends, obviously. Unless they're mindreaders, which would be super cool.
How To Join A Private Match In PAC-MAN 99
You guessed it, joining a match is practically the same as creating one.
Once the leader of your party has chosen a code and entered it into the game, all other players should do the same. Press that 'X' button while hovering over the main PAC-MAN 99 mode, enter the same code, and you're in. Job's a good'un.
---
This article is part of our complete PAC-MAN 99 guide, which includes beginner tips and tricks, advice on how to use Power-Up options (Standard, Speed, Train, Stronger), how to use Targeting options (Random, Counter, Hunter, Knockout), the game's basic controls and how to customise them, how to play a private match with your friends, and how to acquire and apply new custom themes.
Let us know if you found this guide helpful, and feel free to share your own tips in the comments below.