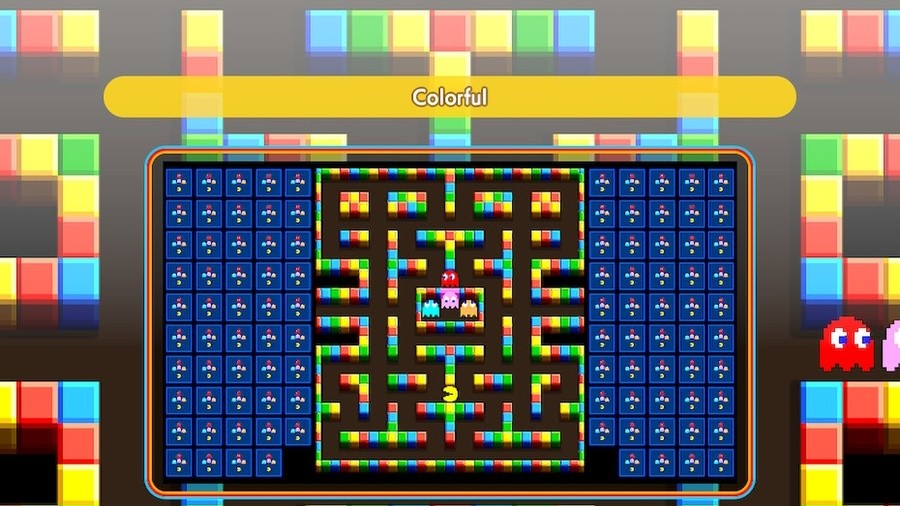 Right from the word go, PAC-MAN 99 features plenty of custom themes designed to personalise your experience. If you're seeing other people's winning screens and wondering how they've got cool backgrounds and the like, this is the guide for you.
At the time of writing, there are 29 options available – and we're sure there'll be plenty more as the months go on. We have a full gallery of the things here if you want to check them out, but for now, let's get on to how to claim them.
How To Unlock New PAC-MAN 99 Themes
When you first download the game, you'll have access to just one theme, called 'Classic'. The other 28 are currently available as paid DLC, and there are a couple of different ways to get them.
The classic character skins are available to purchase individually from the eShop for $1.99 / £1.69 / €1.99 each, and these can either be found directly on the Switch eShop, or through a link inside the game itself. You can also buy a DLC bundle which unlocks all the skins plus the 'Mode Unlock' (granting you extra gameplay modes) for $29.99 / £24.99 / €29.99.
How To Use Or Change PAC-MAN 99 Themes
Once you've chosen the themes you're fond of, you'll want to head to the game's Settings menu to change things up.
Keep scrolling right on the main menu until you reach 'Setting', and then select 'Custom Theme'. It's here that you can view all of the themes and select the one you want to be active. It should look just like the image above.
Voilà, now your PAC-MAN 99 screenshots will be as gorgeous as they can be. Master the game with our top tricks and tips and then set social media alight with your screengrabs.
---
This article is part of our complete PAC-MAN 99 guide, which includes beginner tips and tricks, advice on how to use Power-Up options (Standard, Speed, Train, Stronger), how to use Targeting options (Random, Counter, Hunter, Knockout), the game's basic controls and how to customise them, how to play a private match with your friends, and how to acquire and apply new custom themes.
Let us know if you found this guide helpful, and feel free to share your own tips in the comments below.