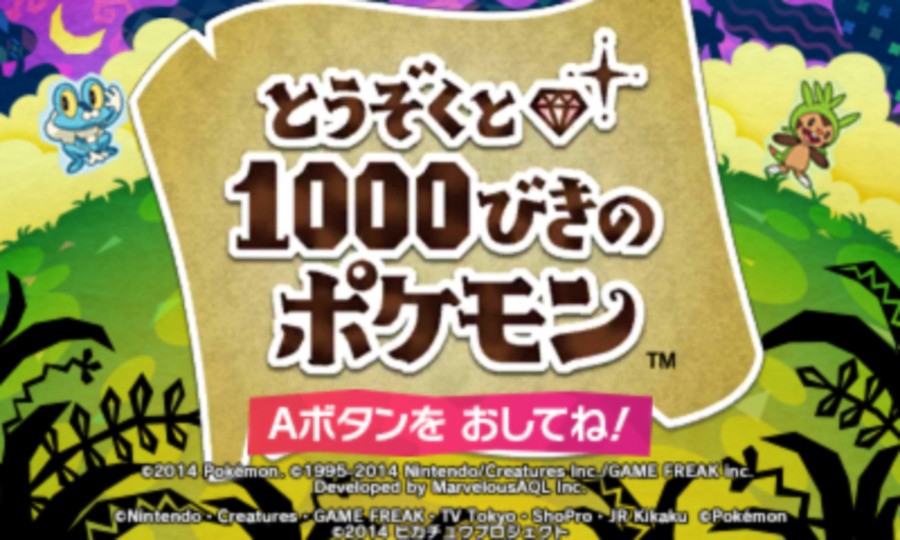 We've taken a look at The Thieves and the 1000 Pokémon before, but now the free eShop title has been released in Japan we can share some more info and screenshots of this delightfully bonkers little game.
You start out by picking one of the three initial Pokémon from Pokémon X and Y, and then you basically have your horde brawl with just about anything they come across — even inanimate objects — to retrieve the diamond at the end of each stage. These Looney Tunes-style scraps are mildly complicated by differing Pokémon types and the need to try and ration your team over a few battles, but it's mostly about watching the strangely chirpy carnage unfold over all sixteen stages.
This will actually take longer than you think, as your troop supplies are limited and can only be replenished by spending your 3DS play coins on a fresh batch of recruits. The Nintendo Life team have already exhausted their supply of Chespin and are now wondering if the need for more Pokémon is worth braving the British summer with 3DS in tow for.
While the game is ultimately little more than a tie-in product for the upcoming Diancie and the Cocoon of Destruction Pokémon movie, for the grand price of free — and also for giving us the chance to firmly put the boot into an entire army of Meowths — it's hard to begrudge it's existence, especially as those lucky enough to attend a Japanese screening of the movie with a 3DS carrying The Thieves and the 1000 Pokémon will apparently get an extra special stage to play that, once cleared, will grant them a Master Ball for use in Pokémon X and Y.
Are you hoping this makes its way overseas? Would you like a full Pokémon game in this style? Let us know in the comments section below.